Sacramento Fabric Storage Cubes (3 sizes) sewing pattern
|
All posts may contain affiliate links.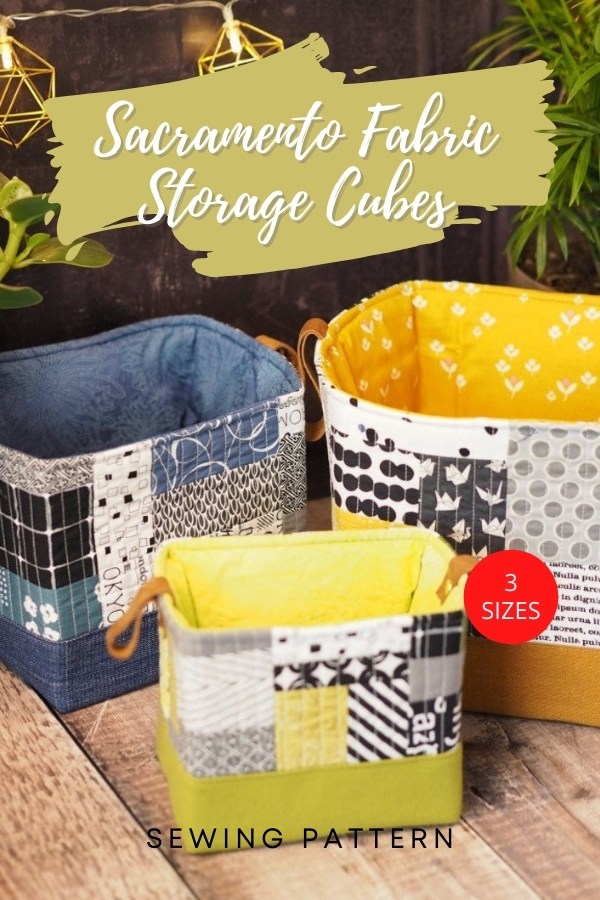 The Sacramento Fabric Storage Cubes are a set of three different sizes of nesting fabric storage cubes made from all of your favorite scraps and leftover pieces of fabric.
They are a pretty and practical handy home storage idea to sew that's perfect for every room of the house. You can use them to store sewing items in your sewing room if you have one, or in your bathroom, or baby's room, or even as toy storage in the kid's rooms.
This pattern uses a clever Quilt As You Go (QAYG) technique to "make" fabric for your fabulous storage cubes. With the versatility of three sizes, the designer is pretty sure that you will find as a confident beginner sewer lots of uses for all of them.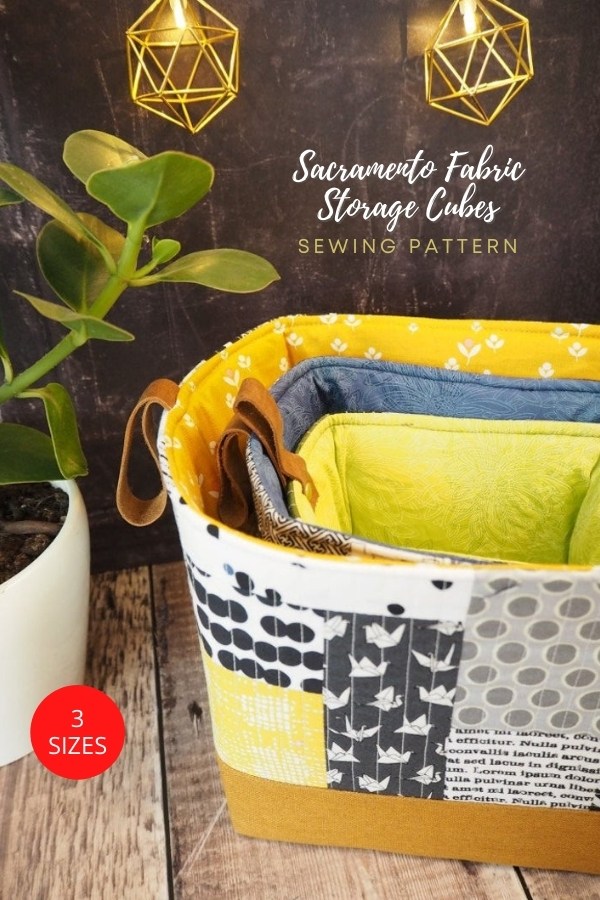 When you have finished making your own Sacramento Fabric Storage Cubes they will measure approximately:-
Large = 7 ½" high by 8 ½" wide by 7 ½" deep.
Medium = 6 ½" high by 7" wide by 6" deep.
Small = 5 ¼" high by 6" wide by 4" deep.
Suggested Fabrics:
Quilting weight cotton (for the top and lining), for the base- denim, canvas, furnishing fabrics, linen, needlecord.
Fabric:
Scraps of quilting cotton in assorted patterns and, if you like colors.
Canvas or denim for the base Large – FQ (M: FQ S: FQ).
Lining fabric Large – ½ yard. (M: FQ S: FQ).
Interfacing:
#279 80/20 cotton mix batting- Large – FQ (M: FQ S: FQ).
Style-vil foam sew-in interfacing- Large- ½ yard. (M: FQ S: FQ).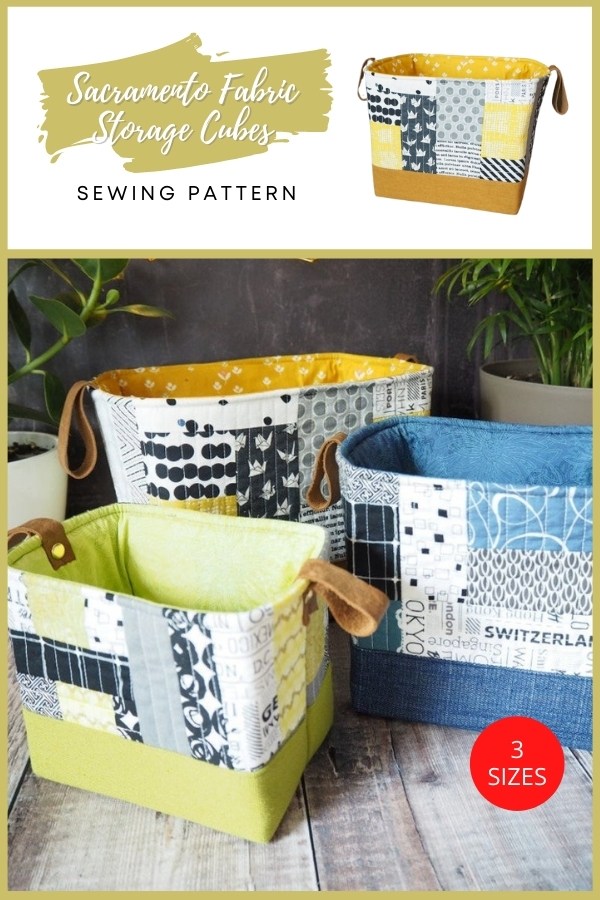 Everything Else:
Something for the handles if you want them. These cubes will function perfectly well without handles but the designer loves details so she has added some leather (or vegan leather) handles. Hers are ¾" wide and about 8" long, and you will need two.
Rivets and the tools for setting them. This is optional but it gives you another look for your cubes and will be kinder on your machine if you have a lighter model'
You will also need a leather hole punch (if using the rivet option), and coordinating threads for all fabrics and trims.
If you would like to download the pattern you can click on the blue button below.
And if you would like to see other bag sewing patterns from this designer then you can click on the red button below.
See all the patterns from this designer here
We think you'll like these patterns for storage and organizers to sew
We know our readers just love to sew storage and organizer projects so we've got lots of them. We've handpicked some of our favorites to feature in our pattern store. These are some of the most popular that are readers are sewing now!