Roll With It Tote Bag sewing pattern
|
All posts may contain affiliate links.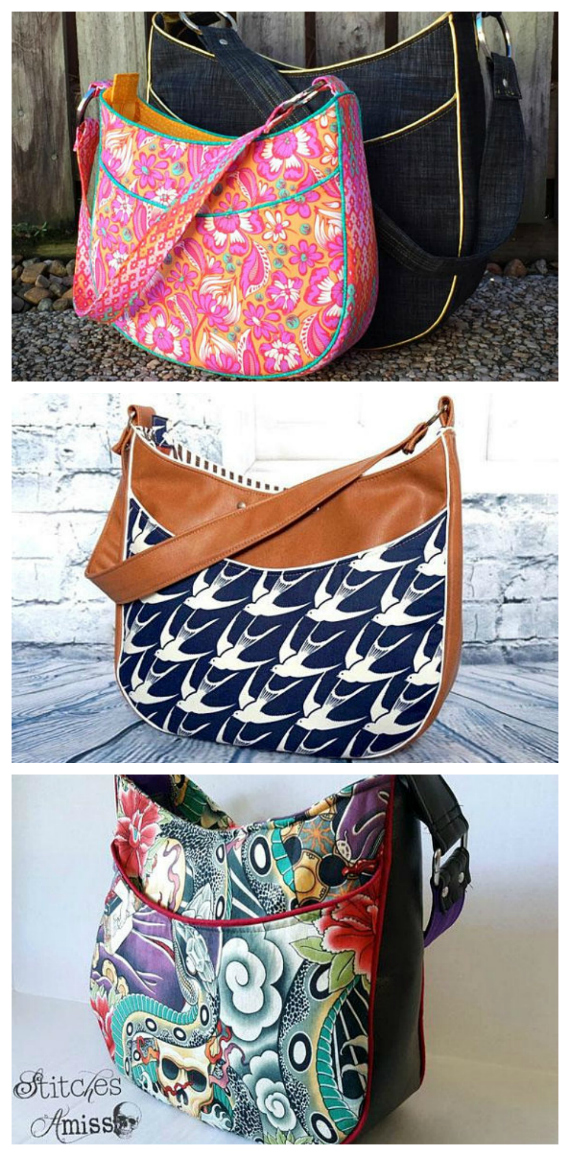 Here is the Roll With It Tote Bag, which has an easy to follow sewing pattern, allowing you to create your very own beautifully curved tote bag. Designed to show off your favorite fabric, the Roll With It Tote is a practical and eye-catching design suitable for everyday use. 
It features piping, large classy o-rings for the strap, a recessed zipper closure, two outer slip pockets, and an inner zipper pocket. It comes in two sizes, small and large, and will cover all your needs from a trip to the races or a coffee date in town, to a shopping day with friends or simply as your everyday tote bag. 

The Roll With It Tote Bag is suitable for an advanced beginner sewer and the finished sizes are as follows:-
Small bag = 7.5″ high by 10″ wide by 2.5″ deep
Large Bag = 10″ high by 13″ wide by 4″ deep
Materials needed to make the Roll With It Tote Bag:-
Fabric for body, straps, strap connectors (i.e. quilting cotton),
Fabric for pockets (i.e. quilting cotton),
Bias for piping,
Fabric for the recessed zipper panel, lining, inner zipper pocket,
Soft and Stable Foam Interfacing or Flex-Foam or Fusible Fleece,
Light-Medium Weight Fusible Interfacing (i.e. Pellon Shapeflex SF101),
Cotton cording or the equivalent of premade piping,
Two o-rings – 1.5″ or 2″ size,
Coordinating zippers – one chunky/long pull zipper 16″ long and one dress zipper 7″ long,
Coordinating thread, scissors, and basic sewing supplies.
The Roll With It Tote Bag sewing pattern is courtesy of Andrie Designs.
Sew more tote bags and you'll be happier - we promise 😉
When you just need to sew and don't want to get into a really complicated project, you can't beat a classic sewing pattern for a tote bag. We've got 50 of our favorite tote bag patterns hand-picked for you in the store. Go to the shop page to find them all saved by category.