All posts may contain affiliate links.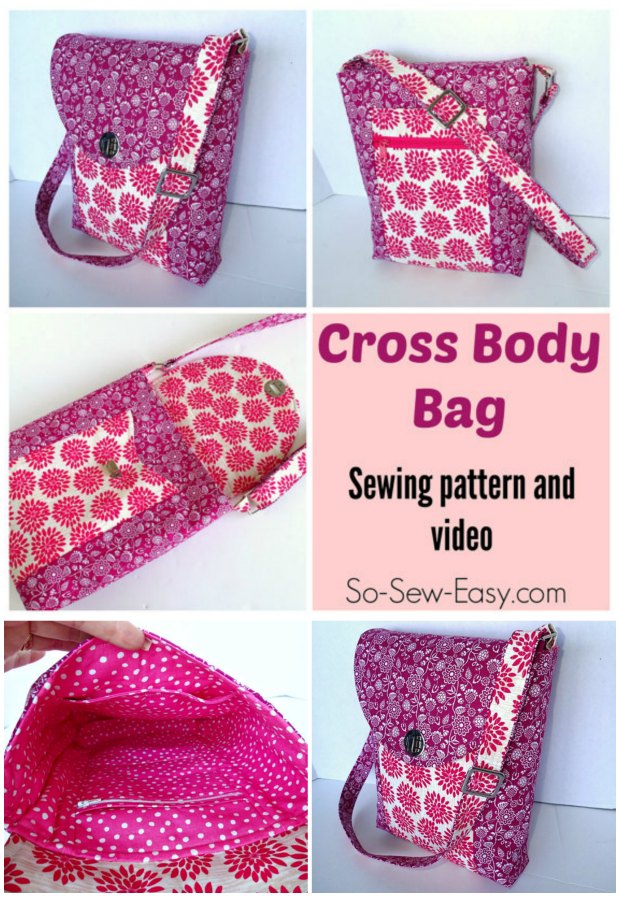 Carry everything you need and stay hands free with this handy Cross Body Bag pattern. Go fancy with smart hardware and adjustable strap, or keep it simple without these optional extras. With both open and zipper pockets front and back, inside and outside, you can keep everything organised and in its place. Roomy enough to carry a tablet but smart enough to use as a purse.
Check out the bag features here.
Its a stylish messenger-style bag with a few nice touches we think you'll like. As usual the step by step video will show you how to get a great finish in easy steps, and all the options you can consider along the way. If you go for the pattern, there is a full 30 minute step by step video to show you how to sew it and which discusses the options you can pick.
Finished size, approx. 10 inches wide, by 11.5 inches tall, by 2 inches deep, plus strap.
Pattern rating = Intermediate
Materials needed for the Cross Body Bag pattern:
*Fabric – quilting weight or home décor fabrics
*Interfacing and stabilisers of your choice, one stiffer weight such as Décor Bond plus a fusible fleece is recommended
*Pocket zipper – 8 inch or longer, one for inside and one for outside
*Matching thread
*Options – Magnetic snap, tuck lock, twist lock, Velcro, button or other closure
*Optional – 1.25 inch adjustable strap hardware (2 x D-rings, 2 x swivel clips and 1 x slider) or 2 x 1.25 inch rectangle rings and slider (see our resources page for hardware suppliers)
*Zipper foot
Buy the Cross Body Bag pattern here
Sew more crossbody bags and you'll be happier - we promise 😉
For the easiest shopping and days out, you can't beat a crossbody bag for leaving you hands-free. We've got 60+ of our favorite crossbody bag patterns hand-picked for you in the store. Go to the shop page to find them all saved by category.