Camille Bag sewing pattern
|
All posts may contain affiliate links.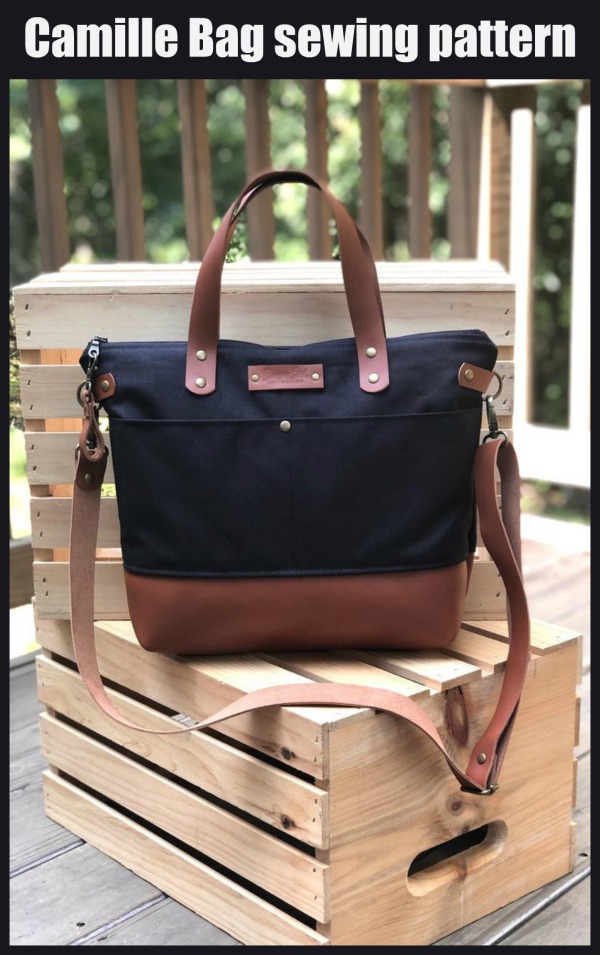 Here is the Camille Bag sewing pattern. We think this bag looks absolutely fantastic and really professional looking. A few simple styling pieces added to this handy tote bag really make it stand out from the crowd, without making it difficult to sew.
Camille is a fully lined tote bag with a top zipper closure, two front exterior pockets, and three interior slip pockets. The instructions are written specifically for leather handles (or use vinyl if you prefer), and either a leather/vinyl or cotton webbing adjustable strap.
Pick the right fabrics and this can be a pretty everyday tote bag for you, or equally a good man-bag to sew for your guy. It looks great in heavier weight fabrics, canvas and leather, or waxed canvas, and your man will be happy carrying this bag to work.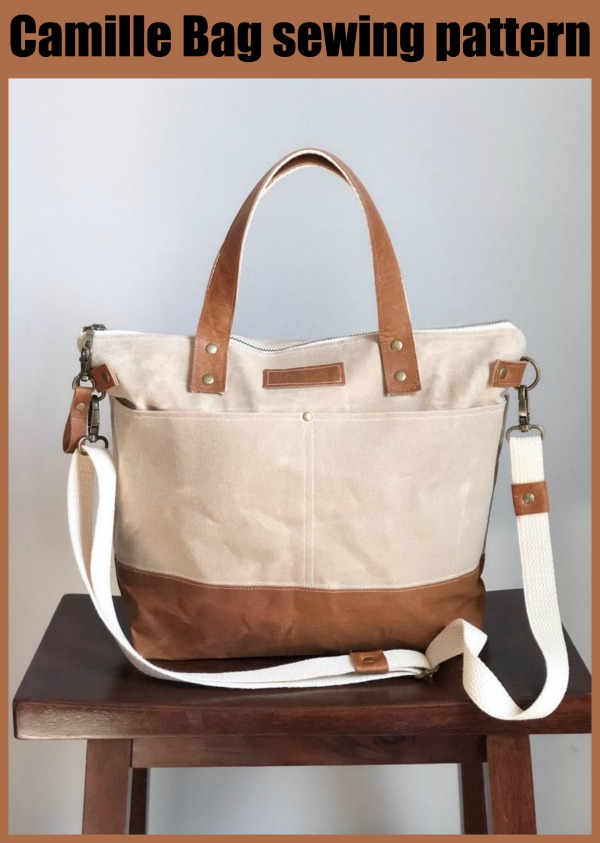 Sizing info:
When you have finished making yourself a Camille Bag it will measure approximately 11″ wide (at the base) by 10.5″ high by 4″ deep.
Skill level:
The designer, Georgia Girl Stitches, rates her project as suitable for an advanced beginner sewer. It requires knowledge of setting rivets and installing a zipper.
The clever use of rivets in this otherwise simple bag really takes it to the next level. Rivets are inexpensive, easy to use (after a few practice goes to get used to them), and really give your new tote an understated bling factor associated with a brand name bag bought from a nice store.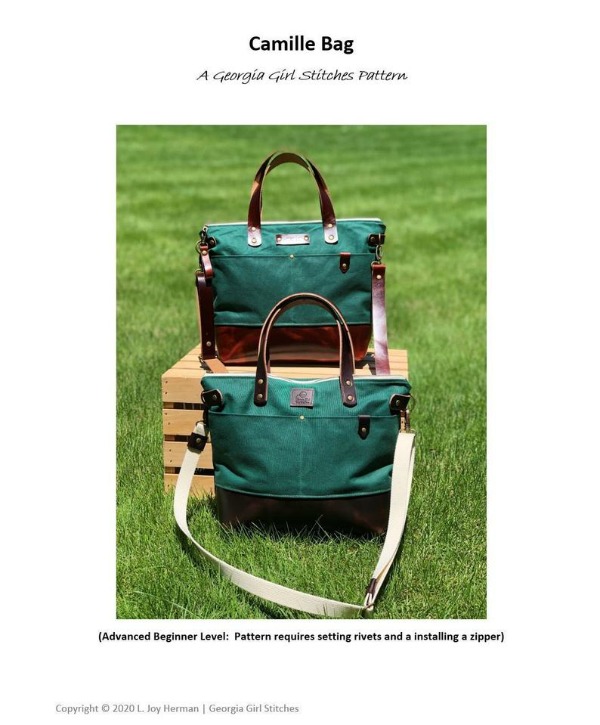 With regards to the materials you might want to choose for the leather handles and crossbody strap, for the handles, the designer recommends using leather that is at least 4-5oz (1.6mm – 2mm) thickness. There are many sources for purchasing 1″ wide leather strips for the handles and crossbody strap. One option is to purchase the "Genuine Leather Purse Strap, Oil Tan Strip" from Springfield Leather Company on Etsy. One 64″ strip can be used to cut both handles, the accent pieces, and the side strap connectors. If you decide to make your crossbody strap with leather (instead of cotton webbing), you would need to purchase two of the 64″ strips.
For the cotton webbing crossbody strap, the designer recommends using one that isn't too soft and thin. There are many places to purchase good quality cotton webbing. She uses the 1″ Medium Heavy Weight cotton webbing from EverythingRibbons on Etsy.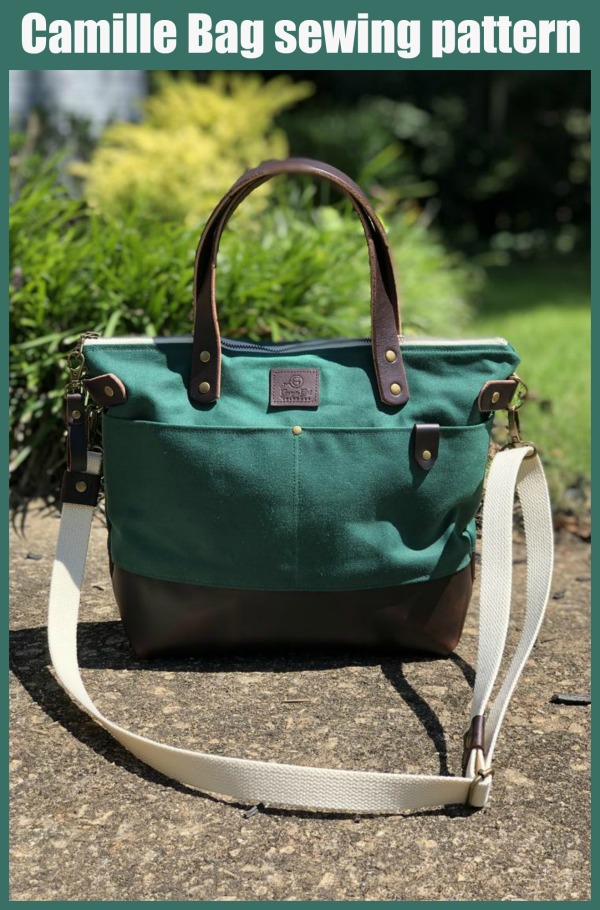 What you will need to make a Camille Bag:-
2/3 of a yard of 44″ wide heavy fabric for the exterior top and exterior pockets,
1/4 of a yard of 44″ wide waxed canvas, leather, or cork for the exterior bottom,
1-yard of 44″ wide cotton canvas or quilter's cotton for the lining and interior pockets,
Up to 1 1/2 yards of woven interfacing (if using cotton canvas for the exterior and/or quilter's cotton for the lining),
1/8 of a yard of Pellon 70 Peltex or 71F Peltex interfacing (optional for adding additional support to the bottom),
One 14″ zipper,
Two 1″ swivel lobster clasps,
17 rivets and a rivet setting tool or press,
One 1″ adjustable/triglide slide,
Two 3/4″ D-rings,
1 1/2 yards of 1″ leather strips for handles, and cutting out the side connector straps and leather accents,
55″ long 1″ wide cotton webbing or leather strips for a crossbody strap. (55″ is the suggested length, but the strap can be cut longer or shorter based on preference),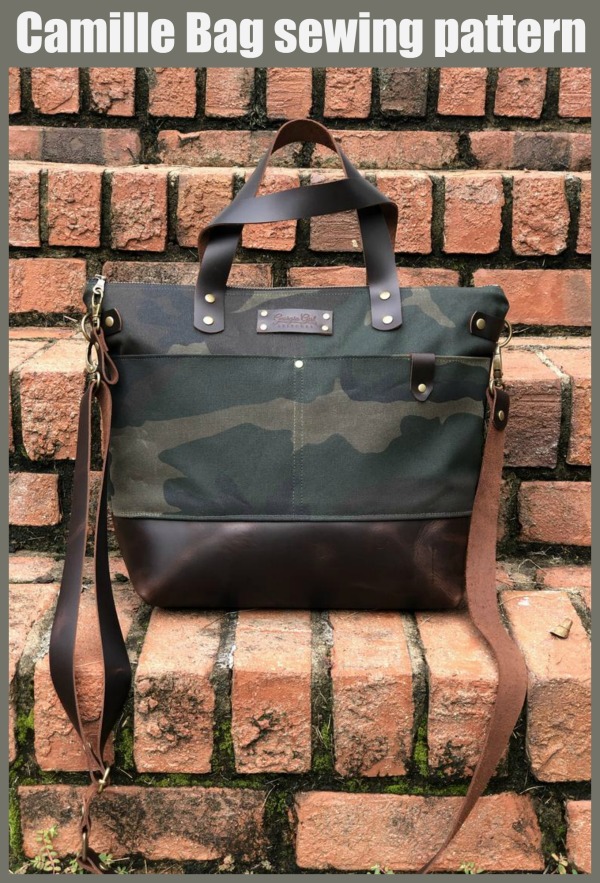 This is a measure and cut sewing pattern. The file does NOT include pattern pieces or templates. You will receive one fifteen-page file that includes helpful notes, a materials list, measure and cut instructions, step-by-step instructions on how to make the bag, numerous photos, and a final page with labels that can be used for organizing your fabric pieces as they are cut. If you would like to download the pattern you can click on the light blue button below.
This one wasn't quite right for you? What about these instead?
Want even more purses and handbags to sew? Our shop is packed full of hand-picked favorites from talented designers, big and small. Here are a sample selection you might like. Check them all out in our shop.