Different methods for boxing the corners on a bag – video tutorial
|
All posts may contain affiliate links.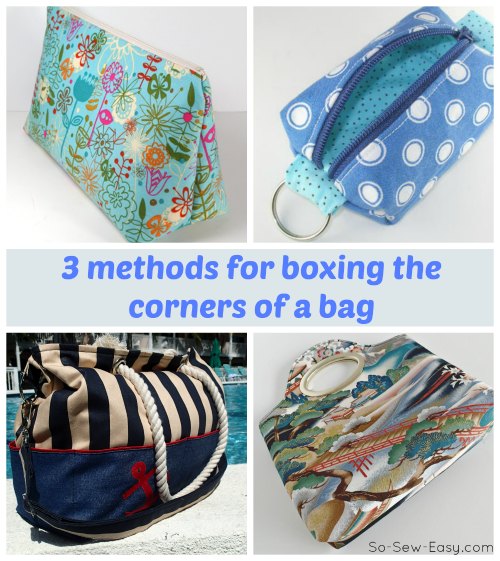 When you've sewn a few bags you start to notice that each designer has their own particular favorite way of doing things.  Their signature methods.  But there are usually more ways than one to sew a bag and learning alternative ways to do things might enable you to sew quicker, easier or neater if you find a slightly different method that suits you better.
Or learning these skills can help you design your own patterns, adapt patterns as needed, or combine features from several patterns into a single unique bag design of your own.  Take corners for example.  Unless you are sewing a flat bag such as a simple zipper pouch, your bag will usually have some depth to it, darts or corners, and a flat bottom. There are several ways you can create those corners and flat bottom to your bag and here's a video to show you three different ways.
The first two you'll probably be familiar with, but stick around for the third one – that might be new and might be just what you are looking for to add something different to your next bag project.
Three different ways to box the corners on a bag:-
Feeling inspired to sew? Check out all of the excellent sewing patterns here on Sew Modern Bags and you'll never be able to work through your 'must sew' list. Click each of these headings to go to the saved bag categories below:-