Our most popular bag sewing pattern Pins on Pinterest
|
All posts may contain affiliate links.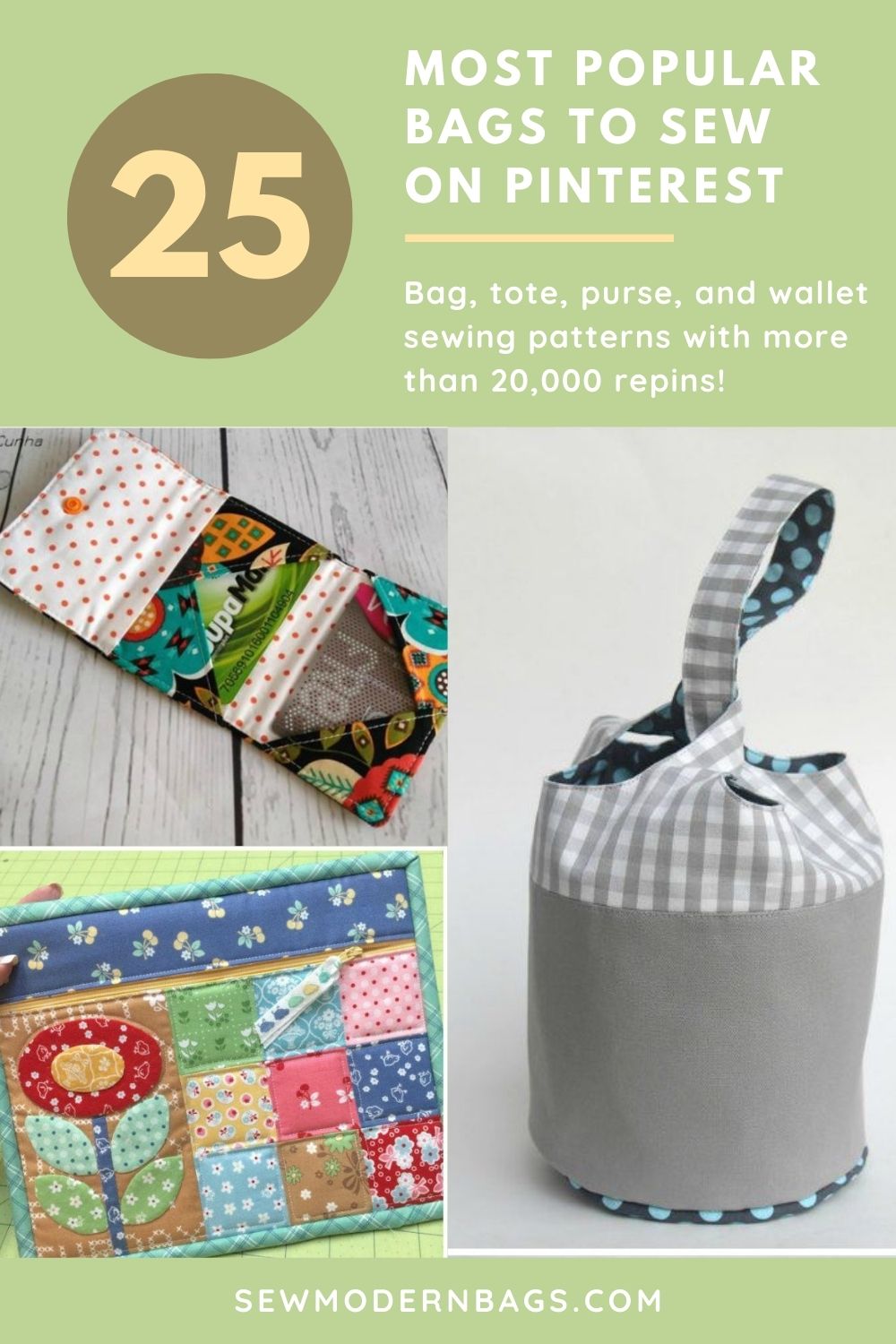 Want to know which are the most popular bag sewing patterns on Pinterest? We've been looking through the Pinterest statistics to pick out those pins which have been saved and repinned most often. Here's a collection of pins all of which have at least 20,000 repins, and often many more!
We already know you love to sew bags, but how do you save projects you love and might be interested in sewing in future? Do you buy or download them all now? Do you make a list of links and pages to refer back to? Do you bookmark them in your browser?
We've found the easiest way to save our sewing ideas, projects and inspiration is to use Pinterest. We have a number of accounts. One for Sew Modern Bags, another for our sister site at Sew Modern Kids, and then Laura and I both have our own personal accounts where we save all of personal wish list items too.
You probably already know all about Pinterest and how to use it to save ideas to 'boards' so that you can refer to them later. It's so much better to 'Pin' an image than to save something in a browser bookmark just using a title.
Using Pinterest also has the added benefit that if you find and pin great things, other people with similar interests will follow your boards to make it easier for them to find the same things that you love too.
And when enough people love a pin and repin it – well, the magic happens, that pin spreads through the sewing boards, gets seen by more people who pin it, they share it with their followers, who pin it – and so it continues. When that happens these pins can send traffic to our website and show us the type of posts which are the most popular. Then we know to share more of these sort of projects with you. It's a win-win for everyone.
Behind the scenes, Pinterest shows us how many times a pin has been repinned to other sewers boards, and we thought it might be fun to share the most popular pins with you in case you missed them. Then you can repin them to your boards for later, and in turn, share them with people who have the same interests.
So here they are – our most popular pins according to the number of repins. The number under the title is the number of repins at the time of writing this article.
TIP – when you've pinned to your board, you can click on the pin to be redirected to the article about that pattern to find out more.
Our most popular Bag Sewing Pattern Pins on Pinterest
Drumroll please....here they are revealed. Our current most popular pins on Pinterest. All of these pins have had more than 20,000 repins - each! There is huge variety in sewing patterns here. We have simple beginner patterns, roundups and archives featuring patterns by category, premium patterns, lots of free bag sewing patterns to download, and a range of purses to sew for the intermediate sewer and above. Something for everyone.
Check out all of these most popular patterns and make our day by pinning your favorites to your sewing boards to share with your followers, or save for later.
Thank you, everyone, for helping our site by sharing these pins. You can PIN this article too!