Milestone Pouch sewing pattern
|
All posts may contain affiliate links.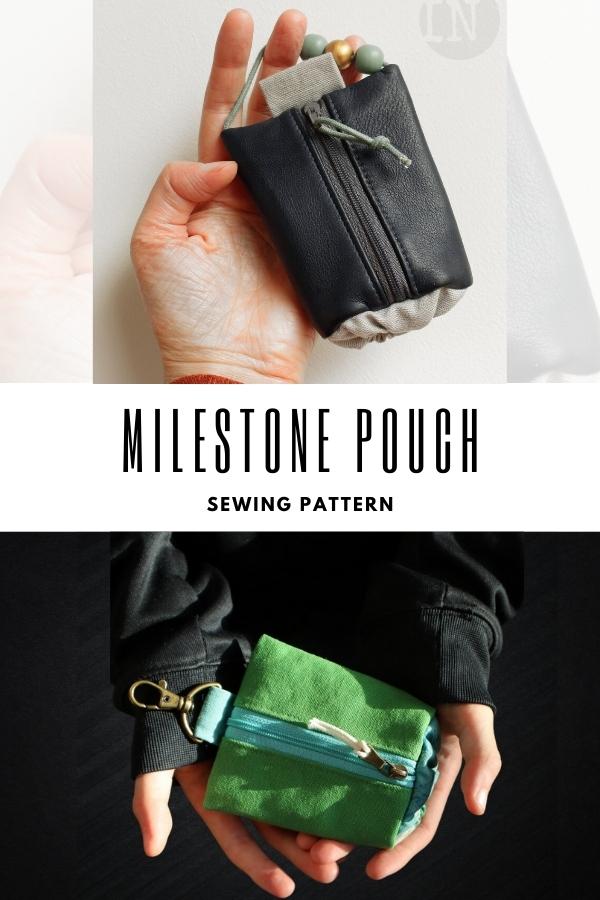 This is the Milestone Pouch pdf sewing pattern from the designer The In Complete Stitch.
The designer describes her Milestone Pouch as a sweet little key and coin purse. It features a zipped pocket for a few coins and a separate enclosure with an elasticated opening providing an easy to access spot for a key. There is also the option to add a cute little curved slip pocket for a credit card/travel card! This powerful little pouch packs a punch!!
Lots of little details for you to play with, with flexibility to use the fabric, notions and hardware you have on hand. Ideal to sew to keep in your main purse, to keep a few essentials easily on hand. Or just slip it in your pocket when you take the dog for a walk, or drop the kids at school.

And of course, scrap friendly to sew too!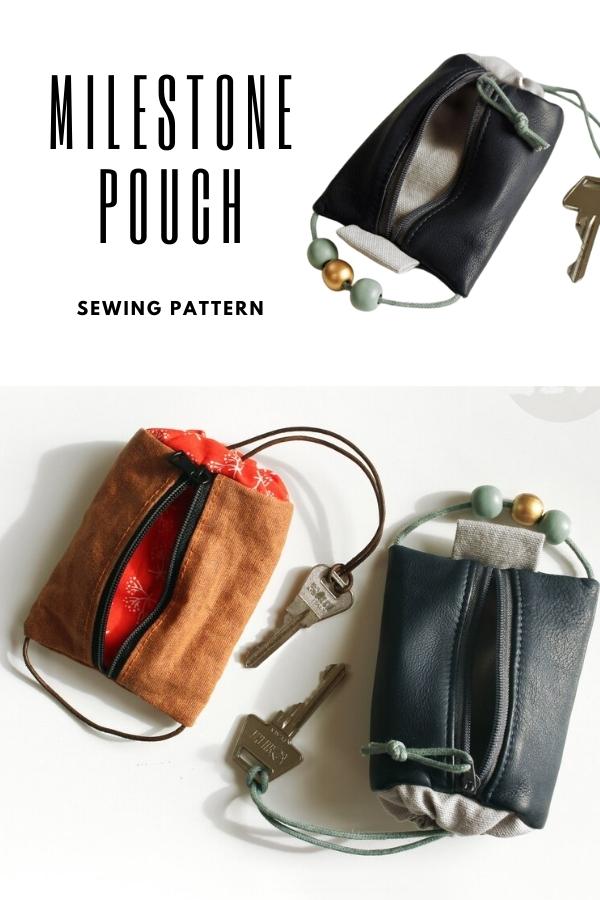 Skill level:
The designer rates her sewing project as suitable for a confident beginner sewer. It's a straightforward quick project that is great as a scrap buster. It can be a little tricky to handle something so small, but that's really the only challenge. The designers accompanying comprehensive tutorial will help you make this lovely pouch with ease.
Sizing info:
When you have finished making your very own Milestone Pouch it will measure approximately 10cm (4″) tall by 9cm (3½") wide.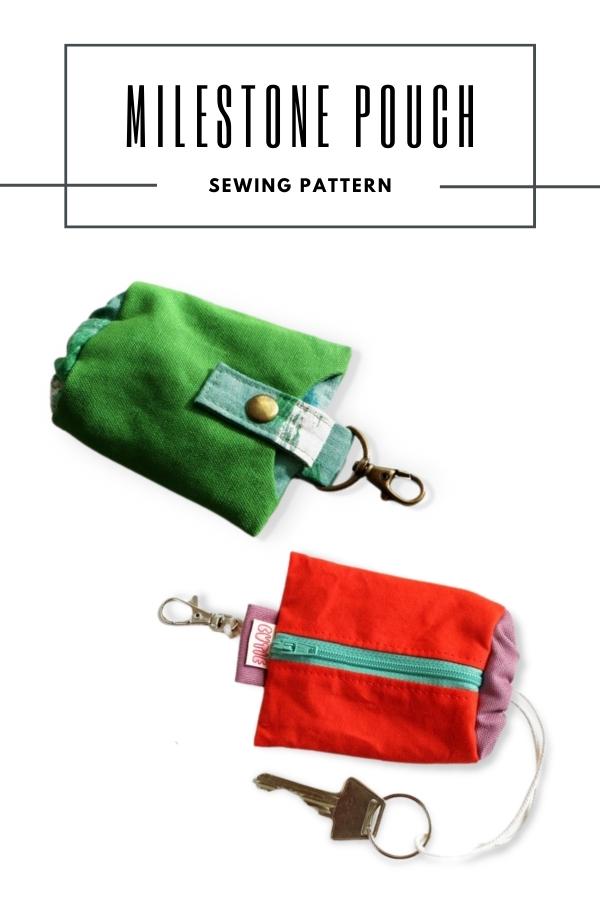 What's needed to make a Milestone Pouch:-
Outer fabric: Most mid-heavy weight woven fabrics are suitable such as oilskin or waxed canvas, midweight canvas, denim.
Lining: Medium-lightweight cotton, quilting cotton, linen, mid-light weight canvas.
This is a total scrap buster of a project; less than a ¼ meter of fabric is needed. You will probably get most of what you need from your scrap basket!
One zipper: 16 cm (6½") length of No.3 coil zipper tape. In order to get the full opening length, the use of a length of nylon coil zipper that you can sew over is suggested. A no.3 size tape is recommended but a no.5 can be used.
Cord: approximately 30 cm (12″) of cord to secure a key inside the elasticated pocket, and optionally a further 18 cm (7″) for either a bottom loop or a zipper loop. The key loop can be made using 30 cm (12″) of 2 mm cotton cord, some elasticated cord, leather string, narrow cotton herringbone tape. The final finished lengths of cord will be shorter, but it is much easier to handle with some excess cord length.
Elastic: approximately 25 cm (10″) of 0.5 cm (¼") elastic. To secure the elasticated opening. The final finished lengths of elastic will be shorter, but it is much easier to handle with some excess elastic length.
Snap Fixing: a 12 mm anorak style snap fixing. If including the external slip pocket, you will need one snap fixing to secure it.
Other Optional Hardware Items:
D-Ring: A small D-ring (12 mm to a max width of 25 mm) to optionally add to a zipper tab at the base.
Swivel Hook: A small swivel hook (12 mm to a max width of 25 mm) to optionally add to a zipper tab or zipper loop at the base.
Key Ring: A key ring to add to the internal key loop so that more than one key can be secured.
The Milestone Pouch pattern and instructions are written in English and is drafted in metric measurements with closest equivalent imperial measurements given at all stages.
The downloadable zip file includes a detailed, extensive, illustrated step-by-step tutorial to guide you in confidently sewing your own pouch. Also included with your download is a tiled print at home PDF pattern (A4 & letter), and a layered PDF projector file.
If you would like to download the pdf pattern you can click on the blue button below.
Keep organized with these storage and project bag ideas to sew
Want even more project bags, storage and organizers to sew? Our shop is packed full of hand-picked favorites from talented designers, big and small. Here is a sample selection you might like. Check them all out in our shop.