MidnightSUN Project Bag sewing pattern (2 sizes)
|
All posts may contain affiliate links.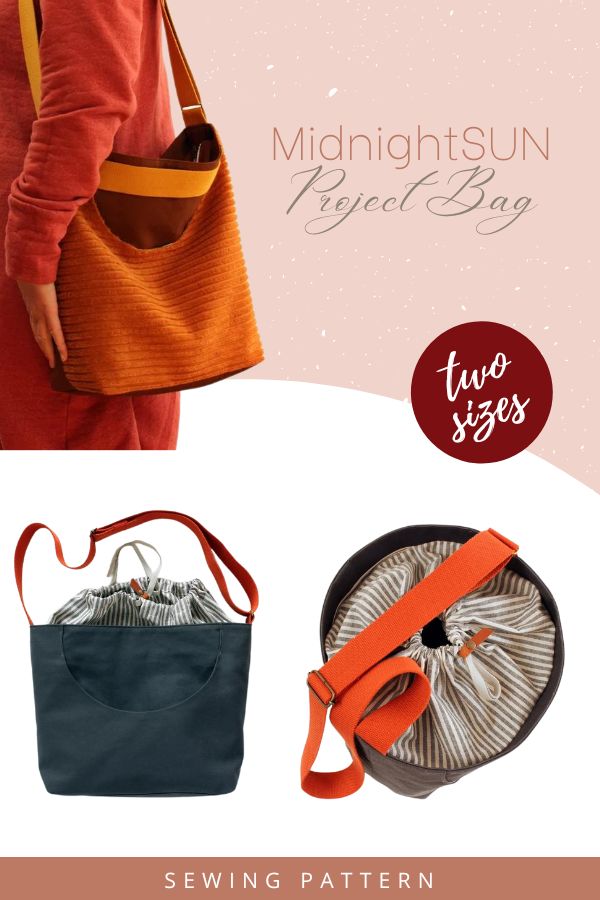 This is the MidnightSUN (Tote, Crossbody, and Project Bag) pdf sewing pattern from the designer The In Complete Stitch.
The MidnightSUN can be made in one of two heights – cropped and tall. The cropped version is a great size for a generous handbag or project bag while the taller version makes a fab tote/crossbody bag or a larger project bag.
This project includes a number of main closure options, as follows:
– a recessed zip,
– a drawstring closure,
– or a simple magnetic/snap fixing.
The pattern also includes lots of strap styles to choose from and combine. There are shorthand straps, tote straps, flat lay straps, shoulder/short crossbody strap, or a detachable crossbody strap. We love a versatile bag pattern!
Both height options of the bag feature a generous main bag and a large external curved pocket. Internally you can choose from a host of options; keep it simple or add a zipped welt pocket, a curved patch pocket, or a simple rectangular patch pocket. There is also a "secret pocket" as part of the drawstring closure option.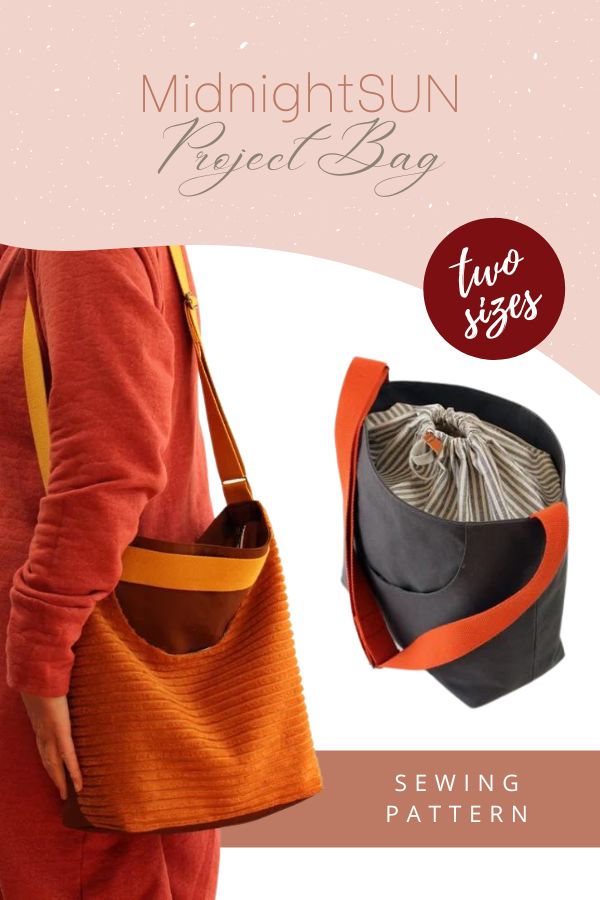 Sizing info:
When you make yourself these MidnightSUN bags they will measure approximately:
– The cropped version is 8½" (22 cm) tall by 14½" (37 cm) wide at the main opening, and 5″ (13 cm) deep at the base.
– The taller MidnightSUN version is 12″ (30 cm) tall by 14½" (37 cm) wide at the main opening, and 5″ (13 cm) deep at the base.
Skill level:
This project is rated by the designer as suitable for a "Confident Beginner/Intermediate" level sewer. Please be aware that the pattern has lots of options; some straightforward and some a bit more challenging; requiring a bit of confidence in handling multiple layers of fabric and two different zip construction methods.
Materials needed:
So what fabrics should you use when making the MidnightSUN Bag? The designer says for the outer fabric you can use Oilskin/waxed canvas, mid-heavy weight canvas. And for the lining fabric, you can use medium-lightweight cotton, quilting cotton, or linen. You'll also need some interfacing.
The notions you should use depend on your choice of option, as follows:
= 1″ to 1½" inch (25-40 mm) webbing/straps.
= 1″ to 1½" inch (25-40 mm) D-rings.
= 1″ to 1½" inch (25-40 mm) adjustable sliders.
= 1″ to 1½" inch (25-40 mm) swivel hooks.
= Magnetic/Snap fixing.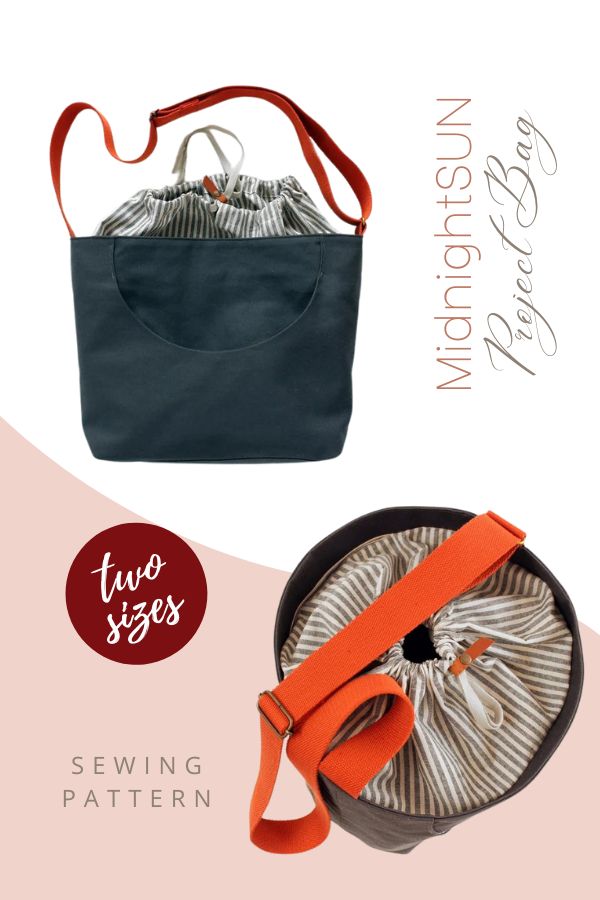 This digital download includes a zipped file that contains:
– A detailed, extensive, illustrated step-by-step tutorial.
– A tiled print at home PDF pattern (A4 & letter).
– A0 copyshop pattern.
– A layered PDF projector file.
If you would like to download the pattern you can click on the blue button below.
Even more crossbody bag sewing patterns you won't be able to resist
Want even more crossbody bag sewing patterns? These are the top best selling crossbody bag patterns in our store. Take a look at the category on our shop page for even more - 60+ more!