Nurse Hip Bag, sewing pattern for a fanny pack or waist bag
|
All posts may contain affiliate links.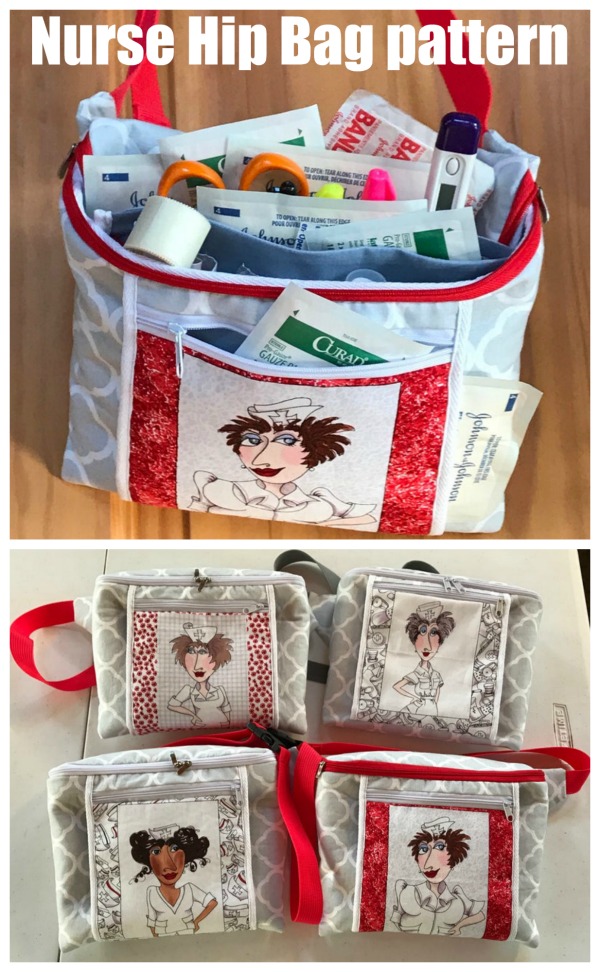 Originally made for a nurse but suitable for so much more, this zippered waist or hip bag is like an Aladdin's Cave of storage and organization ideas. Now you can carry everything you need with you and put your hand on it right away, no matter your profession, hobby or need.
This is the ultimate zippered waist or hip bag for busy people on the go. A space for everything and everything in its space.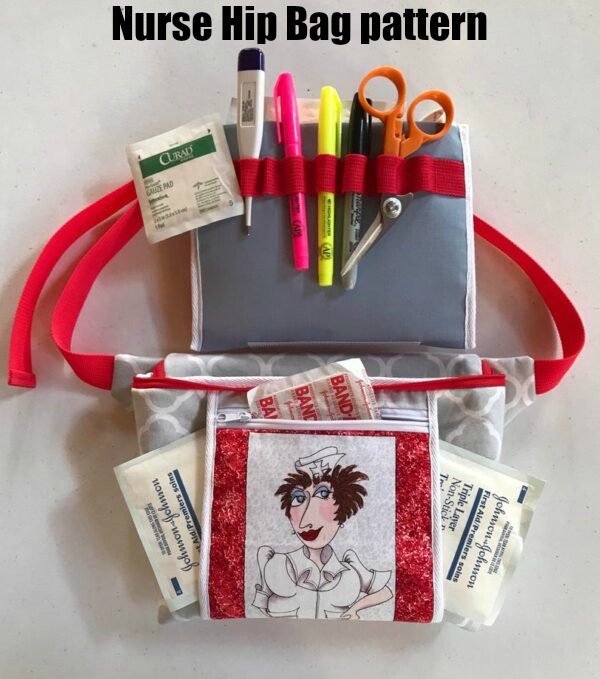 Check out all these great features of this unique bag:
It hugs your waist/hips and ergonomically shapes your body. The bag is specially designed wider on the top and narrow on the bottom, providing easy access to the items inside.
It has two zippered pockets, one on the front side and one on the back.
The front zippered pocket creates a slot behind it, which makes additional pocket with open sides for the folding paper holding board.
The back zippered pocket is wide enough for the phone and will keep your personal items safely.
The double slider zipper in front of the bag provides easier access from the middle or from any other side.
When in use, you can open the top zippered panel and tuck it in to get easier access to all your items. When finished, zip it all the way.
Mixed pockets insert has a strip of a Velcro on the bottom, which allows you to detach it when needed for reloading or just easier access to the items in it.
The insert pocket contains four tall narrow pockets with a pleat on the bottom for more space, one wide mesh pocket, snapped loop for a tape roll, D-ring to keep your keys, a strip of webbing with multiple loops for pens, markers, highlighters, tools, etc., and wide large pocket in the middle.
All these pockets make enough room to hold couple pair of gloves, tons of sterile gauze pads of different size, bandages, hand sanitizer, towelettes and more.
The clear vinyl pocket inside will organize your notecards, reminders, business cards and other small papers.
The bag itself is not flat; it's wider on the top, so there is still some more room in between the insert and the panels of the bag, so you can stuff it with even more items!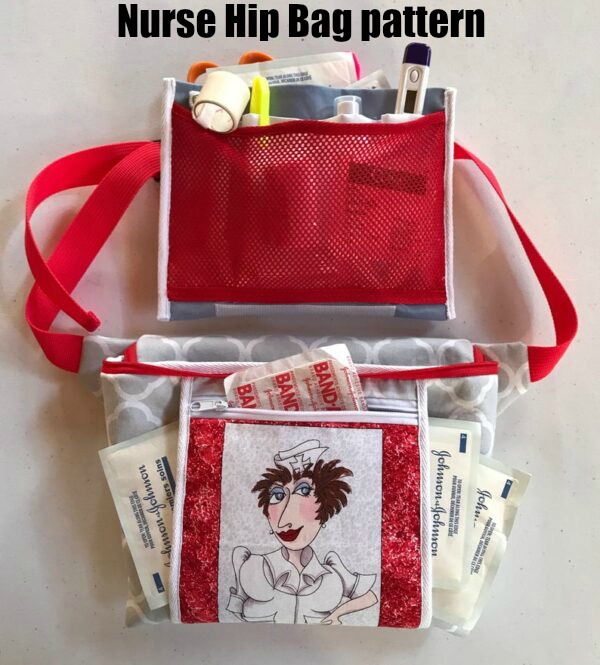 Would you like to make this as a gift for a nurse, doctor or someone in the medical profession? We think that's a wonderful idea. You can grab yourself some wonderful nursing and medical related fabrics here.
Take a good look at this handy bag and think about how you could use it for your own hobbies or at work perhaps. Here's a great video from the designer showing you all the great features of her Nurse Hip Bag pattern.
Sizing info:
When you have finished making yourself a Nurse Hip Bag it will measure approximately 9″ by 7″.
Please note this is a digital download PDF file, not a paper sewing pattern.
See all the patterns for this designer here
Keep organized with these storage and project bag ideas to sew
Want even more project bags, storage and organizers to sew? Our shop is packed full of hand-picked favorites from talented designers, big and small. Here is a sample selection you might like. Check them all out in our shop.