Craggan Men's Messenger Bag Sewing Pattern
|
All posts may contain affiliate links.

For all those awesome men in your family, this pattern shows you how to easily make a men's tough crossbody bag. It has an adjustable crossbody strap and magnetic snap closure. A generous size, great for everyday use, large enough to accommodate an iPad and all his essentials and strong enough for the hardest working man!
Fully lined throughout with a feature phone pocket on the front. The instructions walk you through, in simple steps, how to construct the roomy box cornered bag including how to create adjustable webbing straps, and attaching magnetic clasp closures. The bag also has an anti-theft strap, to attach your keys.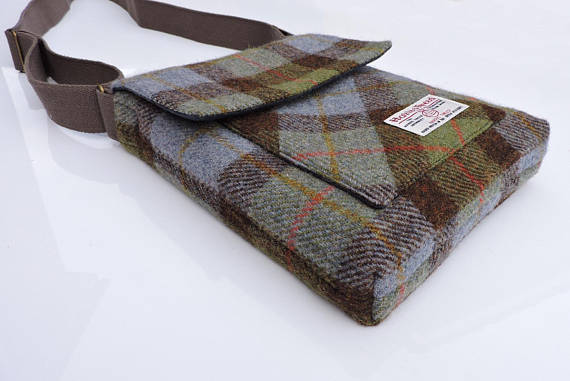 This example was made with Harris tweed, but it is suitable for most medium weight fabrics including tweeds, denim, medium weight cottons and furnishing cottons, and can be made from just half a yard each, outer and lining.
This pattern is suitable for anyone who has tried a few patterns before and the finished dimensions are 10.25″ by 8.75″.
This pattern is courtesy of SpencerOggPatterns (formerly PDFPatternsPlus).
Click here to get this pattern
See all the patterns from this designer here
Sew more crossbody bags and you'll be happier - we promise 😉
For the easiest shopping and days out, you can't beat a crossbody bag for leaving you hands-free. We've got 60+ of our favorite crossbody bag patterns hand-picked for you in the store. Go to the shop page to find them all saved by category.