Megan Shoulder Bag sewing pattern
|
All posts may contain affiliate links.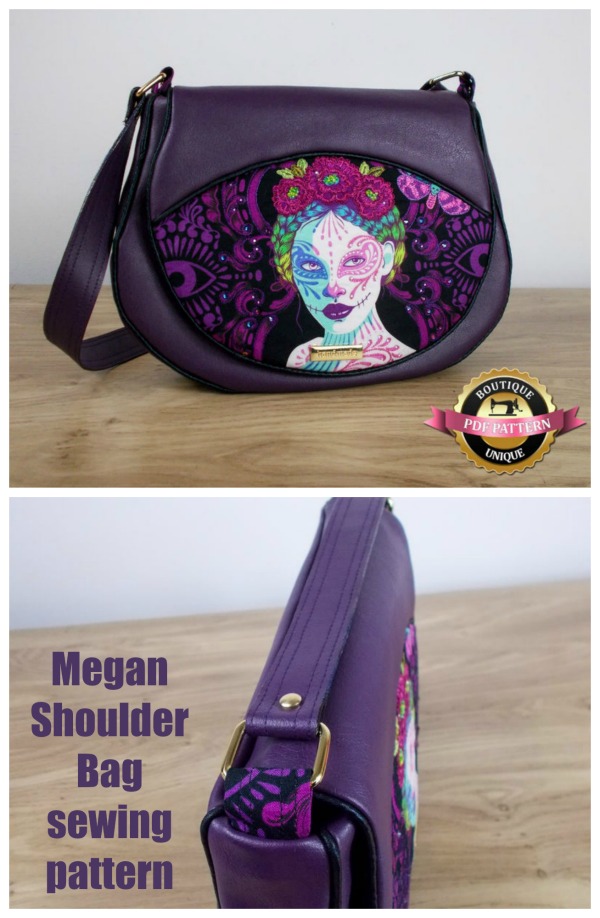 This is the Megan Shoulder Bag sewing pattern. It's an ideal project for using up that special scrap of left-over fabric with its front feature panel. It has three different fabrics; a main, a feature, and a lining. We love how curvy the bag is, with the piping really emphasizing the great shape.
This is an easy make and can be made with or without piping and wadding to suit your own taste. It's a handy size shoulder bag with two internal pockets, one being a zipper pocket to keep your purse or phone safe. It has a flap secured by a magnetic snap plus a zip across the main bag opening for extra security.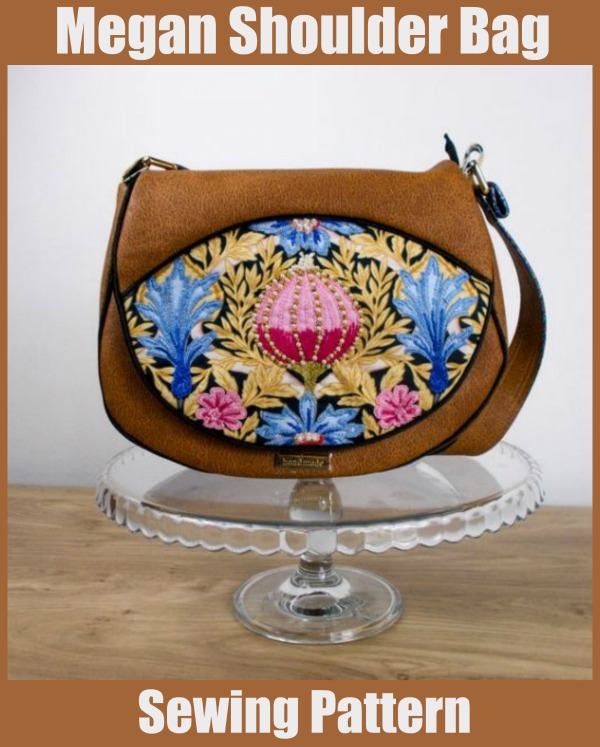 Square strap carriers were used to attach the strap which gives the bag a professional finish. There are many styles of bag furniture available in an array of finishes from ultra-modern to antique.
As usual with this designer's patterns, the use of wadding is optional but does make for a more substantial finish. This example was made using a combination of leatherette and cotton woven fabrics.
Sizing info:
When you have finished making yourself a Megan Shoulder Bag it will measure approximately 12″ (30 cm) wide by 9″ (23 cm) tall.
Skill level:
The designer rates her project as suitable for an intermediate sewer. You will need to be able to insert a zip and insert piping. Full instructions are given.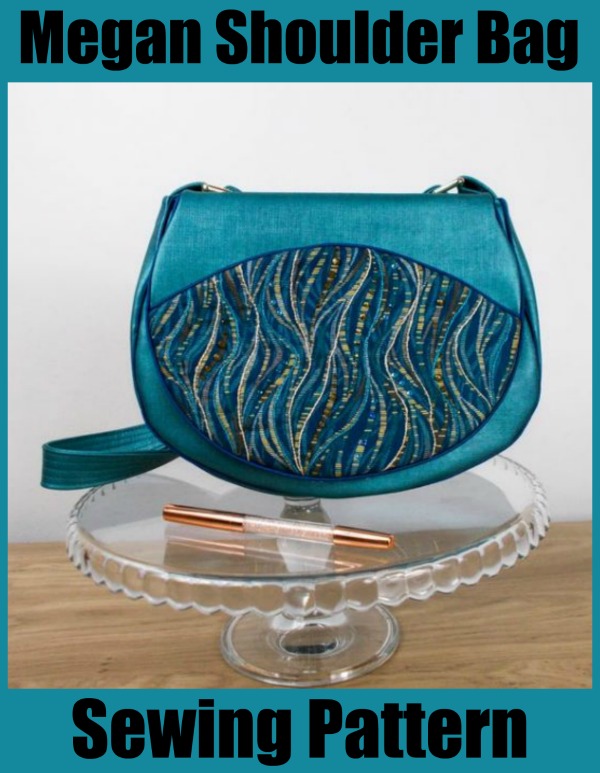 What you will need to make a Megan Shoulder Bag:-
0.5m (1/2 yd) of main outer fabric,
One fat quarter or scrap of feature contrast fabric,
0.75m (¾ yd) of lining fabric,
0.5m (½ yd) of polyester wadding (optional),
0.25m (¼ yd) of medium weight iron-on interfacing or preferred interfacing,
3ms (3 ¼ yds) of 4mm ready-made piping (or 4mm cord if making your own)(optional),
One 30cm (12") zip,
One 6" zip,
One fat quarter additional fabric if making your own piping,
Basting spray, available from Amazon or other retailers optional,
Two 25mm 1" square strap carriers,
One magnetic snap,
Two Chicago screws (optional),
You can download the pattern for the Megan Shoulder Bag by clicking on the light blue button below.
The designer, Boutique Unique Design, has a number of other lovely bag sewing patterns that you can view by clicking on the red button below.
See all the patterns from this designer here
More ideas for purses and handbags to sew
Want even more purses and handbags to sew? Our shop is packed full of hand-picked favorites from talented designers, big and small. Here are a few recent additions you might like. Check them all out in our shop.