Maxine Project Tote Bag sewing pattern (3 sizes + video)
|
All posts may contain affiliate links.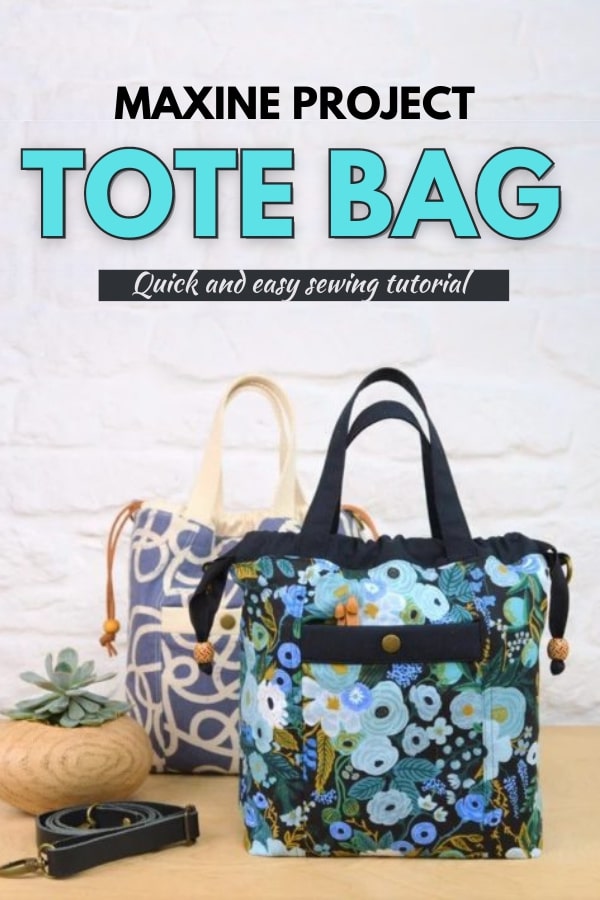 The Maxine Project Tote Bag is an improving beginner sewing pattern for a wonderfully practical drawstring Tote, with instructions for making three sizes!
This is a quick and easy sewing tutorial with templates to make roomy, stylish drawstring project bags. Professionally drawn templates are included, BUT if you want to work from measurements, full instructions are provided (in inches only) so you can just cut and sew.
These drawstring bags are perfect for knitting, sewing, or embroidery projects on the go. They don't have to be just for projects either – these bags are stylish and practical enough for everyday use – including trips to the beach!
The end result is a beautiful quality product – fully lined with internal pockets and a stylish but simple drawstring closure. A detachable shoulder strap can be made in leather or fabric – instructions are included in the pattern.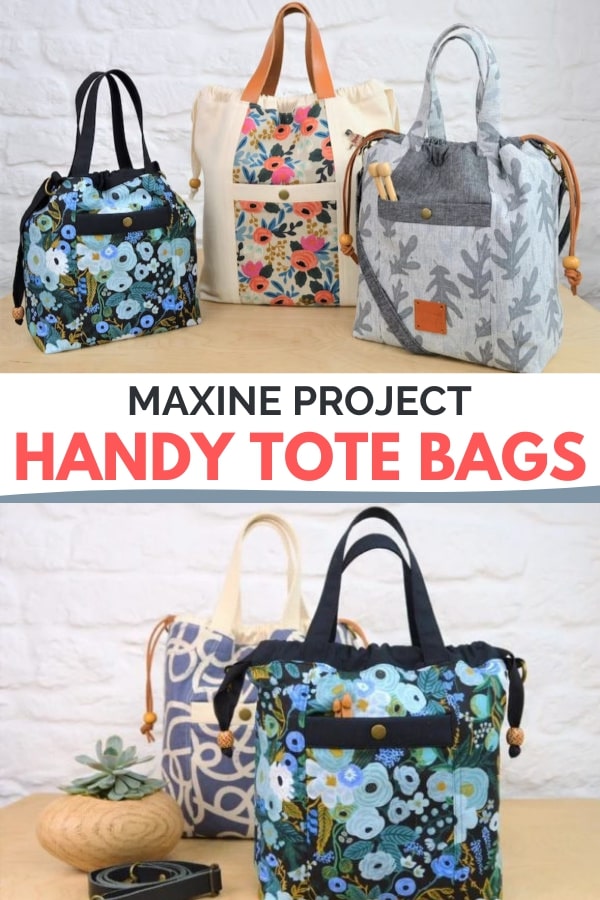 You can fit lots inside these bags – the smallest is really cute, and ideal for small projects on the go like socks, booties, or Christmas decorations! The large will take an afghan or bulky sweater. Have fun choosing coordinating colors or make the whole bag in a beautiful plain – the possibilities are endless!
Special features:
– A practical range of sizes suitable for a variety of projects large and small.
– Simple drawstring closure – use a leather cord for a stylish finish.
– Instructions for leather and/or fabric handles.
– Instructions for a shoulder strap for those who like to take their projects where ever they go.
– Fully lined with no exposed seams.
– One external and one internal slip pocket with press fasteners.
– Siz slip pockets inside – four needle pockets, two slip pockets for notebook and other sundries.
A full length video tutorial is available from Jessica here.
Skill level:
A nice easy project for an improving beginner who has made a couple of easy bags already and is used to basic sewing and using a sewing machine.
Sizing info (Height to drawstring channel by width at the bottom by depth):
– Large = 13″ by 11½" by 6″.
– Medium = 11″ by 9½" by 5″.
– Small = 9″ by 8½" by 4″.
Fabric requirements for all sizes:
Exterior Fabric – whole bag inc. handles – 1¼yd/ 1yd / ¾yd,
If you want to use contrasts –
Drawstring channels – 1¼yd / ¼yd /FQ,
Center front panel -FQ all sizes,
Main Bag without front panel or channels- ¾yd/ ½yd /½yd,
Lining Fabric- 1½yd/ 1¼yd/ 1yd,
Fusible woven Interfacing–
Pellon SF101 (20″ wide)- 2yds / 1½yd/ 1¼yd,
OR Vilene G700 (36″ wide)- 1¼yd/ 1yd/ ¾yd,
Pellon 987F (45″ wide)- ½yd / ½yd /13″.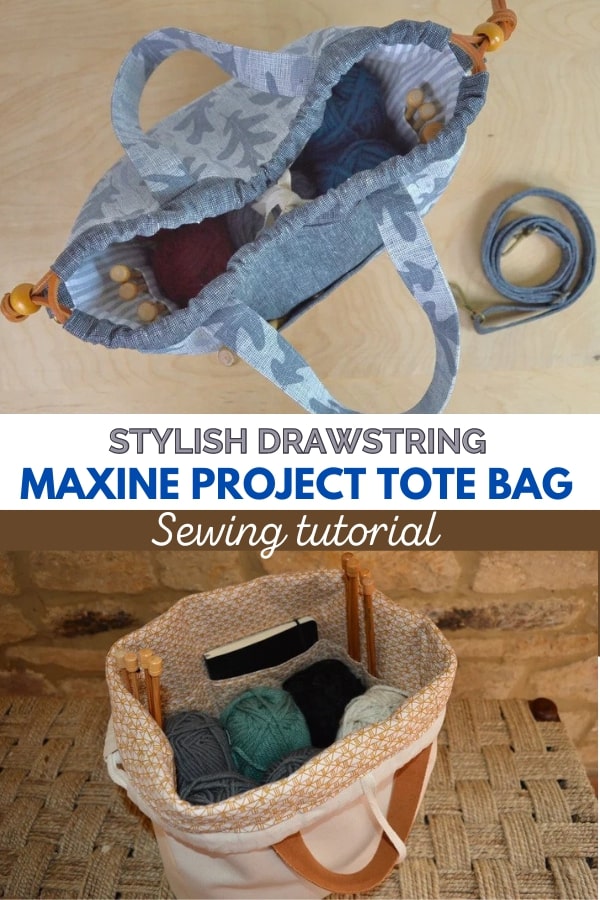 The pattern:
This listing is a digital file. You will receive two files – a 22-page booklet with clear, easy-to-follow step-by-step instructions and color photos to make this bag, AND, a pdf template document with full-scale computer-drawn templates that do not need to be scaled – simply print, cut out and assemble the templates and use them to make the size of your choice!
If you would like to download the pattern you can click on the blue button below.
And if you would like to see other bag sewing patterns from this designer then you can click on the red button below.
More Tote Bags to sew
Everyone needs (a lot) more than one tote bag. They are a staple pattern in every sewing pattern collection and so versatile and adaptable. Check out a few recent tote bag patterns to sew from our store.