Andrea's Rucksack in 2 sizes
|
All posts may contain affiliate links.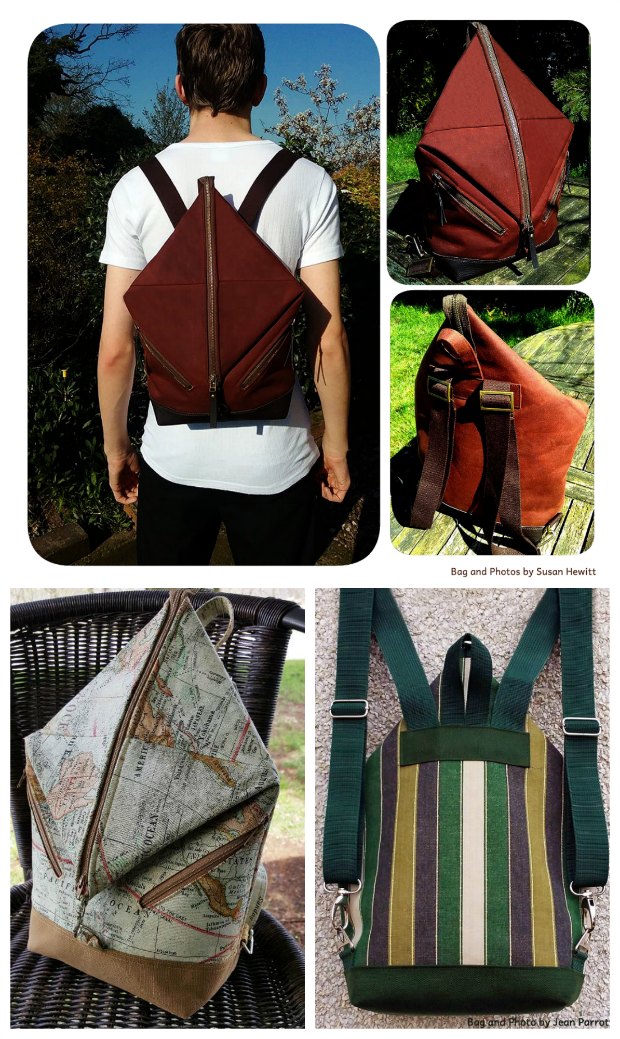 We fell in love with the quirky and original design for this bag as soon as we clasped eyes on it, and then seeing it was in 2 sizes, and also looked ideal for guys too – well, we were sold!
Andrea's Rucksack features zip top fastening and a fold over design, A wide opening with zip closure folds down into a sleek and chic backpack and is secured with a clasp. Handy zip pockets in front for keys or other quick access items, and a large zip pocket inside for your personal things.
A grab handle and adjustable shoulder straps that make it comfortable to wear on your back when out and about, or sling over one shoulder for casual comfort.
The pattern includes two sizes:
Purse sized-perfect for everyday use: 13″ Tall, 11″ Wide, and 4″ Deep
Large sized for a hands-free day out: 16″ Tall, 14″ Wide, and 5″ Deep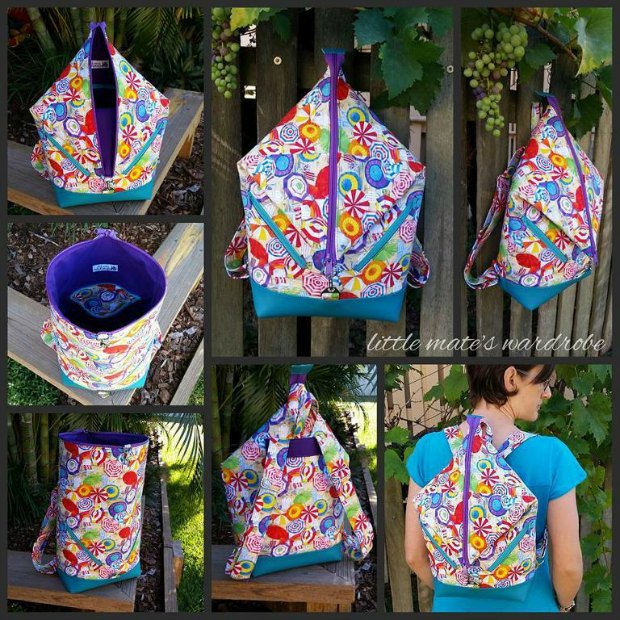 Materials Needed:
FABRICS AND INTERFACINGS: (SEE HERE for our recommended fabric suppliers)
3/4 yard (1 yard for Large) 44″ wide Quilting Weight or Decor Weight Main Fabric
1/2 yard (1 yard for Large) 44″ wide Quilting Weight Lining Fabric
1- piece at least 12 1/2″ wide and 8 1/2 " long ( 15″ W x 10 L for Large) Contrasting Fabric -This can be a coordinate, vinyl, leather, or pleather.
3/4 yard (1 yard for Large) Fusible Pellon SF 101 or a woven shaping Interfacing -Light Interfacing
3/4 yard (1 yard for Large) Fusible Fleece -TP971F-Pellon Fleece Thermolam Plus
1/3 yard (1/2 yard for Large) Fusible Decor Bond – Pellon 809
1 Piece Peltex 72f Ultra Firm 2-sided Fusible at least 3″ x 7″ (4″ x 8 1/2″ for Large)
ZIPPERS: (We love Etsy for Zippers – HERE)
2- Front Zippers: 6″ or longer (7″ or longer for Large)
1- Top Zipper: 14″ or longer (18″ or longer for Large)
1- Interior Zipper: 10″ or longer
HARDWARE: – (ETSY leads the way for HARDWARE too – HERE)
3- 1″ D Rings (1- 1″ and 2- 1 1/2″ For Large)
1- 1/2″ Swivel Hook
2- 1″ (1 1/2″ for Large) Sliders
Buy the Rucksack pattern from RLR Creations on Etsy