How to sew a real leather wallet
|
All posts may contain affiliate links.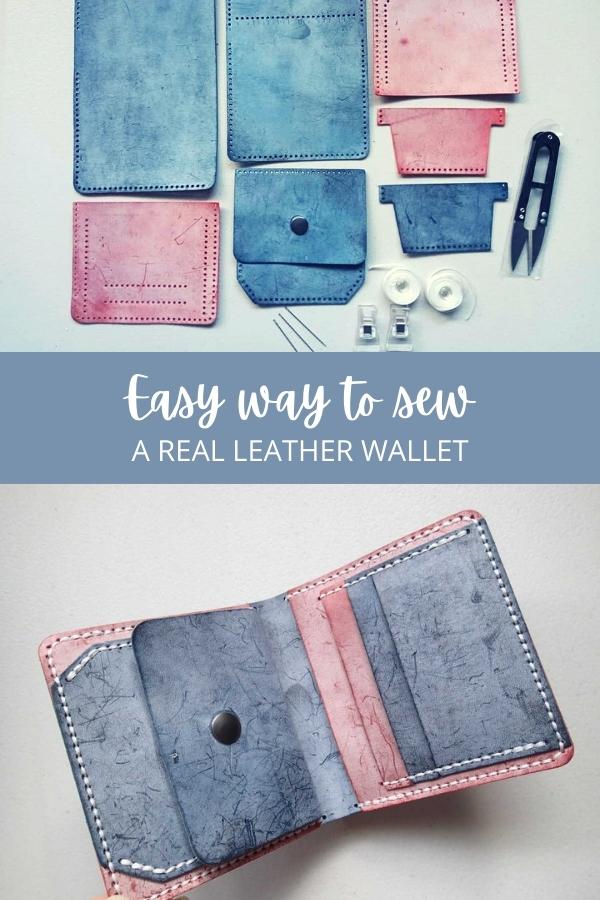 Have you ever wanted to learn how to sew with real leather, and create something truly special and hand-crafted? Hands up from us. Well, take a look at this jaw-dropper that Susan sewed for her husband. A real men's leather wallet. We can tell you it was a LOT easier than you might think and didn't need any special tools or materials to do it.
We rarely share our personal sewing projects with you. Neither of us (Susan and Laura) considers ourselves expert sewers, but we really enjoy 'collecting' sewing patterns, planning to sew them one day, creating a large personal 'archive' of fabric, and sometimes doing some sewing instead of sitting at the computer. But occasionally a project comes along that demands our attention and really takes our interest and today we are sharing one of our sewing projects with you – the DIY Minimalist Wallet made in real leather.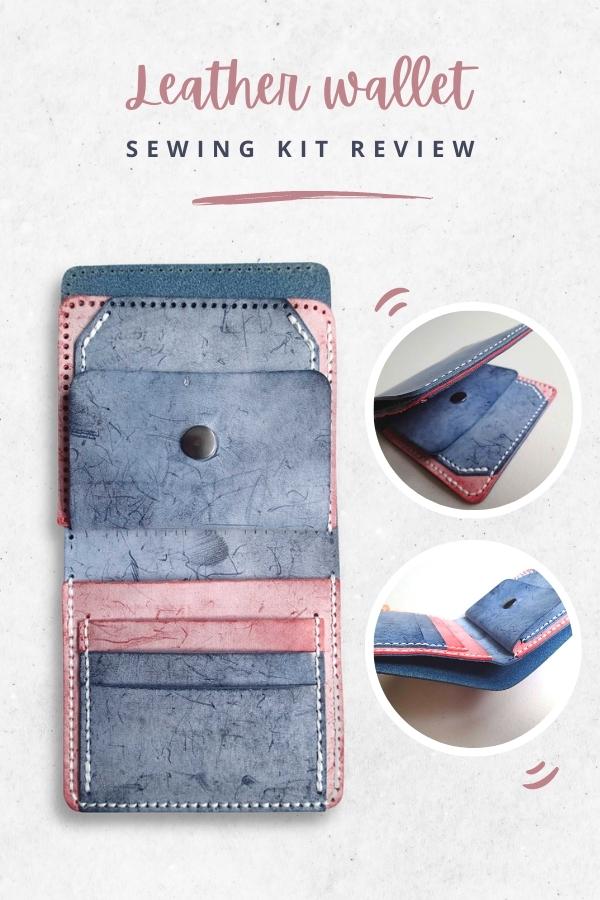 Have you ever sewn a bag for your guy? Let's face it, many of them just aren't into home-sewn projects in the same way that we are. Maybe it's the choice of fabrics, maybe it's the style of the pattern, or maybe guys just don't tend to use bags very often. But a really good leather wallet should be in every man's pocket and here is our opportunity to make one, fill it with all of your hand-crafted love, and gift it to a fabulous guy.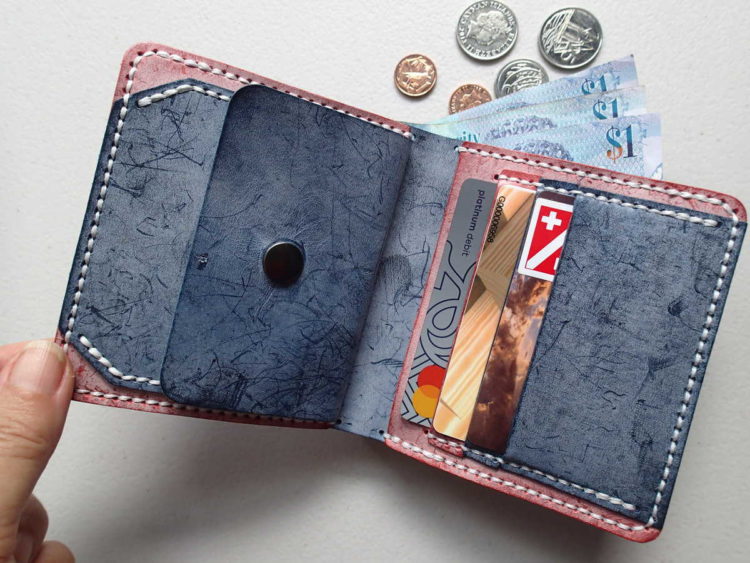 We bought this DIY Minimalist Wallet kit from Babylon Leather. We chose this kit because it contains absolutely everything needed and the leather pieces come precision cut, edge finished, and punched with holes ready to sew. We didn't have to buy anything to go with this kit so there was no need to invest in any expensive leather working tools.
What comes with the Leather Wallet Kit?
All of the pre-cut and pre-punched leather pieces
More than enough thread
Snips
Needles – we had three in our package
2 clips
Video tutorial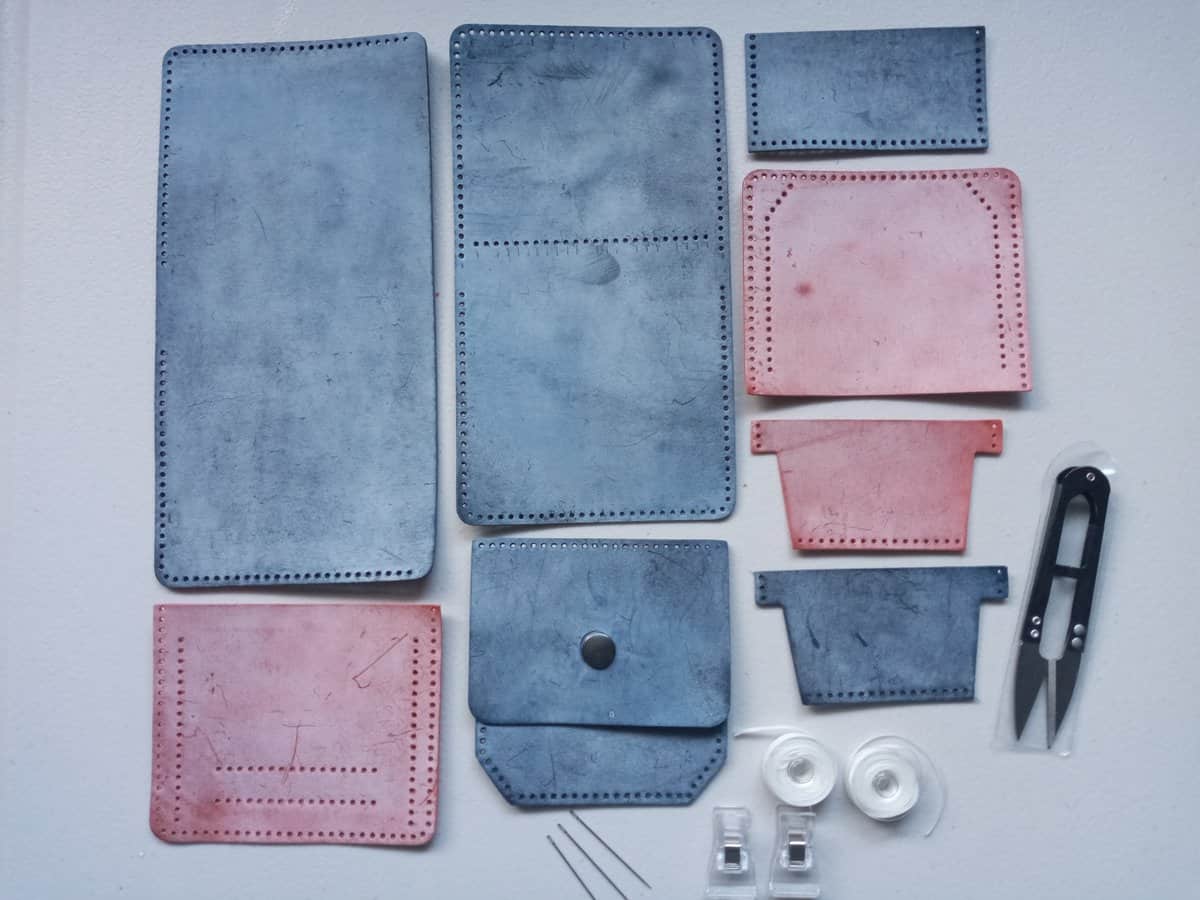 What isn't included with the wallet kit?
Please note there aren't any written instructions with this kit. The instructions are delivered by way of step by step video. The only other thing we needed to add was a lighter to gently seal the ends of the thread. We also recommend a needle threader if that would be helpful for you.
Skill level: Easy and fun once you get the hang of the stitching with two needles.
We have a few years sewing experience but have never sewn leather before. We also never really do any hand sewing, but still, we found completing this kit easier than expected.
The video tutorial for the wallet is quite quick and simple, showing first how to correctly form the stitches in the leather, and then a simple set of step-by-step photos to show what order to sew the seams and how to assemble the pieces. We watched the stitching part of the video a couple of times at slow speed, to make sure we completely understood, and then we were off and sewing! It really was easy and fun to do.
Different colors and style options available:
Susan's husband likes colorful things, so she picked the blue and red option for the wallet, but it comes in other colors too. The black and blue is a nice option with a little splash of color. There are also two style options, one with an open ID window.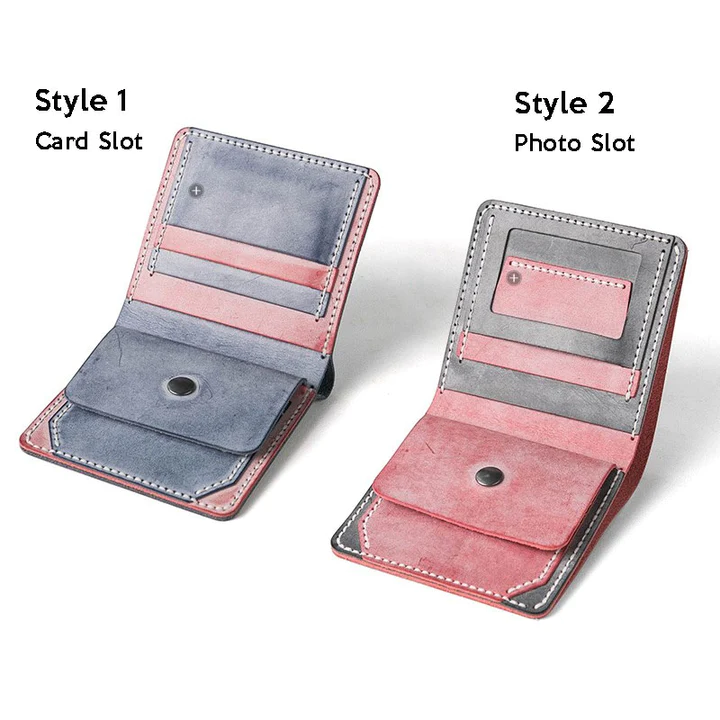 The wallet has 3 card slots, space behind for receipts or photos of your lovely wife/husband/partner/kids, a coin purse with snap, and a full length section for bank notes or papers. Style 2 has an open ID window in place of the lower card slot.
Step by step progress:
Here are some photos taken in sequence of the wallet being constructed. The first row of stitches isn't the neatest but that is at the bottom of one of the card slots and is hidden by the next one. By the time we're onto the second line, things are quicker and easier. By the time it comes to the final assembly and the stitches that are seen on the outside of the wallet – it's beautiful. The perfectly punched holes make even stitching a breeze!
(Keep scrolling to the bottom of the photos because we have an exclusive coupon code for you!)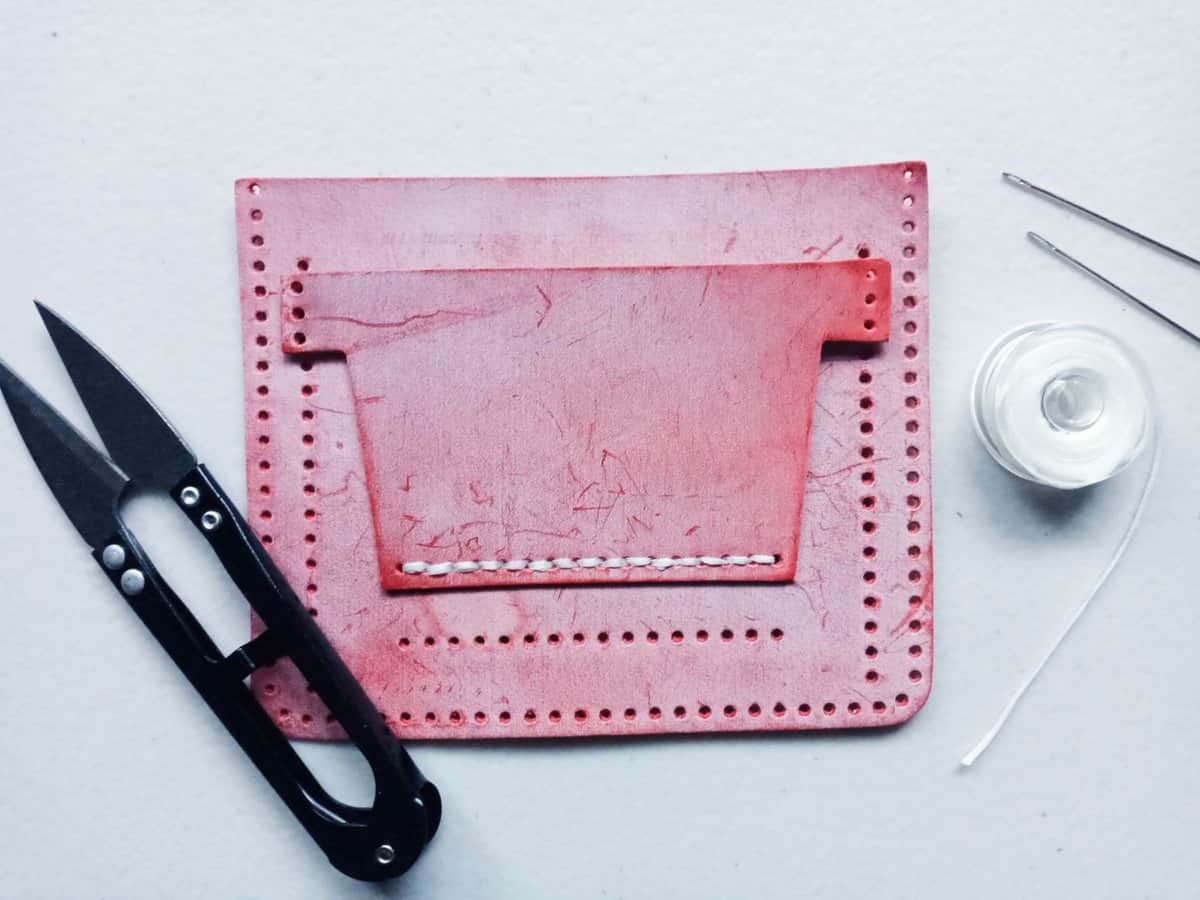 Exclusive saving for Sew Modern Bags Readers
We were very impressed with this wallet kit and thought it might be something our readers would like to try too – or another of their many leather bag kits. So we asked Babylon Leather for a discount code to pass on – and they said yes! The code can be used against any item, not just the wallet. Free worldwide shipping is included too.
Tips for sewing this wallet
Don't worry about saving the thread and cutting the thread too short to work with comfortably. We only used one spool and had the other left over completely untouched.
Take careful note in the video of where the sewing should start and stop for each step so you don't end up with places where you have to sew twice, or holes that are missed.
Take care with your fingernails! The surface of the leather did get marked while sewing because this particular project has more of a raw leather finish. The purses have a different finish and wouldn't mark in the same way.
If you have any questions, the staff at Babylon Leather are very responsive.
The all-important Husband's feedback
Susan's husband was delighted! He said it felt very high quality, good thick leather that would last a long time, and he liked the 'raw' finish on the leather rather than a shiny gloss. The coin purse was a bonus because he was always wearing out his pocket linings while keeping coins in his pocket. The card slots were a little stiff, to begin with, but because it's real leather, they will soften and give a little with use and he was happy that the cards were in there safely.
He was also sorry to point out that Susan had made a mistake during construction and had sewn the card slots on in the wrong order. Oh darn it, yes, the two reds and next to each other and then the two blues. They could have been sewn alternating. Pah. But with this kit, the sewing could easily be snipped and unpicked and any incorrect areas resewn using the same holes. (Susan told him to just pretend he hadn't noticed that!)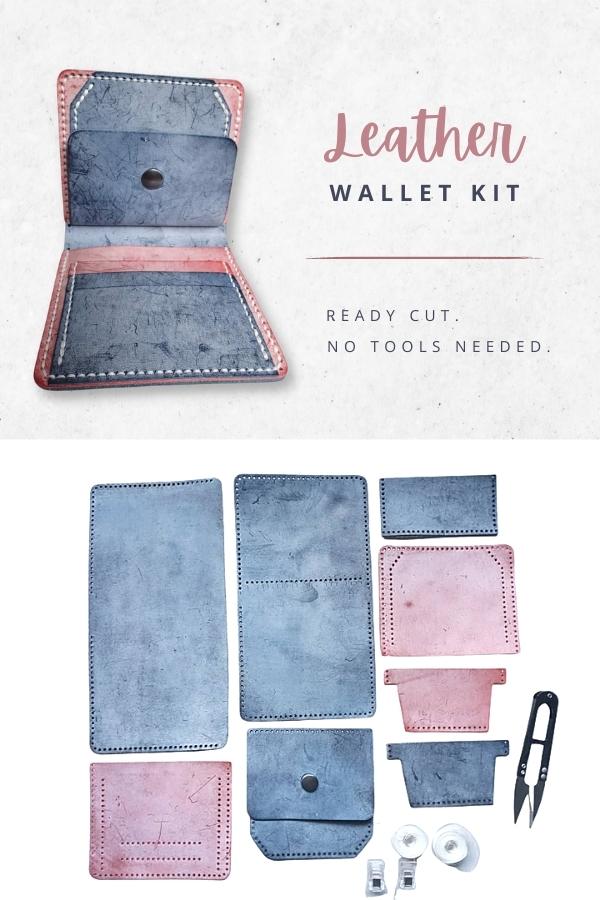 What are we trying next?
Now that Susan's husband has a beautiful handmade leather wallet, Susan wants her own leather bag too. So she already has her order in for the beautiful and super-cute Small Round Bag in blue. We're looking forward to sharing that with you when it's completed.
So if you fancy sewing up a real leather project, check out all of the offerings from Babylon Leather. They have wallets, purses, totes, backpacks, fanny packs, messenger bags, lots of small leather accessories and loads more fun crafty ideas to try. Don't forget to claim your 15% discount with code SEW15 at checkout.
Want more wallet sewing pattern ideas?
If you love sewing wallets but this one isn't quite right for you, then don't worry, we have LOTS more wallet sewing patterns for you to choose from. Check out just a few from our selection here.