Heraklion Wine Tote Bag sewing pattern
|
All posts may contain affiliate links.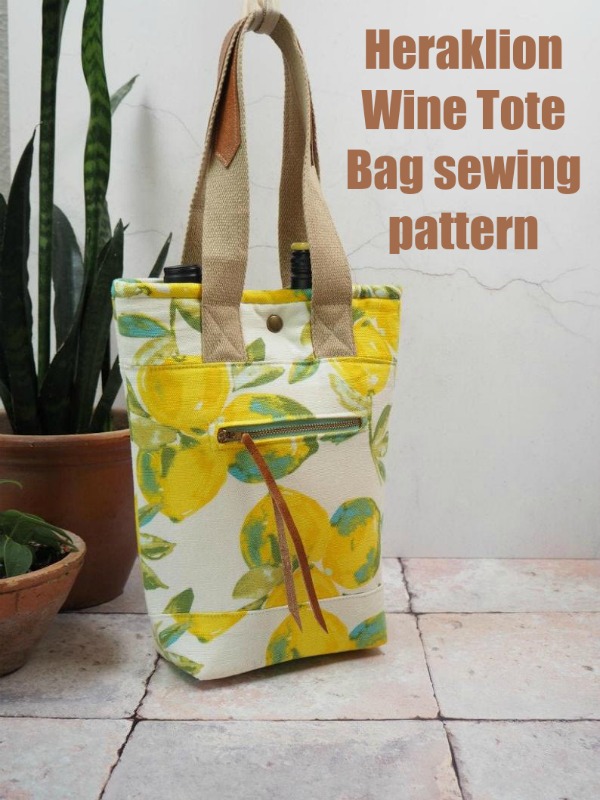 At some point in our lives we need to take a bottle or two of something somewhere. Maybe for a Thanksgiving or Festive dinner, or just out on a fancy picnic. And it is ideal if we have a tote bag that is made for the purpose!
This bag is the answer! It takes two standard-sized bottles and there is a little ease for larger ones. There is a zipper pocket in the front for a corkscrew and a built-in divider in the lining to stop the bottles from chinking together. Strong handles mean there won't be any accidents.
Makes the ideal hostess or housewarming gift. Sew it in a festive or seasonal fabric and it's perfect for gifting a couple of bottles too.
The pattern features:-
A zipper pocket on the front,
A padded divider in the lining,
A secure metal stud closure,
Capacity for two bottles.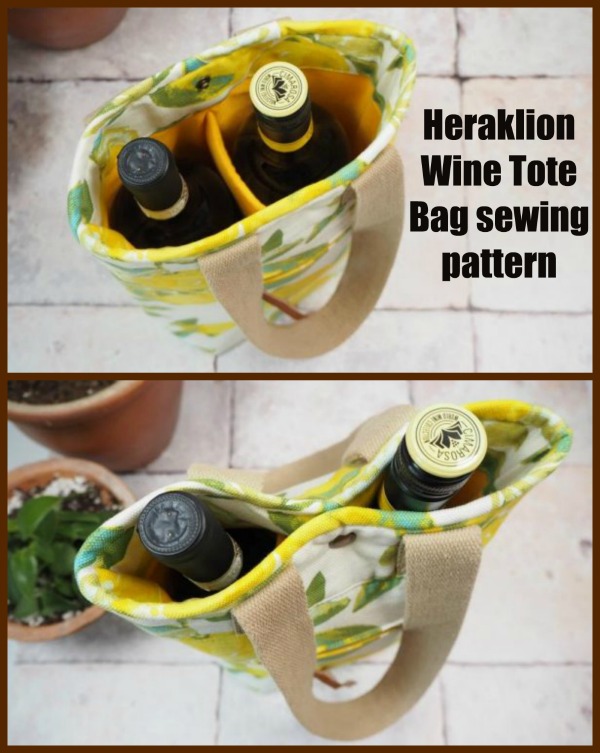 Skill level:
The designer rates her pattern as suitable for a confident beginner to intermediate sewer, with some assumed knowledge of techniques.
This is a teaching pattern which gives a lot of TIPS along the way telling you more about the in-depth knowledge of bag making and also explaining why you are doing things. It gives you so much more than just the pattern itself. Each tip brings you closer to understand sewing from a deeper level. This pattern will make you a better bag maker!
Sizing info:
When you have finished making yourself a Heraklion Wine Tote Bag it will measure approximately 11″ high by 9 1/2″ wide by 4″ deep.
What is needed to make a Heraklion Wine Tote Bag:-
½ a yard of canvas in a bright summery print for the outer,
½ a yard of fabric for the lining,
½ a yard of foam interfacing,
One 4 ½" metal zipper,
One snap stud in antique bronze,
A piece of webbing (cream or beige) 46″ by 1 ¼" wide,
A piece of tan leather or vegan leather 15″ by 4″,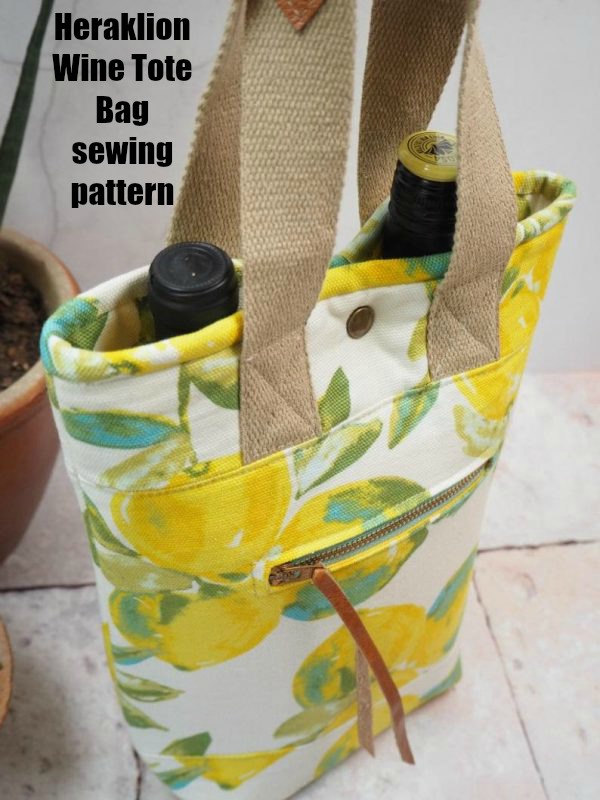 This is a cut and measure pattern so there is no need to worry about printing and matching templates. All instructions are clearly given and all you need is a rotary cutter, mat and ruler.
The instructions are in imperial measurements (inches). The pattern gives you 11 pages of detailed instructions and 14 colour photos showing the important steps along the way.
This designer, The Folk Art Factory, has lots of other bag sewing patterns which we think you will really like.
Keep organized with these storage and project bag ideas to sew
Want even more project bags, storage and organizers to sew? Our shop is packed full of hand-picked favorites from talented designers, big and small. Here is a sample selection you might like. Check them all out in our shop.