Travel Jewelry Clutch FREE sewing tutorial
|
All posts may contain affiliate links.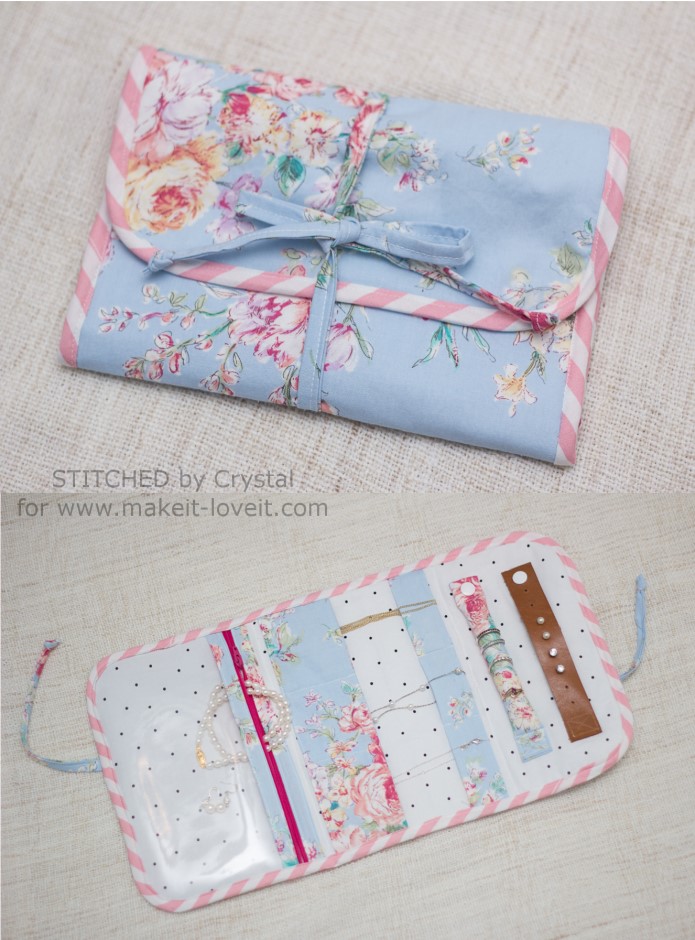 This is the Travel Jewelry Clutch FREE sewing tutorial from the designer Stitched by Crystal and shared by Make It & Love It.
As the name suggests this is a great Jewelry Clutch designed to store your jewelry when you are travelling. It's a fabulous way of making sure your necklaces don't get all tangled up and that you don't lose any earrings! It's a wonderfully simple travel jewelry clutch that will store everything you want to take on a road trip or vacation and that folds up neatly in your suitcase!
When you open up the Travel Jewelry Clutch at the top there is space for four pairs of stud earrings on a leather strap and a padded ring strap that both snap in place. There is also room for some necklaces. You can clasp them around the strap on top and tuck them in the pockets below. At the bottom, you can tuck your bracelets, dangle earrings, or larger jewelry pieces into the big clear pocket and zip it shut so they don't go missing in your travel case.
Sizing info:
The Travel Jewelry Clutch when wrapped up measures approximately 9″ by 6″. The designer describes it as a clutch that ties shut to keep all your bling safely inside during travel while still being small enough to throw in your carry on!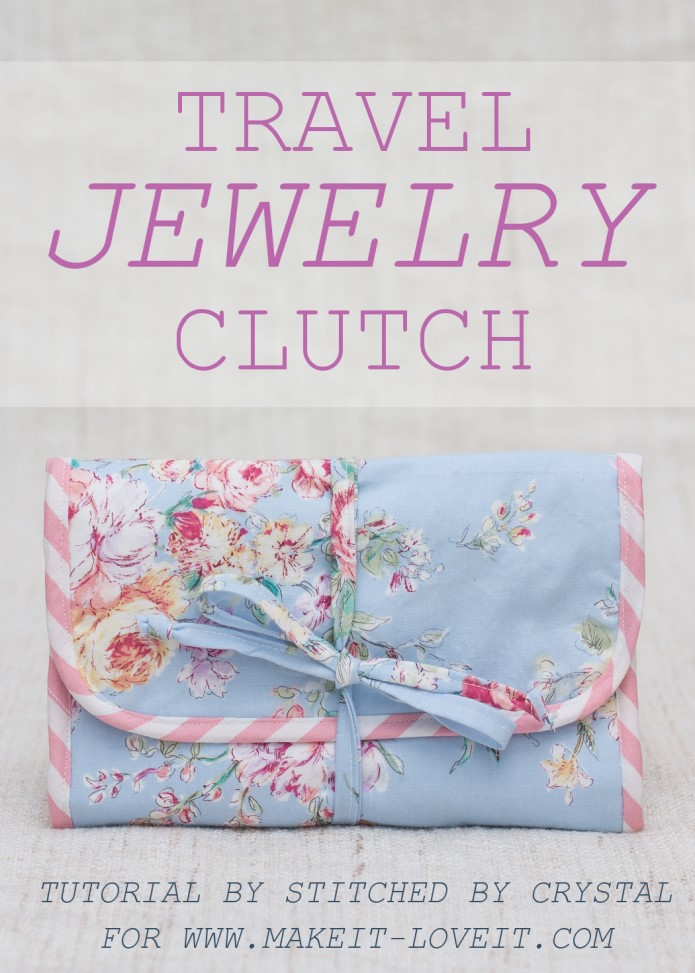 What's needed to make a Travel Jewelry Clutch:-
¼ yard or a fat quarter of your main fabric,
¼ yard or a fat quarter of the lining fabric,
¼ yard of fusible fleece,
One 9″ zipper,
½ yard of single fold bias tape,
2.5 yards of double fold bias tape (1.5 yards for to finish the edge of your case and 1 yard for your tie closure),
A small scrap of leather,
A small leather hole punch,
¼ yard of clear vinyl (you can find this in the home decor fabric section at your craft store),
Two snaps,
A small bit of batting,
Check out our RESOURCES PAGE full of great recommendations and links for fabric stores and suppliers, interfacing and stabilizers, hardware resources, and zippers.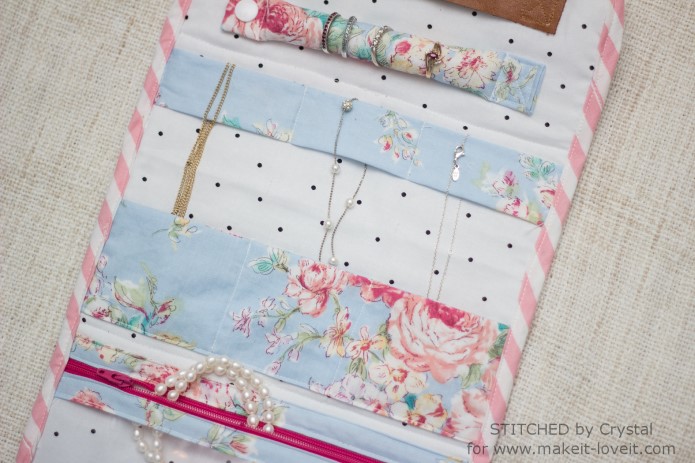 If you would like to check out and follow along with the FREE tutorial you can click on the purple button below.