Slimline Sling Bag sewing pattern (3 sizes with videos)
|
All posts may contain affiliate links.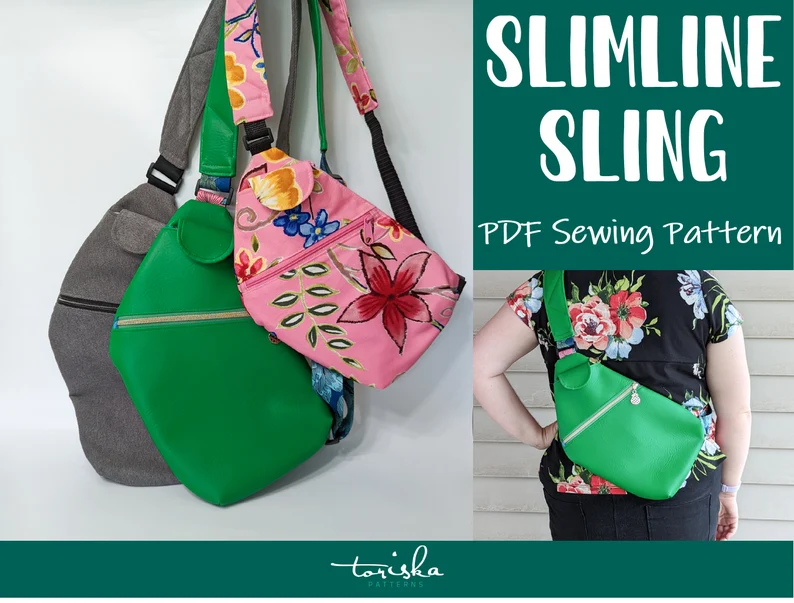 The Slimline Sling sewing pattern is a unisex sling bag from the designer Toriska. You'll love the sleek unfussy lines of this simple sling bag, making it easier to sew and easier to wear.
It's a handy bag that carries all of your essentials close to your body and works equally well on your front or back. Wear it on your back to keep your hands unencumbered or on your front to keep your things safe while commuting or traveling. The flat design keeps it close to your body for better security.
It has one main compartment, two outside zipper pockets, and a cell phone pocket. The Slimline Sling is intended to hold just the essentials, but providing 3 sizes means you can sew the right size depending on what you need to carry.
It was written for domestic or industrial machines, but some of the thick seams may push the limits of a domestic machine with thicker fabrics, so choose thinner fabrics (such as cotton) and webbing if you are worried about thick seams.
The pattern comes in two adult sizes and one kid size. The image below shows a comparison of the sizes. Perfect for every member of the family. This unfussy style is ideal for creating a bag your guy will wear too.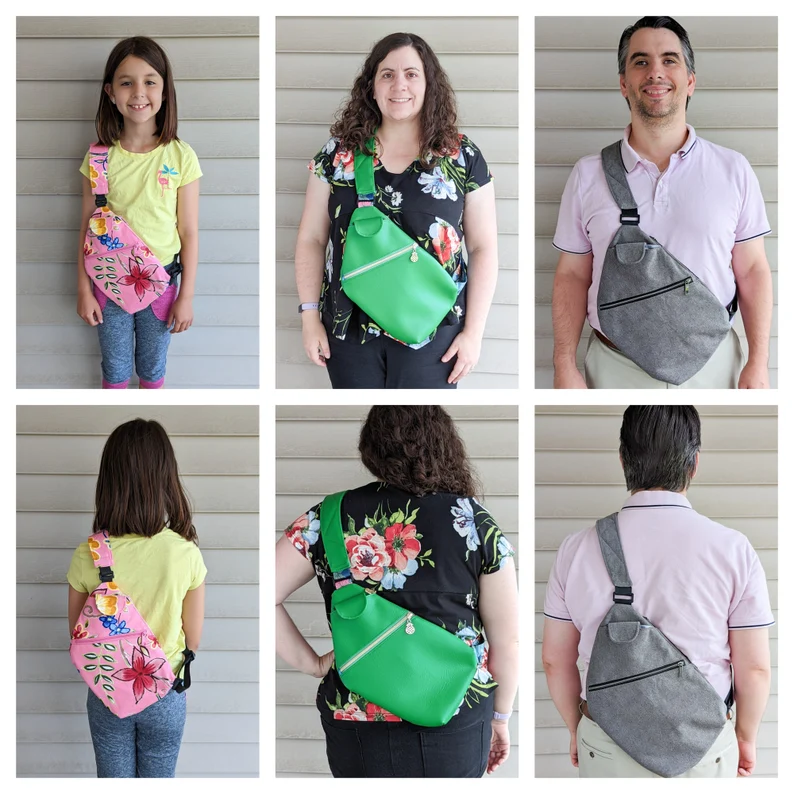 Skill level:
This pattern is best for intermediate sewers.
Sizing info:
Kids = 12″ (30.5 cm) long by 7″ (8 cm) wide by 1″ (2.5 cm).
Adult Small = 13.5″ (34 cm) long by 8.5″ (22.5 cm) wide by 1.5″ (4 cm) deep.
Adult Large = 15″ (38 cm) long by 10″ (25.5 cm) wide by 2″ (5 cm) deep.
Video pattern preview:
Watch the short pattern preview video by clicking on the play button below.
Video tutorial:
You can watch the full YouTube video tutorial for the Slimline Sling Bag sewing pattern here:
The pattern:
You will receive three files:
1. The first is the A4/letter file with pattern instructions. This pattern includes 37 pages of instructions, with detailed diagrams and a video tutorial. There are 18 pages of the printable pattern for the Large, 14 for the Small, and 13 for the Kids. Pattern instructions are given in both inches and centimeters. This can be printed on Letter or A4 paper. You only need to print the pages for the size you make.
2. The second file is an A0/copyshop file meant to be printed at a copyshop or on a large format printer. This is one page. There is a print release on that file in the bottom left corner. The three sizes are nested.
3. The third file is a Projector file. An increasing number of people are utilizing projectors for sewing. This file includes several layers with each size on a different layer and a 1" and 4cm grid each on their own layer.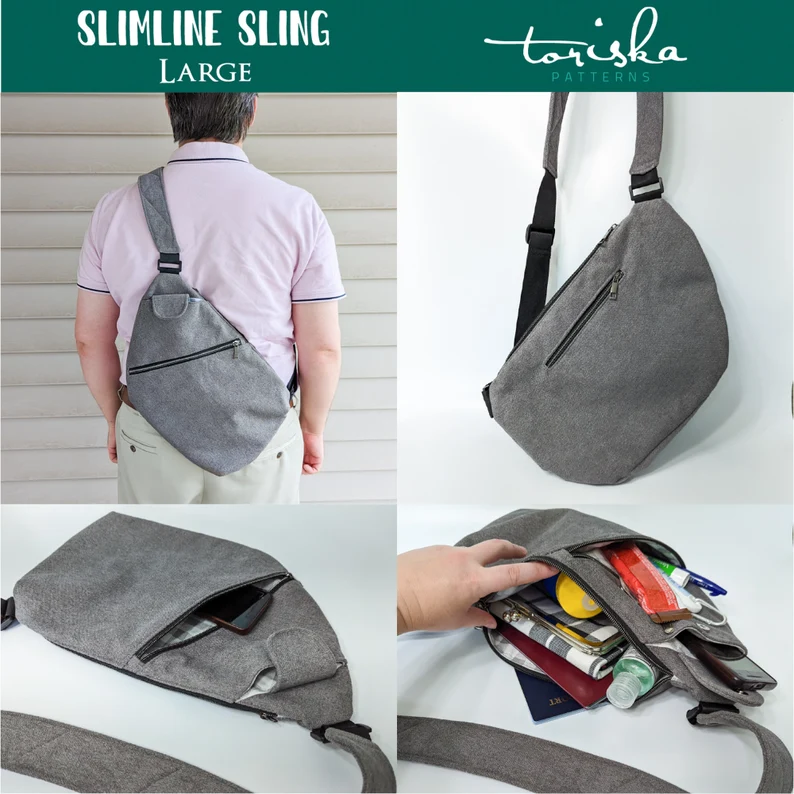 Download:
If you would like to download the pattern you can click on the blue button below.
And if you would like to see other bag sewing patterns from this designer then you can click on the red button below.
Sew more crossbody bags and you'll be happier - we promise 😉
For the easiest shopping and days out, you can't beat a crossbody bag for leaving you hands-free. We've got 60+ of our favorite crossbody bag patterns hand-picked for you in the store. Go to the shop page to find them all saved by category.