How To Install Eyelets FREE video tutorial
|
All posts may contain affiliate links.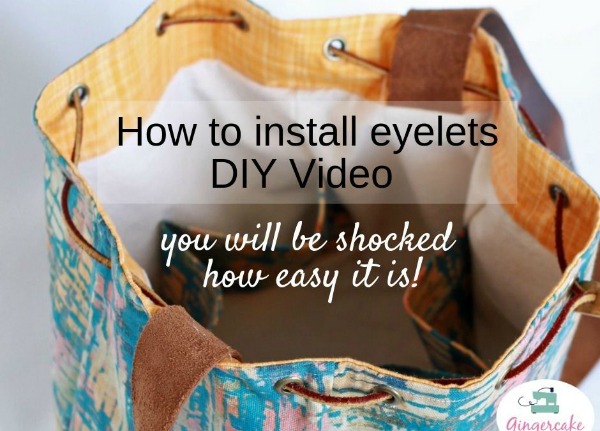 Here's a FREE video tutorial on "How To Install Eyelets" from one of the excellent designers we work with, Virginia Lindsay of GingerCake Patterns.
Virginia has an excellent sewing pattern for her Bucket Bag, a classic casual shoulder bag with drawstring closure with leather or fabric strap, where you have to install eyelets. Several of her customers have told her that they are a little wary of the eyelet feature of her Bucket Bag.
Virginia said – "One thing that is funny about sewists is that although they may have accomplished a very elaborate pieced quilt, they may not have done something simple like installed a zipper or tried out eyelets. I understand because I was in the same boat not too long ago".
Learn how to install eyelets here – it's easy!
You can watch the quick video, less than 7-minutes, showing you how to install eyelets on her Bucket Bag pattern below.
The eyelet tool kit is available at most Walmarts in the sewing section, or you can also buy them on Amazon. And you can purchase the pliers on Amazon as well.
So now you should be ready and confident to go out and attach eyelets on all sorts of things.
Here is a selection of bags from our store where you could practice your new eyelet skills!