Kate Bag sewing pattern
|
All posts may contain affiliate links.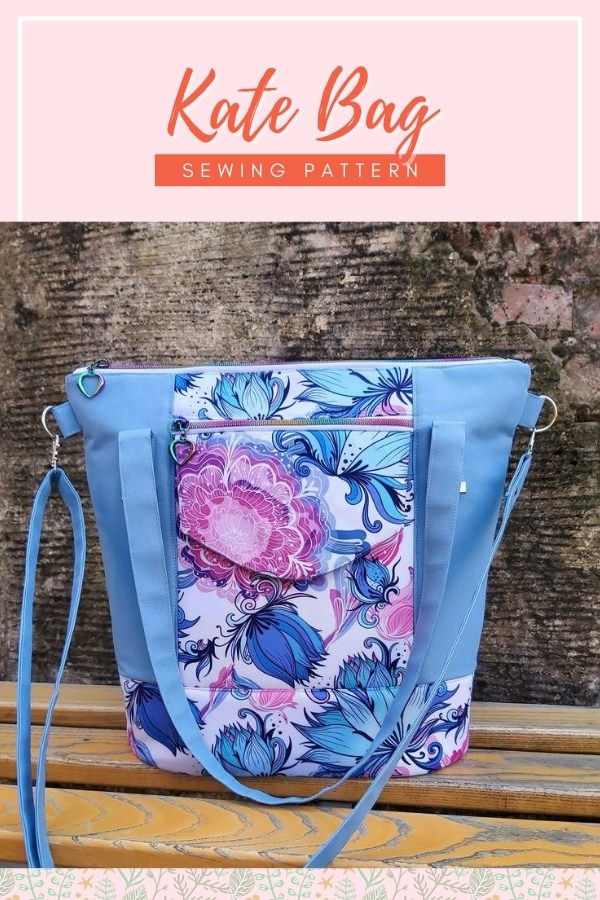 The Kate bag is designed for those busy days when you need to carry a lot of items and a simple cross-body bag is not big enough. It provides plenty of storage for a busy mum or businesswoman and with multiple pockets, you can keep everything organized to eliminate clutter at the bottom of your handbag.
It features an external zipper pocket and a front slip pocket secured under the flap for quick access on the go. The perfect place to keep your phone, keys, or a travel card. Additionally, you will find cargo style and zipper pockets inside to keep smaller essentials easily accessible while a spacious main compartment holds the rest thanks to the oval-shaped base of the bag.
The Kate bag is fully lined with a zipper closure to keep all your belongings secure throughout the day.
This is the perfect shoulder bag that also comes with a removable and adjustable strap, so there is an option of wearing her across your body if that is what you prefer.
Watch this video for a quick preview of the Kate Bag.
Sizing info:
When you make yourself a Kate Bag it will measure approximately 40 cm (15 3/4″) wide by 35 cm (13 3/4″) high by 15 cm (6″) deep.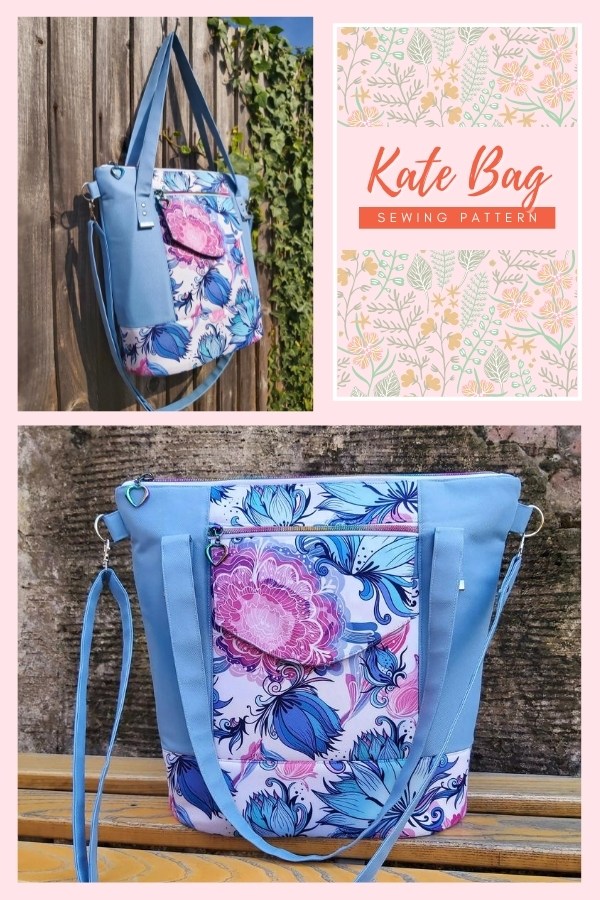 What you will need to make a Kate Bag:-
Please note: You may need an additional amount of fabric if using a directional print.
145 cm / 100 cm (57"/ 39 ½") of external fabric,
60 cm / 50 cm (24" / 20") of external accent fabric,
145 cm / 70 cm (57" / 27 ½") of lining fabric,
90 cm / 60 cm (35 ½" / 24") of heavyweight, stable fusible interfacing such as Fast 2 Fuse Heavy, Fusible foam stabilizer, Fusible Fleece, Decovil heavy etc,
145 cm / 145 cm (57" / 57") of lightweight fusible interfacing such as Stayflex,
Two 2.5 cm (1") D-rings,
Two 2.5 cm (1") Swivel lobster hooks,
One 45 cm (18") #5 Zipper,
One 23 cm (9") #3 Zipper,
One 23 cm (9") #5 Zipper,
One 12 mm (½") Magnetic snap,
One 2.5 cm (1") Strap adjuster / slider,
Four 2.5 cm (1") Strap end caps (optional),
Double-sided tape (optional),
Ten Rivets (optional),
Strong multi-surface glue (optional).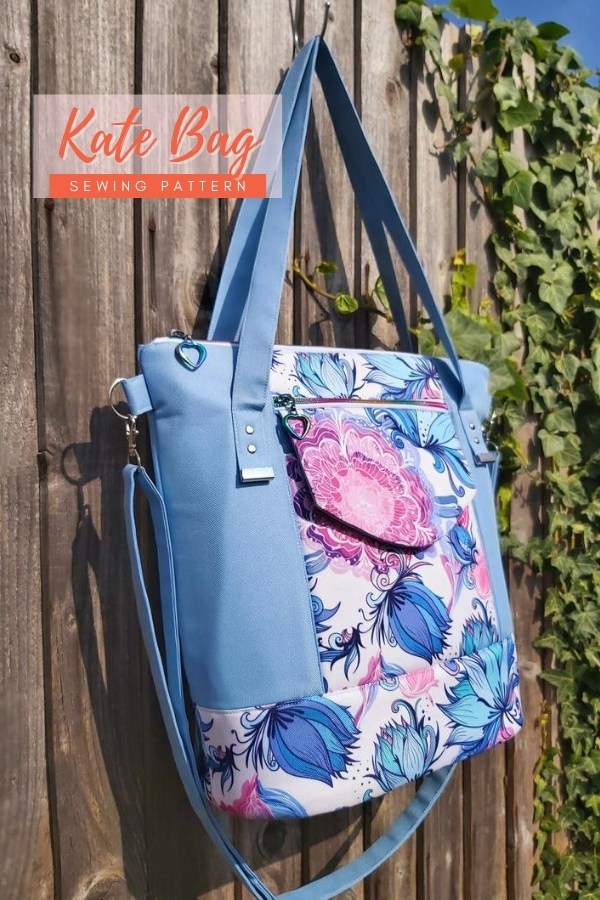 If you would like to download the pattern you can click on the blue button below.
And if you would like to see other bag sewing patterns from this designer then you can click on the red button below.
See all the patterns from this designer here
These are our most popular purse and handbag sewing patterns
Want even more purses and handbags to sew? Our shop is packed full of hand-picked favorites from talented designers, big and small. Here are a few recent additions you might like. Check them all out in our shop.