Gershwin Clutch Bag sewing pattern
|
All posts may contain affiliate links.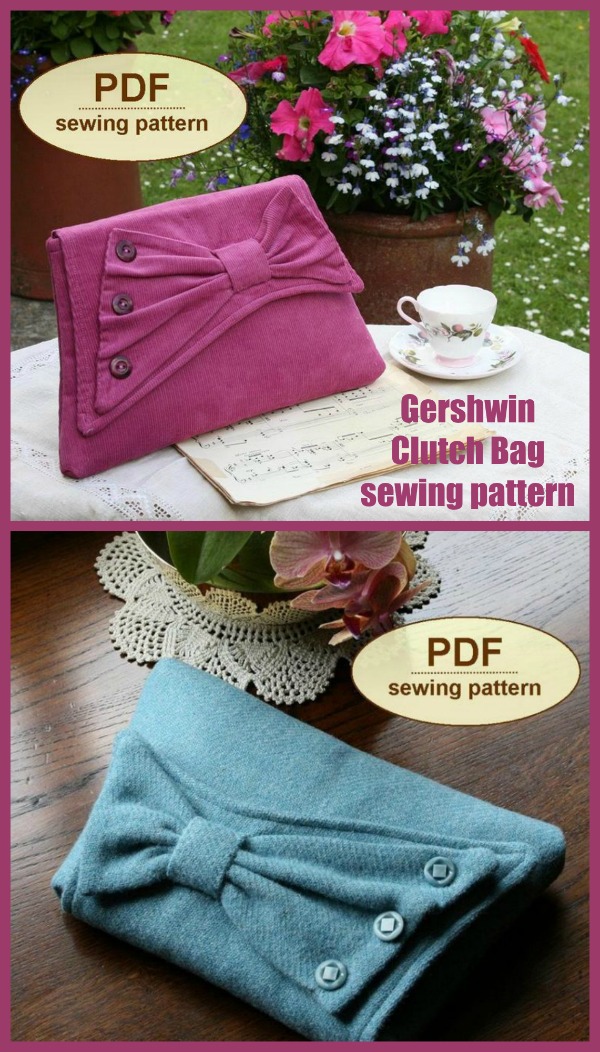 This designer is well known to us here at Sew Modern Bags. When designing her bags she takes inspiration from the styles of the early 1930s.
This time she has made a pattern for a delightful vintage-style clutch bag with a stylized asymmetrical flap and bow, which was particularly popular in that decade. The Gershwin Clutch Bag is of easy flat construction with squared-off corners to form a narrow base. It has an unusual shaped flap and off-center bow, trimmed with a flourish of three small vintage buttons, all in the designers signature style.
This bag is slightly bigger than one of her other clutch bags and is ideal for weddings, evening functions, and other special occasions. It can be made up in everything from rich cotton corduroy to woolens and patchwork fabrics.
Sizing info:
When you have finished making your own Gershwin Clutch Bag it will measure approximately 8" (20 cm) high by 12½" (32 cm) wide.
What you will need to make the Gershwin Clutch Bag:-
½ yard (50 cm) of 44" (112 cm) or 54" (140 cm) wide of exterior fabric for the bag and bow,
1/3 yd (30 cm) of 44" (92 cm) wide of lining fabric for the bag lining and the interior pocket,
¼ yd (25 cm) of 36" (92 cm) wide of sew-in craft interfacing for the bag,
¼ yd (25 cm) of 36" (92 cm) wide of fusible interfacing for the flap,
One piece of fusible web 5" by 4" (13 cm by 10 cm) for the bow centre,
One magnetic snap set,
Three buttons approximately ¾" (19mm) diameter to trim bow end,
Thread to match the fabric,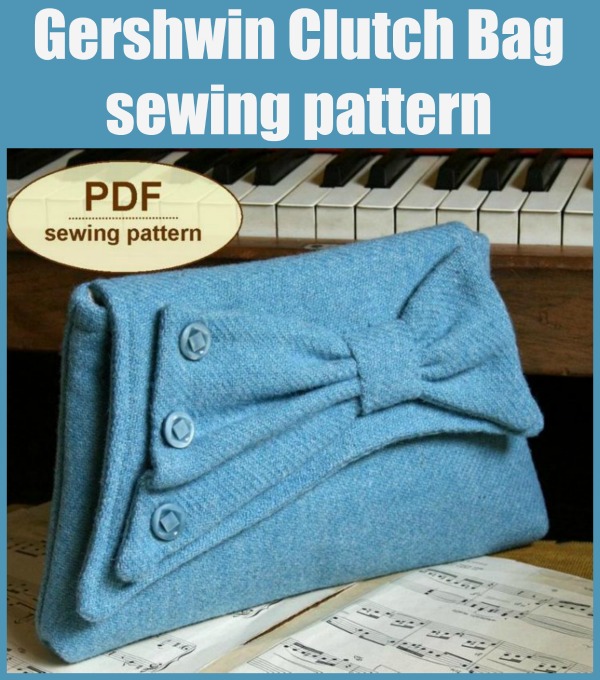 The Gershwin Clutch Bag pattern has twelve pages – seven pages including photographs, detailed instructions and illustrations, plus five pages of full-sized pattern templates which you must print on letter (A4) paper and cut out. All templates are actual size. If you wish to make a few bags from Charlie's Aunt sewing patterns or books to sell, please read the rules in the "additional information" section of her designer page.
If you would like to download the PDF pattern you can click on the blue button below.