Flourish Clutch Bag sewing pattern
|
All posts may contain affiliate links.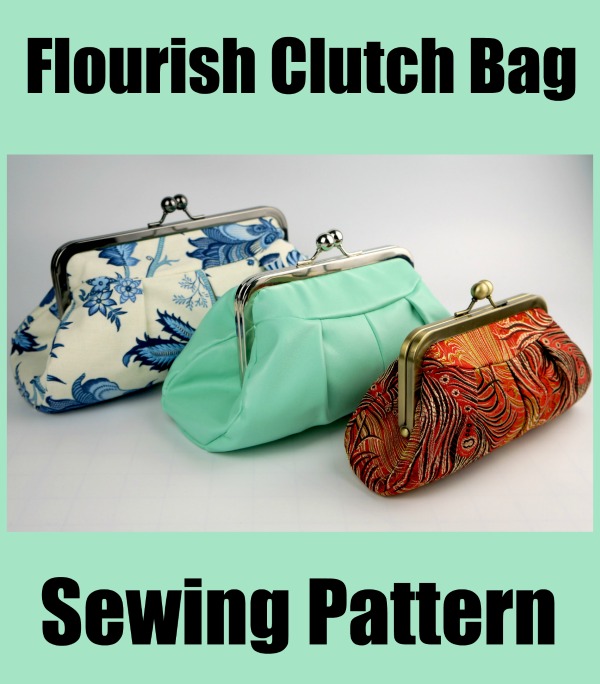 The Flourish Clutch is a very elegant sewing pattern for creating your very own framed clutch in a simple rectangle frame. Three sizes of clutch bag in the same pattern, and each one perfectly pleated to give space for your essentials without looking bulky.
This pattern is simple to put together and ends up with fantastic results. You can create it from luxurious silks and satins for a glamorous evening clutch, or use beautifully patterned cotton for a more casual look. It can even be made with thin vinyl or leather.
This pretty rectangle frame clutch purse pattern comes in three sizes, so which one do you want to make, or will you make them all? The designer says that this pattern is best suited for intermediate sewers and up. Diagrams and a photo tutorial are included.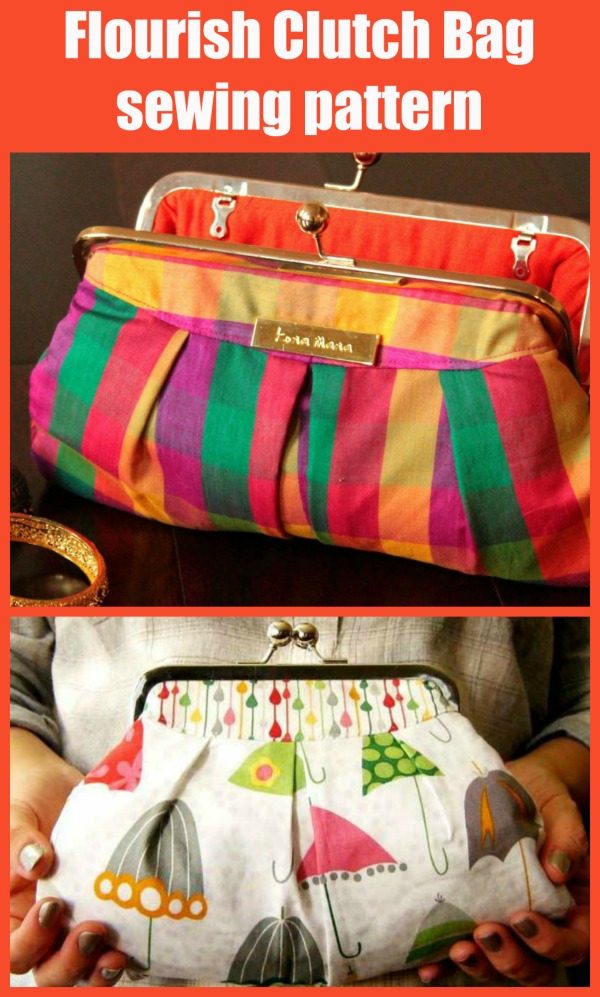 When you have finished making each of the three Flourish Clutch Bags they will measure approximately:
Small = 8″ (20 cm) long by 3½" (9 cm) tall by 3½"(9 cm) deep,
Medium = 9″(25.5 cm) long by 5″ (12.5 cm) tall by 5″ (12.5 cm) deep,
Large = 11″ long (30.5 cm) by 5″ (12.5 cm) tall by 5″ (12.5 cm) deep.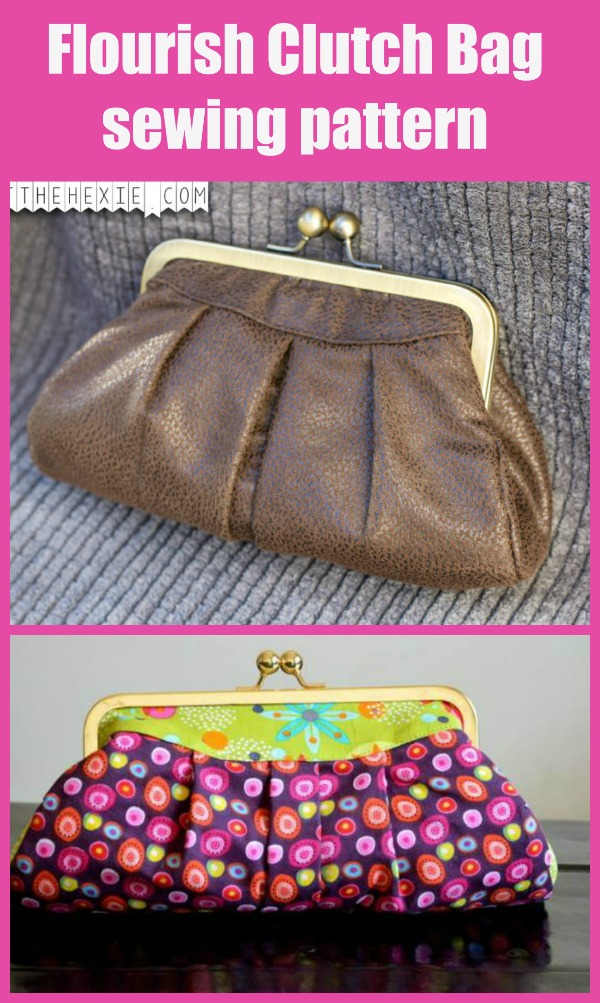 What you need to make a Flourish Clutch Bag:
A piece of fabric for the exterior ranging from 16″ by 13″ up to 20″ by 18″,
A piece of fabric for the interior ranging from 14″ by 11″ up to 16″ by 14″,
1/4 to 1/3 of a yard of fusible fleece interfacing,
1/3 to 1/2 of a yard of lightweight woven fusible interfacing,
1/4 to 1/3 of a yard of medium-weight sew-in interfacing,
A piece of foam interfacing ranging from 10″ by 8″ up to 13″ by 11″,
One rectangle purse frame, 6″ by 3″ or 8″ by 3″. The Large purse is made with an 8″ frame, the Medium and Small sizes are both made with a 6″ frame. All sizes include modifications for a frame that is 2.5″ high instead of 3″,
You can buy interfacing and frame kits for this pattern here – FRAME KITS
The pattern:
This pattern includes eighteen pages of instructions, with detailed diagrams and a photo tutorial. There are twenty-two pages of the printable pattern. Pattern instructions are given in both inches and centimetres. This can be printed on letter or A4 paper. The pattern provides alternate interfacing suggestions.
See all the patterns by the designer here
This isn't quite what you are looking for? We have links to thousands of bag sewing patterns, tutorials, sewing videos and tips and lots more on our
Pinterest
account. Come and follow us, and save some of your favorites to your own boards for later.