Donna Vintage Handbag sewing pattern
|
All posts may contain affiliate links.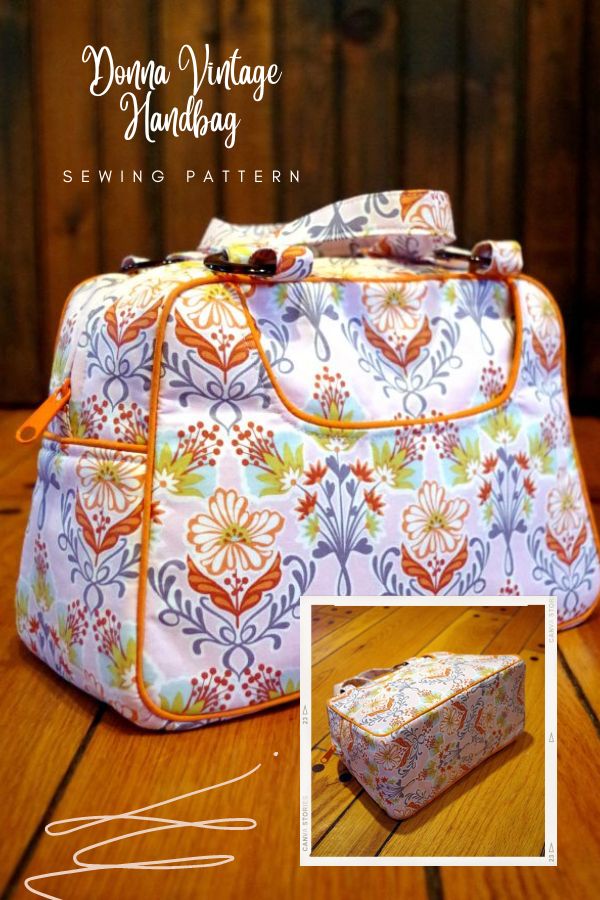 This is the Donna Vintage Handbag pdf sewing pattern from the designer SWOON Sewing Patterns.
The Donna Vintage Handbag is a small 60's inspired handbag that is such a delight to use and carry.
This vintage handbag has some excellent features. She has a cute and softly shaped exterior slip pocket, an inside zippered pocket, and handles that are perfect for wearing in the crook of your elbow, Jackie O style!
Sizing info:
When you have finished making your very own Donna Vintage Handbag it will measure approximately 7" tall by 11" wide by 5" deep.
Skill level:
The designer rates her project as a difficulty level of 3 out of 4. She says you should already be somewhat familiar with sewing patterns and common sewing terms.
What's needed to make a Donna Vintage Handbag sewing pattern:-
2/3 yard of 44" wide exterior fabric, quilting weight,
1 yard of 44" wide lining fabric, quilting weight,
2 1/2 yards of 4/32" cotton cording (or premade piping),
1/2 yard of 58" wide foam interfacing (Soft & Stable, or 1 yard Pellon FF77),
1 1/2 yards of fusible woven interfacing (Pellon Shape-flex SF101),
One 14" handbag zipper (Main Compartment),
One 6" all-purpose zipper (Zippered Pocket),
Four 3/4" rectangle rings or 1" o-rings,
Video sewalong for the Donna:
Want to see if Donna is the perfect purse for you and what is involved in sewing her? Check out this step by step video sewalong for the Swoon Vintage Donna Handbag.
The Donna Vintage Handbag sewing pattern receives excellent customer feedback. Here are just a few:-
Nicole said – I love this bag! It is the perfect size and it sews up really quickly. The slip pocket on the front is genius and really adds to the character. I will be making many more of these! Thank you for the great pattern!!
Christina said – I absolutely love this bag, the pattern is so easy to follow, and the finish product looks stunning. I made a travel set, consisting of the levi utility bag, the donna vintage bag, and the Dakota tablet clutch. All in the same matching fabrics, they look very professional.
Donna said – LOVE LOVE LOVE this bag. Was easy to make and has inspired me to make more bags. And to think all of my bags will be one of a kind because of my fabric and hardware choices. I'll never see anyone else with MY BAGS. Thank you Swoon. Keep them coming. I just ordered some more and can't wait to make them.
Amy said – It came together perfectly. Loved the pattern, and love the bag!
Christine said – Great pattern and little versatile bag! Drop in lining is a challenge and I had to sew the two top seams together from between the exterior and lining to prevent the lining from sagging. Otherwise it's an awesome design!
Janet said – Very easy to sew together and unique. All my friends like it and want one.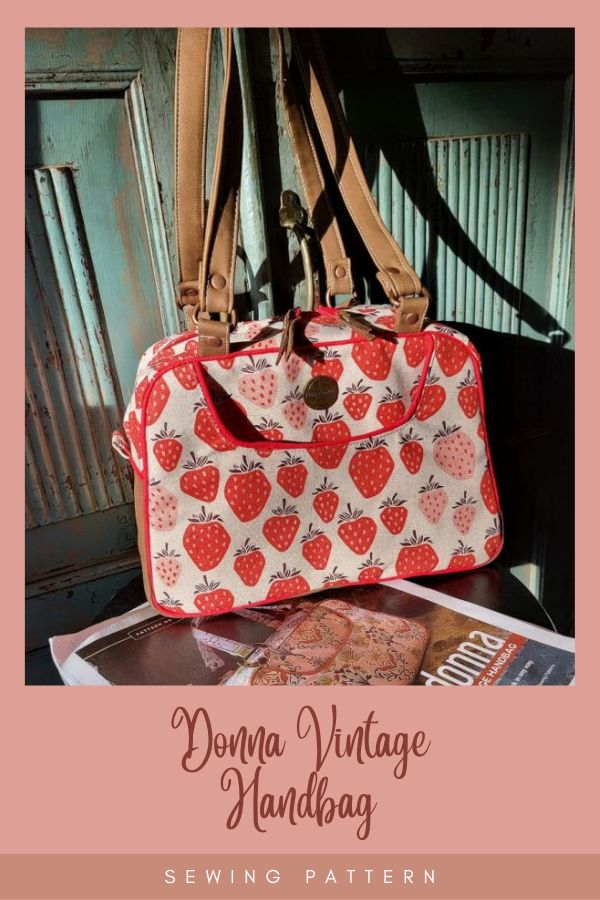 If you would like to download the pattern you can click on the blue button below.
These are our most popular purse and handbag sewing patterns
Want even more purses and handbags to sew? Our shop is packed full of hand-picked favorites from talented designers, big and small. Here are a few recent additions you might like. Check them all out in our shop.