Diaper Travel Clutch With Changing Pad sewing pattern
|
All posts may contain affiliate links.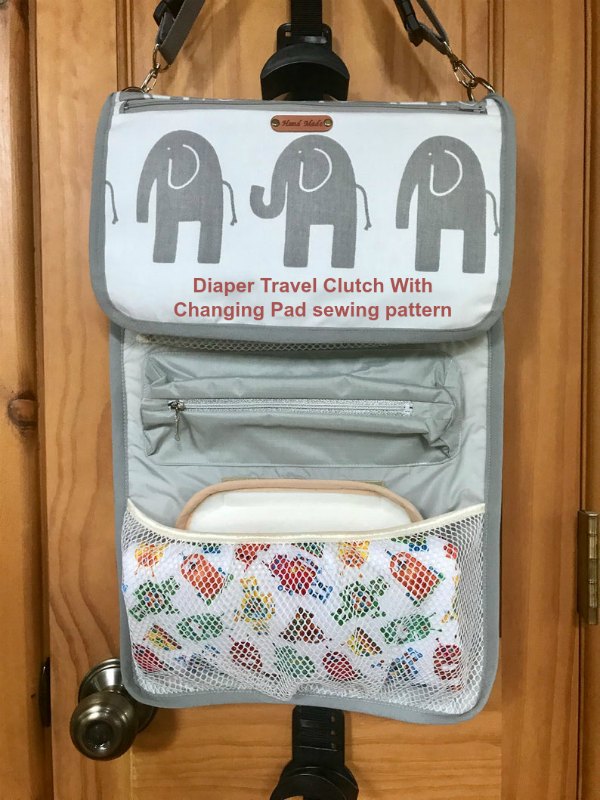 This has got to be one of the best Diaper Travel Clutch bags that there is and we are delighted to be able to offer you this great pattern. It's a handy hanging organizer with a magnetic closure, detachable changing pad, zippered pocket on the front panel, diaper mesh pockets, and two zippered pockets inside. Everything you need in one neat package.
It has been designed perfectly for short trips like shopping, walking, and most outdoor activities. And even if you don't have a baby to sew this bag for, this handy organizer is also ideal for holding your cosmetics and toiletries as well.
This short video will let you see all the features of this lovely bag:
The bag unfolds into FOUR compartments, as follows:-
One has three mesh pockets for diapers with a flat pocket underneath,
The second has a zippered spacious pocket for a change of clothes for the baby, some wet wipes, a burp cloth, etc,
The third one is a mounted zippered pocket, which can hold rash ointment and a small bottle of hand sanitizer,
The fourth is a pocket to fold and tuck the changing pad in, which attaches to the bag with a piece of Velcro. The changing pad is made of Babyville waterproof fabric and soft fleece on the back with soft padding in between layers.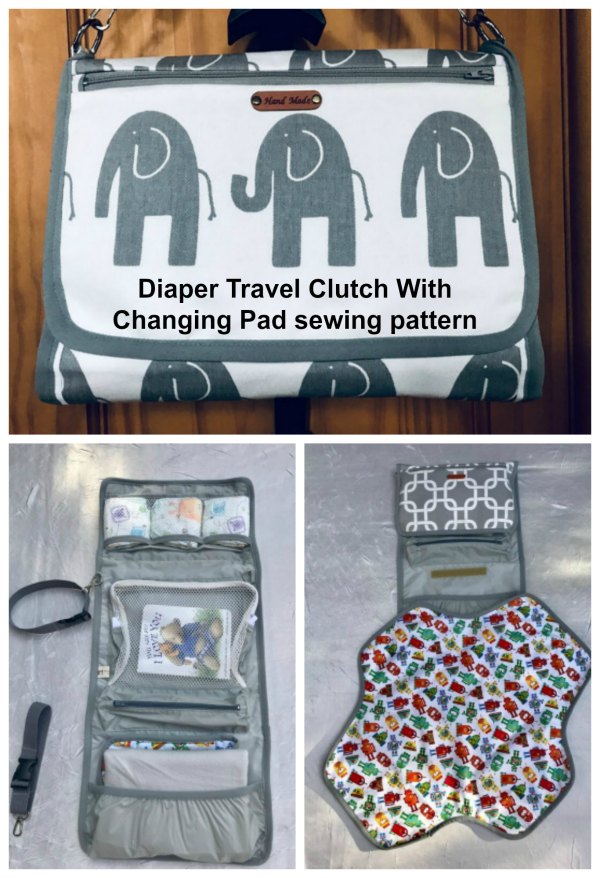 The bag also has the following features:-
Two removable straps with buckles allow you to attach this pouch to the stroller.
It's also easy to convert to a shoulder strap or wristlet for when you have your hands full!
The zippered bag in front of the pouch is big enough to hold your phone, cards and keys in it so you don't need to carry an extra bag.
The lining is made of waterproof sports nylon, which makes it super easy to wipe and clean. Absolutely washable.
Can be also used as a travel or cosmetic bag in the future.
When you have finished making your bag it will measure approximately 12″ by 9″ when folded and 12″ by 27″ when unfolded.
If you would like to download the pattern you can click on the light blue button below.  And if you would like to see other bag sewing patterns from this designer then you can click on the red button below.
See all the patterns from this designer here
This pattern isn't quite right for you? We've got lots
more diaper bag sewing patterns
to share on our
Pinterest
board dedicated to exactly that. Click below to follow this board, then Pin and save your favorite bag sewing patterns to your own boards for later. Don't forget to pin this article too.