Deyjon Bucket Bag (with video) sewing pattern
|
All posts may contain affiliate links.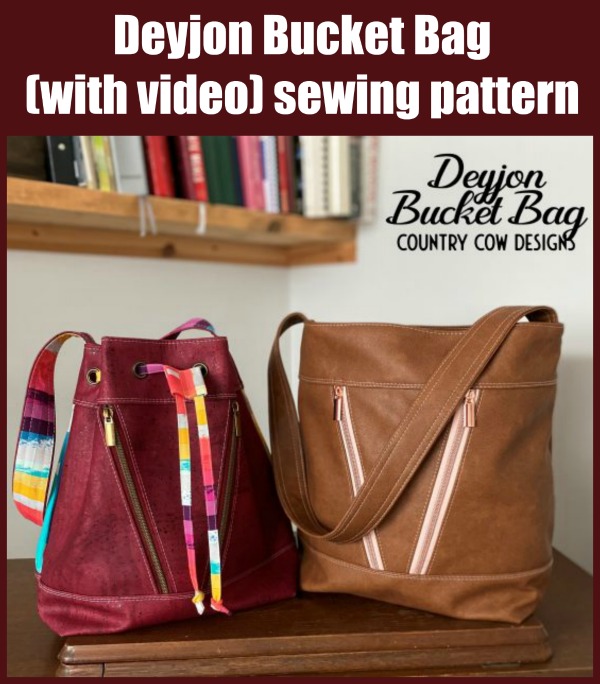 The Deyjon is a great sized bucket bag. It holds loads of stuff inside but it doesn't feel like you're carrying the world with you. It features two exterior zip pockets which are ideal for holding your keys, phone, or sunglasses. The interior has a zipper pocket and a slip pocket.
The pattern provides two options for the top closure. You can choose between a draw-string and a recessed zipper panel. They look so different that it's almost like getting two patterns in one!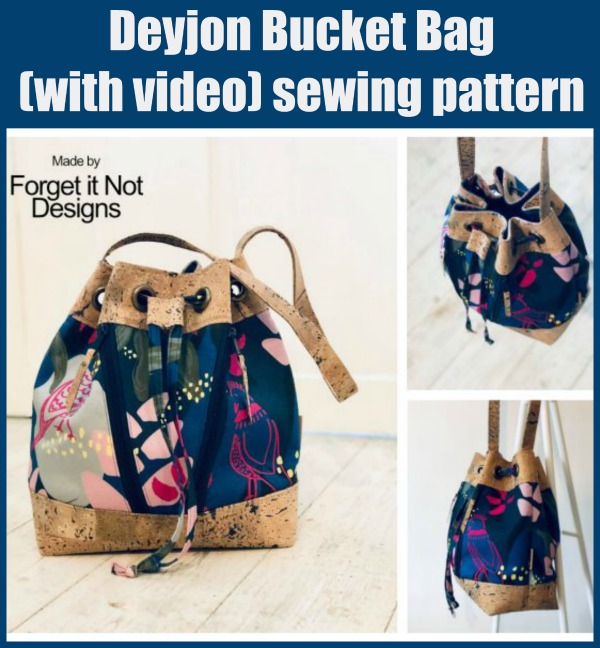 There is no binding used in this pattern and the lining is 'birthed' and then sewn up through a pocket to give a neat lining.
The fabulous designer, Country Cow Designs, has also included in her design a full-length video tutorial as well as the written instructions. Take a look here, and if you like what you see, click on the light blue button below and order the digital pattern.
Recommended fabrics:
The designer says that her pattern is ideal for the following fabrics – canvas, cork, vinyl, or leather. You can even make it using cotton but she recommends that you add some fleece for stability. She also rates it as suitable for ambitious beginners.
Sizing info:
When you have finished making yourself a Deyjon Bucket Bag it will measure approximately 12 1/2″ tall by 10″ wide by 5 1/2″ deep.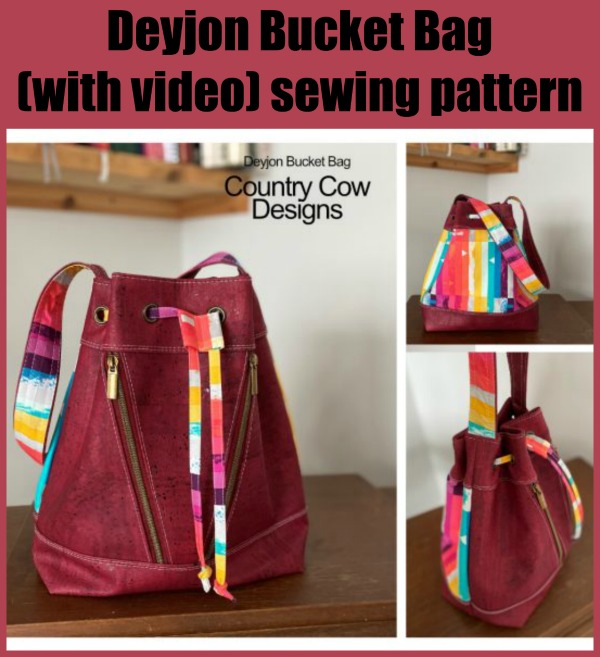 What you will need to make a Deyjon Bucket Bag:-
Exterior fabric: 1 yard (35″ width),
Lining fabric: 1 yard (44″ width),
Medium woven interfacing (SF101/G700): 1 yard (35″ width),
Firm Stabiliser (Peltex 71F/Vilene S520): 6 1/2″ x 12″,
Two 10″ no.5 zips for exterior pockets,
One 10″ no.3 zip for interior pocket,
Twelve 10mm grommets (required for the draw-string version),
One 14″ no.5 zip (required for the zip closure version),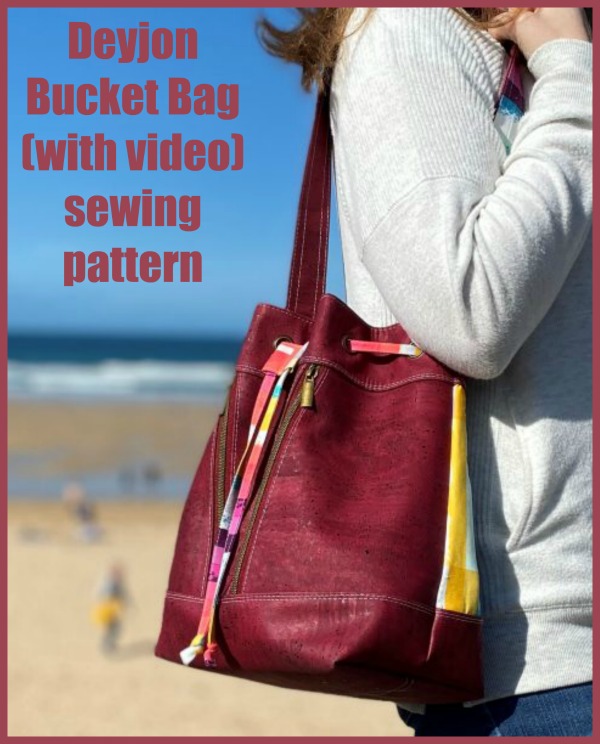 The pattern includes a full video tutorial as well as a 20-page step by step photo guide and a printable pattern for all pattern pieces in both A4 and "letter" paper sizes. If you like what you see then you can download the Deyjon Bucket Bag (with video) sewing pattern by clicking on the blue button below.
These are our most popular purse and handbag sewing patterns
Want even more purses and handbags to sew? Our shop is packed full of hand-picked favorites from talented designers, big and small. Here are a few recent additions you might like. Check them all out in our shop.