Color Book Art Storage (3 sizes) sewing pattern
|
All posts may contain affiliate links.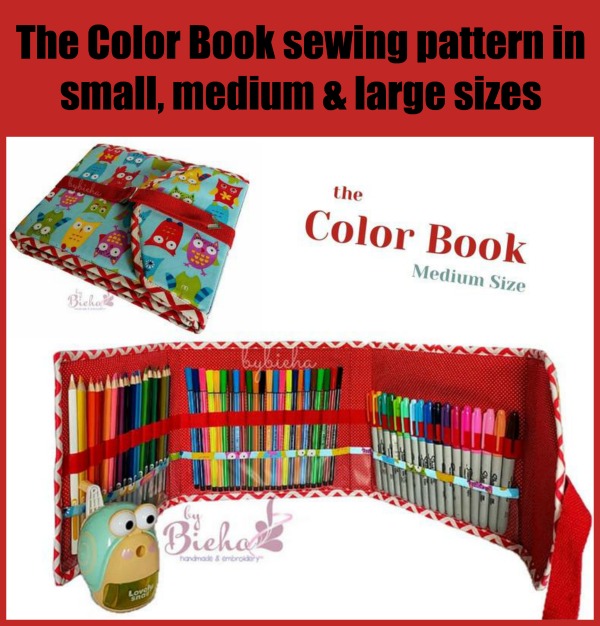 This is perhaps the greatest art, pencil, pen, and marker storage that you can sew. It's an artist's dream and the ultimate in craft storage. Sew this for yourself, for a child, or for a friend who loves arts and crafts.
These cases are perfect for the colorist, art lover, or anyone that loves cases and books. It's not often a sewing pattern comes along that makes you say "Oh, wow!" but this one certainly has that wow factor and is the sort of sewing project you can really get your teeth into and be super proud of.
There are three sizes of Color Book in the same sewing pattern. The small will hold 48 colored pencils, the medium 72 colored pencils and the large is for the serious collector with 120 colored pencils. The designer has also included a BONUS book that will hold those thick Pro-markers that everyone loves.
Every colorist/artist will love these books. You can personalize them to meet your creative needs!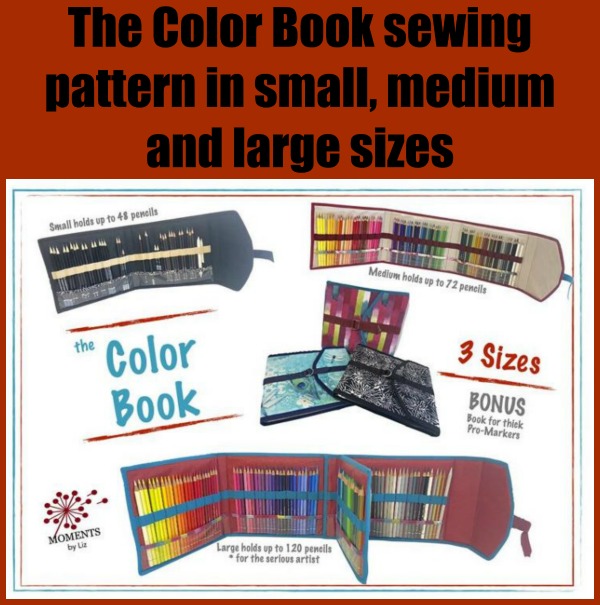 Skill level:
The designer has rated her project as suitable for an intermediate sewer.
Sizing info:
When you have finished making yourself a Color Book it will measure approximately:-
Small – Closed = 10″ wide by 8 1/2″ high by 1″ deep. Opened = 25″ wide by 8 1/2″ high.
Medium – Closed = 10″ wide by 8 1/2″ high by 1 1/2″ deep. Opened = 38″ wide by 8 1/2″ high.
Large – Closed = 10″ wide by 8 1/2″ high by 2 1/2″ deep. Opened = 38″ wide by 8 1/2″ high.
Bonus – Closed = 10″ wide by 8 1/2″ high by 1 1/2″ deep. Opened = 25″ wide by 8 1/2″ high.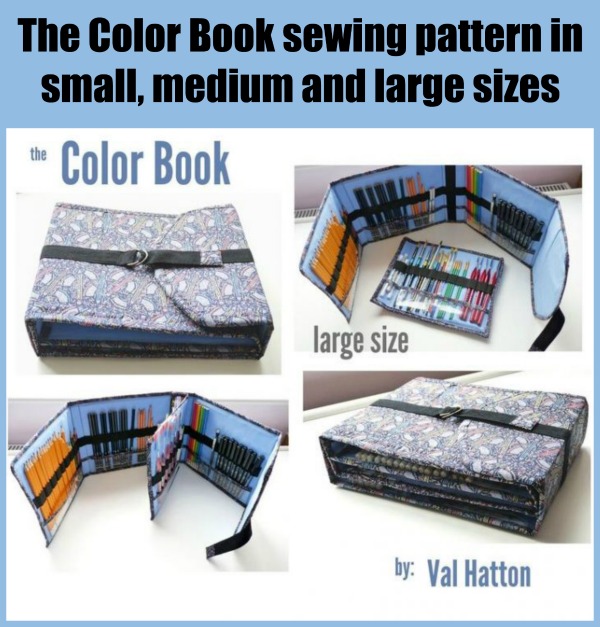 What you will need to make a Color Book Art Storage:-
1/4 of a yard of exterior fabric, like Cotton, Faux Leather, Cordura. Thick upholstery fabrics are not recommended,
1/4 of a yard of lining fabric, like Cotton, Laminated Cotton, Cordura, Vinyl,
1/4 of a yard of accent fabric for the binding,
1/4 yard of medium weight, non-woven, fusible interfacing H250 or 808 Craft Fuse,
2 1/2″ by 19 3/4″ (Small), 2 1/2″ by 30 1/2″ (Medium), 2 1/2″ by 31 1/2″ (Large) of medium gauge clear vinyl,
19 – 21″ (Small), 31 – 34″ (Medium), 51 – 61″ (Large) of 3/4″ – 1″ elastic,
25 – 30″ of 3/4 – 1″ webbing,
Two 3/4″ – 1″ D-Ring /Rectangle Ring,
8″ of 3/4″ wide Velcro, for the large size only,
2 mm greyboard, stiff cardboard, or two comic book boards glued together,
Double Stick Tape, Steam-A-Seam 2 (1/4″ fusible tape), Fabri-Tac, Aleene's Fabric Fusion Glue, or Quilters Tape,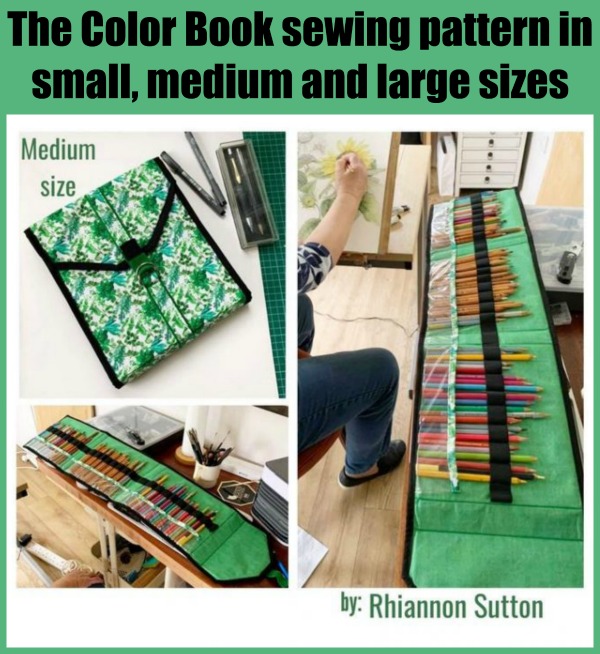 This is a PDF pattern, consisting of 41 pages of step-by-step instructions with color photos and 11 pages of full-size pattern pieces. Cutting from measurements (when possible) is also included. If you want to download the pattern then click on the light blue button below.
This designer, Moments By Liz, has some other fabulous bag sewing patterns which you can view by clicking on the red button below.
Click here for other patterns from Moments By Liz
More storage and organizers to sew
Want even more ideas for projects to sew for storage and organizers? We love to sew bags that help to keep things neat and tidy. Check out a few recent storage ideas to sew from our store.