Coffee House Bag Sewing Pattern
|
All posts may contain affiliate links.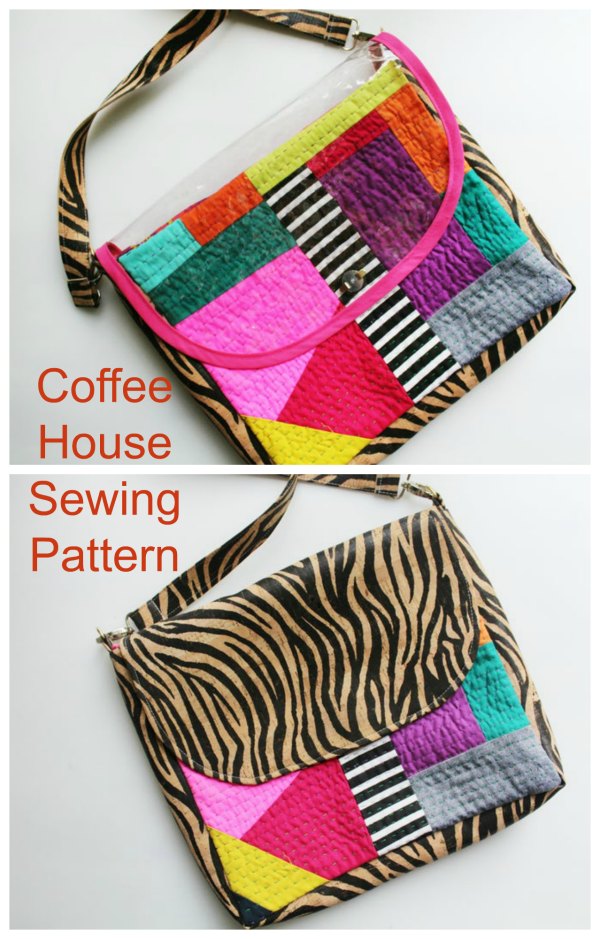 This casual cross body purse has a secret and the designer (Sew Hungry Hippie) likes it so much that it is her favorite bag EVER. We think you'll enjoy sewing and using it too.
The Coffee House sewing pattern has been designed so that you can customize it in many ways. It gives you the option of making the flaps interchangeable which really allows you to put your mark on the bag and if you get bored of your current one you can easily attach a new one. You can change out the front flap to suit your mood or your outfit.
You can see in the top picture how the same bag has been changed in look by changing the front flap – it simply snaps on and off!
For new sewers, you can make the Cofee House bag with quilting cotton, while there are more advanced versions where Sashiko stitching is used and the flaps snap on and off. The bag can also be made with vinyl, cork, canvas, denim, as well as taking a number of fabric pieces and piecing them together.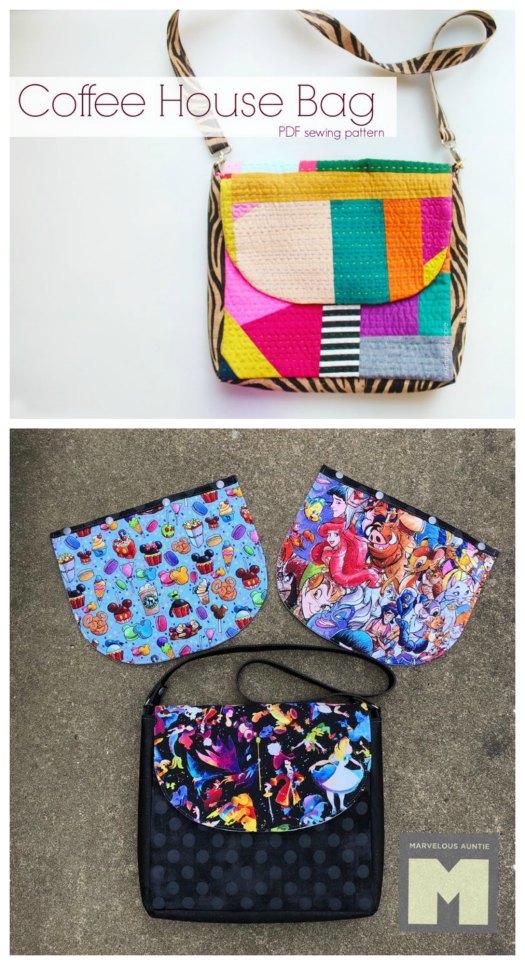 You can also opt to make interchangeable straps, the designer shows you how in the pattern.
You can use the riveting process on the straps that the designer shows you, or simply sew them to the D rings if you don't have the tools.
The Coffee House bag also has three zipper pockets, one vinyl pocket, and overall is a great size for everyday use. It's been tested by all levels of Sewists and there are additional links to help you with attaching snaps, attaching rivets, sewing cork, and attaching binding. The sewing pattern is written with clear instructions on every step, with lots of color photos, and digitally drawn diagrams and illustrations to help you every step of the way. For those of you who purchase this excellent pattern, there is also a video link available.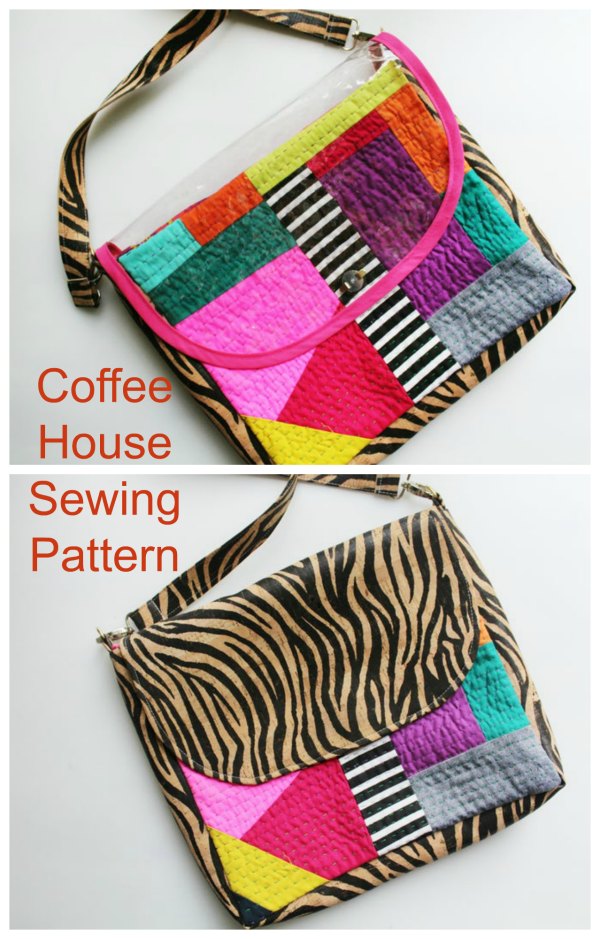 When finished the Coffee House Bag measures approximately 12″ by 10.5″ by 2.5″.

What you will need to make the Coffee House Bag
1-yard of the main fabric
1-yard of lining fabric
1/2 yard of coordinating fabric
Three pocket zippers 8″ long
One magnetic closure (more for interchangeable flaps)
2-yards of SF101 woven interfacing
1-yard of foam interfacing
Two metal 1″ D-rings
5″ by 5″ scrap of vinyl (10 or 20) gauge
12″ wide by 12″ high additional vinyl piece for an optional flap