Carry Along Maker's Case sewing pattern with extras
|
All posts may contain affiliate links.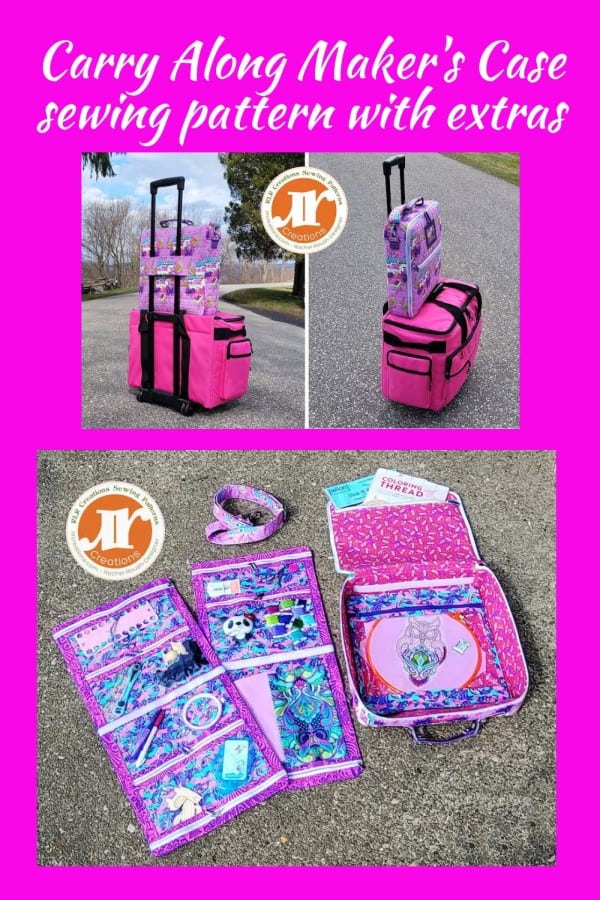 This is the Carry Along Maker's Case pdf sewing pattern with extras from the designer RLR Creations Sewing.
The Carry Along Maker's Case pattern includes instructions for a Travel Case, two detachable Notion Pouches, and a removable Project Pouch.
This Case was designed for the traveling maker. Whether to tote your sewing materials, scrapbooking stuff, crafting supplies, or any other project you are currently working on, there is no limit on the possibilities. Now you can make the perfect project bag to take your hobby on the go. Pack everything you need for the next quilt retreat, guild meeting, vacation, or kid's sport practice.
The Maker's Case offers plenty of room for your projects and supplies in a neatly organized system to make packing up and toting your projects a breeze.
The front offers a zippered pocket for quick access to items and an identification sleeve. The exterior back has a trolley sleeve that will allow you to easily slip the case over a rolling tote handle or a traveling suitcase. Additionally, the two carry options include a top handle or an adjustable shoulder strap.
A large zippered pocket on the interior lid will hold all of your patterns or project books, while the zipped pocket in the bottom of the case is the perfect spot to store rulers or other flat items.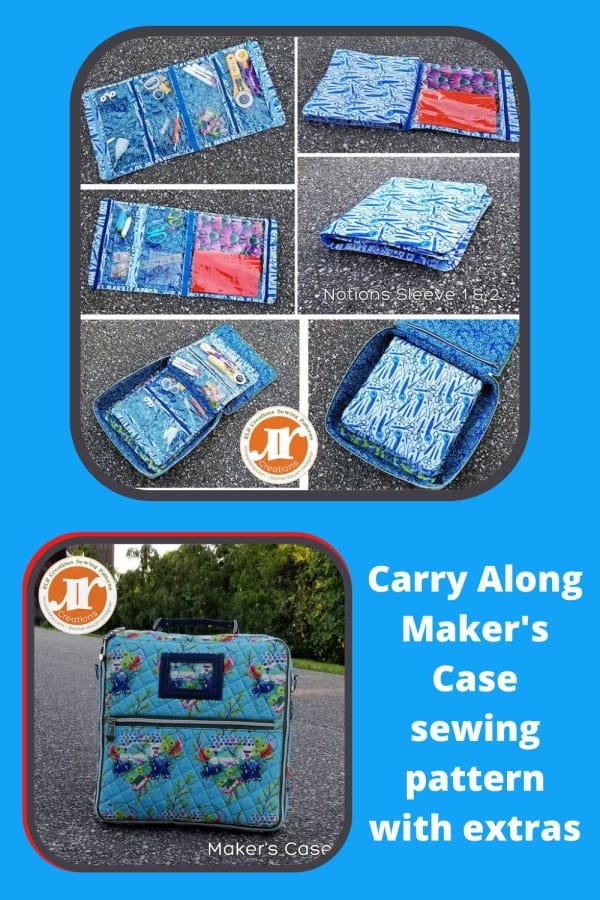 The two detachable notions sleeves offer plenty of clear zippered pockets to hold all of your supplies. The two sleeves nestle together neatly to allow you to easily organize and access your notions. You can simply use the sleeves inside the case or outside the case, by removing the sleeves and laying them flat.
A clear front project pouch is included to hold your work in progress. It is large enough to comfortably store 12 ½" unfinished quilt blocks, scrapbooking paper, hooped embroidery, or any other project you are currently working on. This project pouch neatly fits inside the bottom of the case for easy travel.
Sizing info:
When you have finished making your very own Carry Along Maker's Case, when the case is closed, it will measure approximately 14" wide by 14" high by 3" Deep.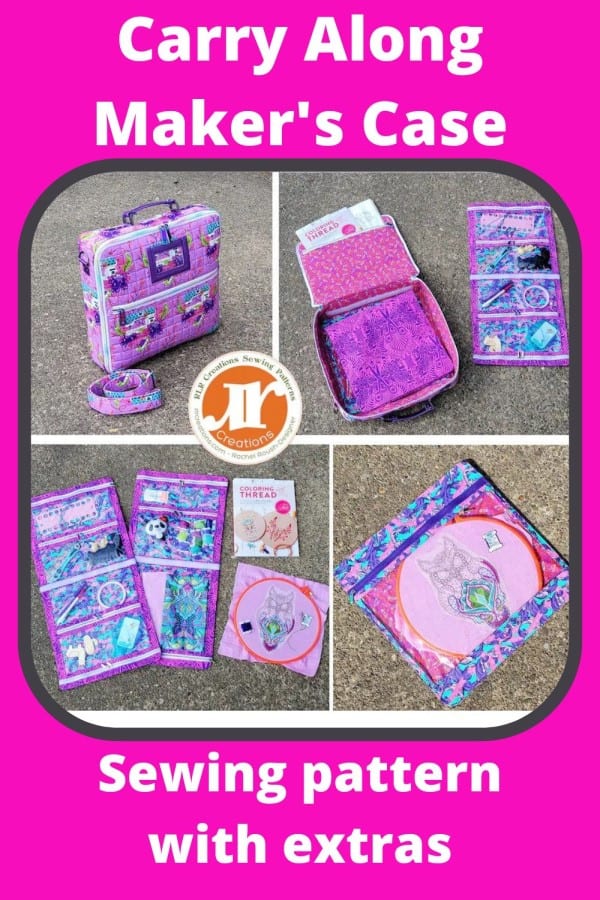 What's needed to make a Carry Along Maker's Case:-
1⅓ yards of 44" wide midweight Quilting Cotton or Décor Weight Fabric for the main fabric,
2⅔ yards of 44" wide Quilting Cotton Lining Fabric for the lining fabric,
1 yard of 45" Fusible Pellon 809 Decor Interfacing for the heavy interfacing,
2¼ yards of 20" Fusible Pellon SF 101 for the light interfacing,
(Optional) one piece 8½" by 7½" of Leather, Vinyl, or Cork Fabric for the contrast fabric,
1⅙ yards of 20" Pellon FF 77 Fusible Flex Foam for the stabilizer,
½ yard of 71F Pellon Peltex Fusible Ultra for the Firm Stabilizer,
⅓ yard of 54" (10 or 12 Gauge) Clear Vinyl,
1 yard of ¾" sew-on Hook and Loop Velcro Fastener,
One 48" #5 Coordinating Nylon Coil Zipper for the Main Closure,
One 14" #5 Coordinating Nylon Coil Zipper for the Exterior Front Zipper Pocket,
Two 14" #5 Coordinating Nylon Coil Zippers for the Interior Case Zipper Pocket,
Three 15" #3 Coordinating Nylon Coil Zippers for the Project Pouch, Notions Sleeve,
Two 13" #3 Coordinating Nylon Coil Zippers for the Notions Sleeve,
NOTE: If using Zipper by the yard, you will need 2½ yards of #5 zipper tape and five pulls, as well as, 1½ yards of #3 zipper tape and 5-8 pulls,
Two 1½" Hooks,
One 1½" Slider,
Two 1" Rectangle Rings,
Check out our RESOURCES PAGE full of great recommendations and links for fabric stores and suppliers, interfacing and stabilizers, hardware resources, and zippers.
If you would like to download the pdf pattern you can click on the blue button below.
We think you'll like these patterns for storage and organizers to sew
We know our readers just love to sew storage and organizer projects so we've got lots of them. We've handpicked some of our favorites to feature in our pattern store. These are some of the most popular that are readers are sewing now!