The Brigitte Baguette Bag sewing pattern
|
All posts may contain affiliate links.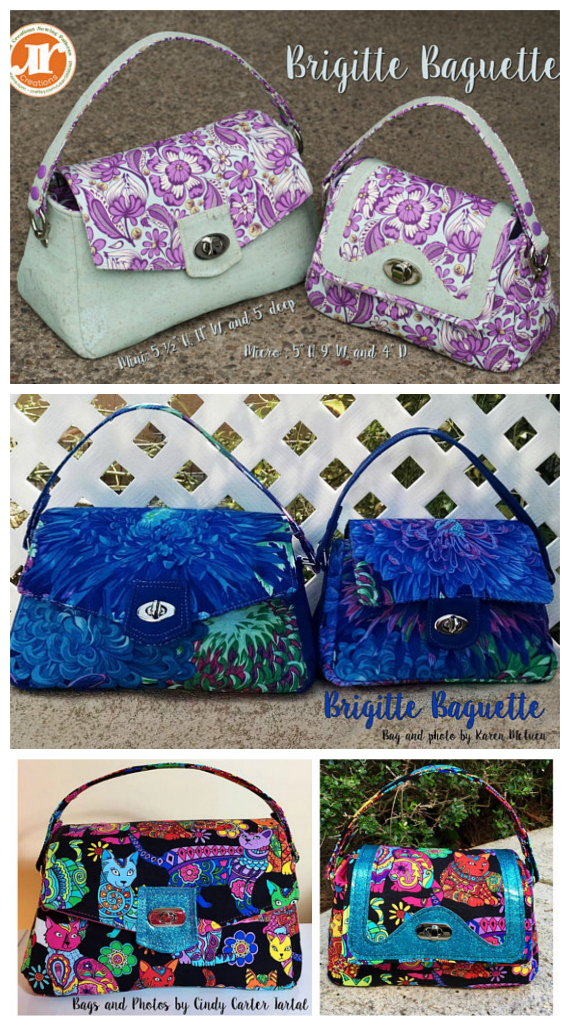 The Brigitte Baguette Bag comes in two sizes, both a micro and a mini, so you can choose the size that is right for you. It has a streamlined silhouette that blends an iconic shape with a clean modern design. Long and narrow, small in size, so it is just perfect for the essentials. You can carry the Brigitte Baguette as a clutch over the arm or as a shoulder bag.
The pattern features lots and lots of options so that you can create a bag that is uniquely you. There are:-
Three flap options,
Two strap connectors options,
Two strap options that can be easily switched from a handle that allows you to nestle the Brigitte under your arm as easily as a long, crusty French loaf from which it borrows its name, to a long shoulder strap when dashing between events.
The Brigitte Baguette is a compact bag but there is still plenty of room to store the essentials. The interior includes a back slip pocket for cash, tickets, or recipes, along with three internal card slots that negate the need for a wallet.
Each bag measures as follows:-
The Micro Baguette is 5″ high by 9″ wide by 4″ deep.
The Mini Baguette is 5 ½" high by 11″ wide by 5″ deep.

What you will need to make the Brigitte Baguette Bag:-
One piece of main fabric – 18″ x 27″ (35″ x 18″ for Mini) Cork, Vinyl or Leather OR ⅓ yard (½ yard for Mini) 44″ Quilting Weight or Décor Weight. Please note that if you are choosing Quilting Cotton for your Main Fabric and Flap Option 2, you will need a small piece of "Contrast Fabric" Cork, Vinyl or Leather to fit Pattern Piece B-2  for either the Micro Size or Mini Size,
½ yard (⅔ for Mini) 44″ wide Quilting Weight Cotton- Lining Fabric,
½ yard (⅔ yard for Mini) Fusible Pellon SF101 or a woven shaping interfacing,
½  yard (both sizes) Fusible Décor Bond,
⅛ yard (⅔ yard for Mini) Fusible Fleece,
One twist-lock closure,
Nine sets of #20 Kam Snaps- optional,
Coordinating thread,
Removable Fabric Marker (A Frixion gel pen is recommended as it can be removed by pressing with an iron),
Microtex (Sharp) Needle 80/12 is recommended for topstitching through the thicker parts,
These are our most popular purse and handbag sewing patterns
Want even more purses and handbags to sew? Our shop is packed full of hand-picked favorites from talented designers, big and small. Here are a few recent additions you might like. Check them all out in our shop.