Brie's Box Toiletry Caddy Bag sewing pattern
|
All posts may contain affiliate links.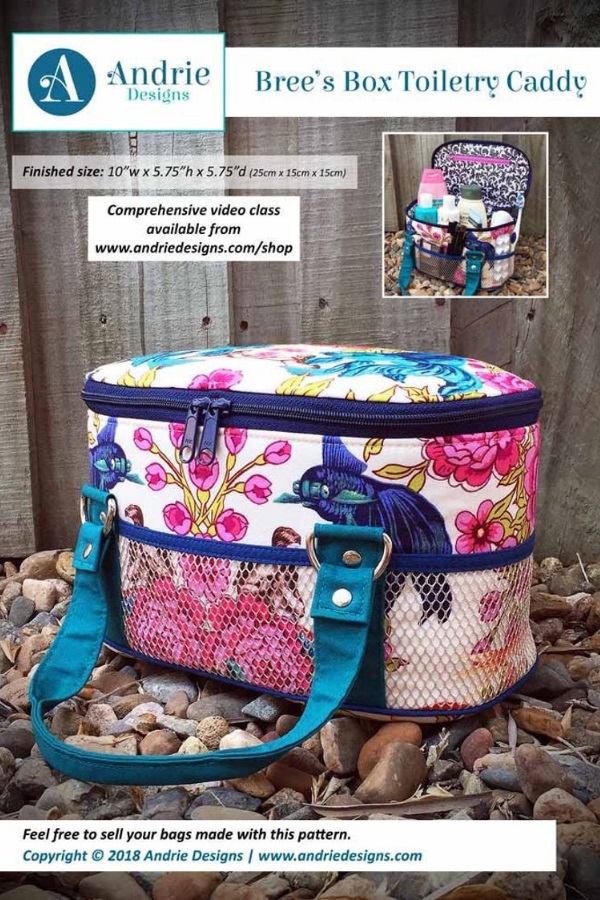 This is the Bree's Box Toiletry Caddy Bag pdf sewing pattern by Andrie Designs.
This classy, yet practical, toiletry caddy has been designed to be dual purpose. Initially, it is a generously sized toiletry bag to transport all your toiletry needs. Once at your accommodation, it can be used as a handy toiletry caddy to keep all your toiletries organized and easily accessible while away from home!
The Bree's Box Toiletry Caddy features two outer handles, stitched together across the center for easy griping and transportation. It has three mesh pockets around the outside of the caddy which are perfect for storing smaller items such as makeup brushes, combs, toothbrushes, medicine strips, etc. once you arrive at your destination and are setting up your caddy.
On the inside, there is a small zipper pocket on the inside of the lid which is perfect for storing small items such as hair ties, medicine, pocket mirror, etc. By leaning the lid up against the mirror or wall next to the vanity, you will have access to this pocket at all times. There is also a larger zipper pocket in the main compartment which is perfect for storing creams, tubes of ointment, and so forth.
The Bree's Box Toiletry Caddy pattern was actually first featured in the May 2018 issue of the Australian Magazine 'Homespun'.
If you are wary of zippers and piping then the designer says don't be! Throughout the pattern, she gives detailed and comprehensive instructions to make adding the zippers and piping an easy and stress-free experience.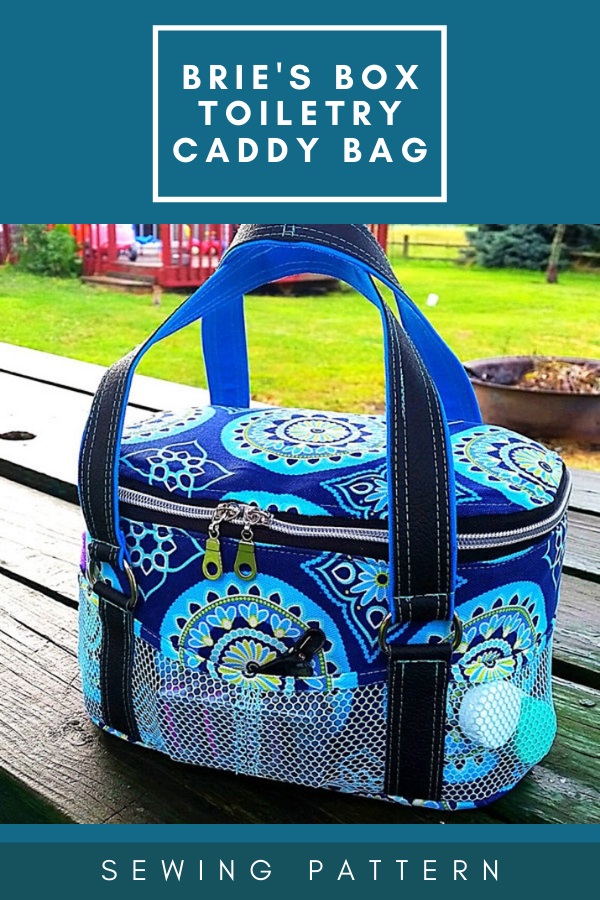 The Bree's Box Toiletry Caddy is perfect for those who seek an organized toiletry bag when traveling. It would also make for a great lunch back or sewing bag too!
Sizing info:
When you have finished making yourself a Bree's Box Toiletry Caddy then it will measure approximately 10″ (25 cm) wide by 5¾" (15 cm) high by 5¾" (15 cm) deep.
Skill level:
It is suitable for an advanced beginner/intermediate sewer.
What you will need to make a Brie's Box Toiletry Caddy Bag:-
Outer Panels (i.e. quilting cotton) – 3/8yd (35cm),
Outer Pockets (i.e. By Annie's mesh fabric) – 21" by 5" (53cm by 12cm),
Lining & Inner Zipper Pocket (i.e. laminated cotton or PUL) – 3/8yd (35cm),
Handles, Handle Connectors, Lid Zipper Pocket & Fabric for piping/straight strip trim, (i.e. quilting cotton) – 1/2yd (46cm),
By Annie's Soft and Stable Foam Interfacing (or equivalent foam) – 21" by 20" (53cm by 50cm),
Medium Weight Fusible Interfacing (i.e. Pellon Shapeflex SF101, Legacy Shapeflex L-SF101) – 1/2yd (46cm) based on a 40" (100cm) width,
Cotton Cording – 3/32" size (2.5mm)/size 00 (or the equivalent of premade piping) – 30" (76cm),
Four D-Rings – 1¼" (3cm) size,
Coordinating Zippers –two long pull zippers (to make one double-pull zipper) OR one premade double
Pull zipper – 26" (66cm) long, and two dress zippers for zipper pockets – 6" by 8" (15cm by 20cm) long,
Check out our RESOURCES PAGE full of great recommendations and links for fabric stores and suppliers, interfacing and stabilizers, hardware resources, and zippers.
This pattern comes with two files – the pattern instructions/pieced pattern pages, and a large print pattern pieces file suitable for printing at your local print shop on the correct sized paper. It has eleven pages of clear, detailed instructions. All pattern pieces have been digitally drawn.
If you would like to download the pattern you can click on the blue button below.
We think you'll like these patterns for storage and organizers to sew
We know our readers just love to sew storage and organizer projects so we've got lots of them. We've handpicked some of our favorites to feature in our pattern store. These are some of the most popular that are readers are sewing now!