Elite Crossbody Wallet pattern
|
All posts may contain affiliate links.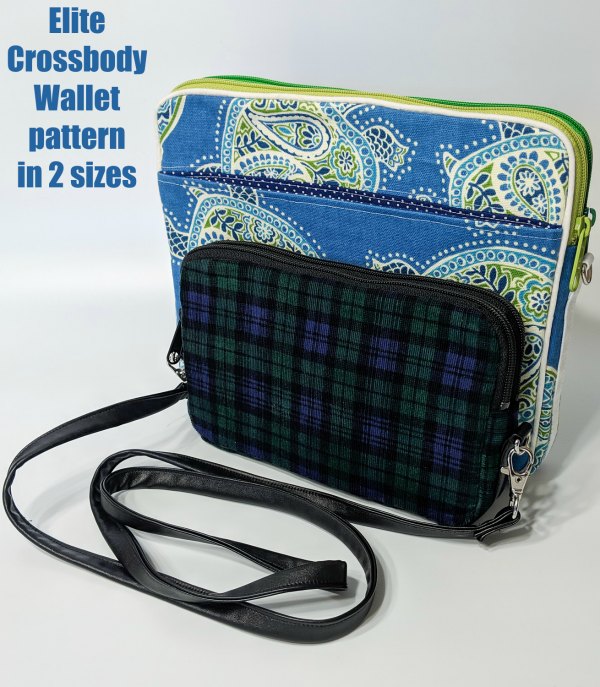 Here is the Elite Crossbody Wallet pattern from a very popular designer. Using this clever pattern you'll be able to sew your own double compartment zippered bag that really is ultra-versatile. In fact, you can sew two of them because there are two different sizes in the same pattern.
Being ultra-versatile means you have lots of choices. It's a large enough bag where you can carry all your daily necessities including your phone but is still small enough to slip into a larger bag. The crossbody strap makes it easy to carry it by itself, or you can detach the strap and carry it as a simple zipper clutch.
The designer has also given you the option of making the bag in two sizes, with the larger size being large enough to hold a tablet. Because you can make your bag in two different sizes the designer has included appropriate instructions including customizing the pockets.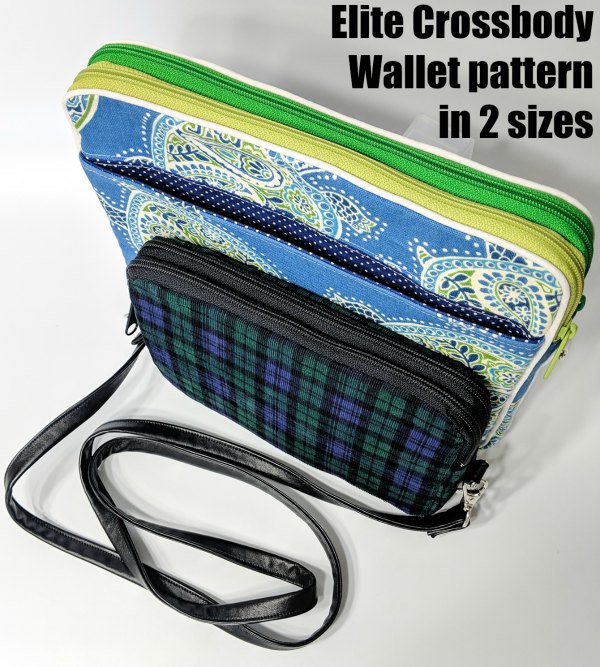 Skill level:
The designer describes this pattern as intermediate and is, therefore, best suited for sewers with some experience. She also advises that there are no bias bindings but there is a small amount of hand-stitching.
Sizing info:
When you have finished making the Elite Crossbody Wallet it will measure approximately:
Small size = 8.5″ (21.6cm) long by 5.5″ (14.0cm) tall by 1.5″ (3.8cm) wide
Large size = 10.5″ (26.7cm) long by 8.5″ (21.6cm) tall by 1.5″ (3.8cm) wide.
The pattern:
When you purchase the Elite Crossbody Wallet you will be able to download the pattern which includes 19 pages of instructions, with detailed illustrations and photos. There are also links to six video tutorials to help with the trickier steps. There are 14 pages of the printable pattern in total, but not all are needed for each size, and all the rectangle piece dimensions are included in a cut chart.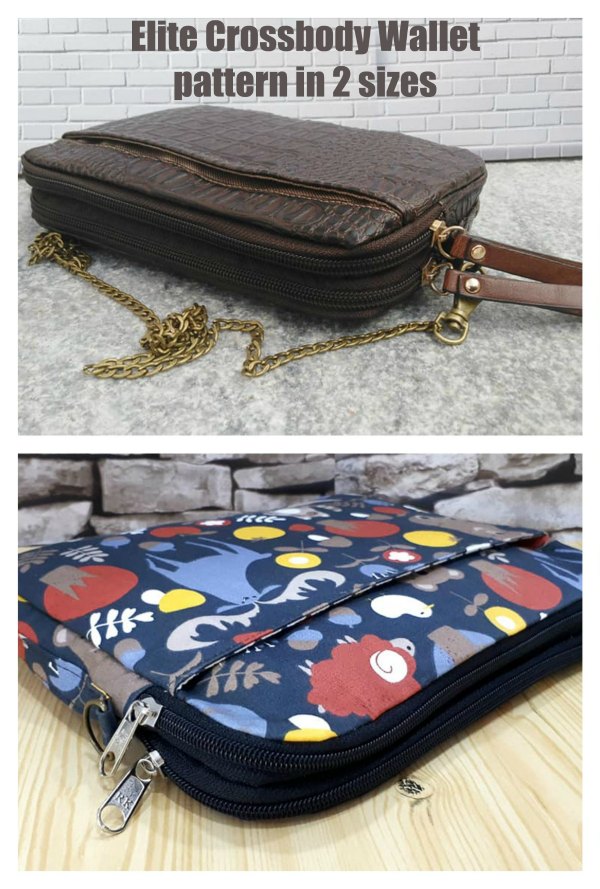 What you will need to make the Elite Crossbody Wallet
See pattern for exact amounts required.
54″ (137cm) wide exterior fabric like canvas, twill, thin vinyl, corduroy, or other medium-weight fabrics. Avoid bulky fabrics.
44″ (112cm) wide interior fabric like quilting cotton or other thin wovens.
20″ (51cm) stiff fusible interfacing (Peltex).
20″ (51cm) woven fusible interfacing.
Two #5 handbag (long pull) zippers.
One #3 zipper, optional for pockets.
Piping, optional.
Two 1/2″ (1.3cm) D rings.
Two 1/2″ (1.3cm) swivel hooks.
Coordinating thread.
See all the patterns from this designer here
Sew more crossbody bags and you'll be happier - we promise 😉
For the easiest shopping and days out, you can't beat a crossbody bag for leaving you hands-free. We've got 60+ of our favorite crossbody bag patterns hand-picked for you in the store. Go to the shop page to find them all saved by category.