Big Bag Bundle sale – limited time offer
|
All posts may contain affiliate links.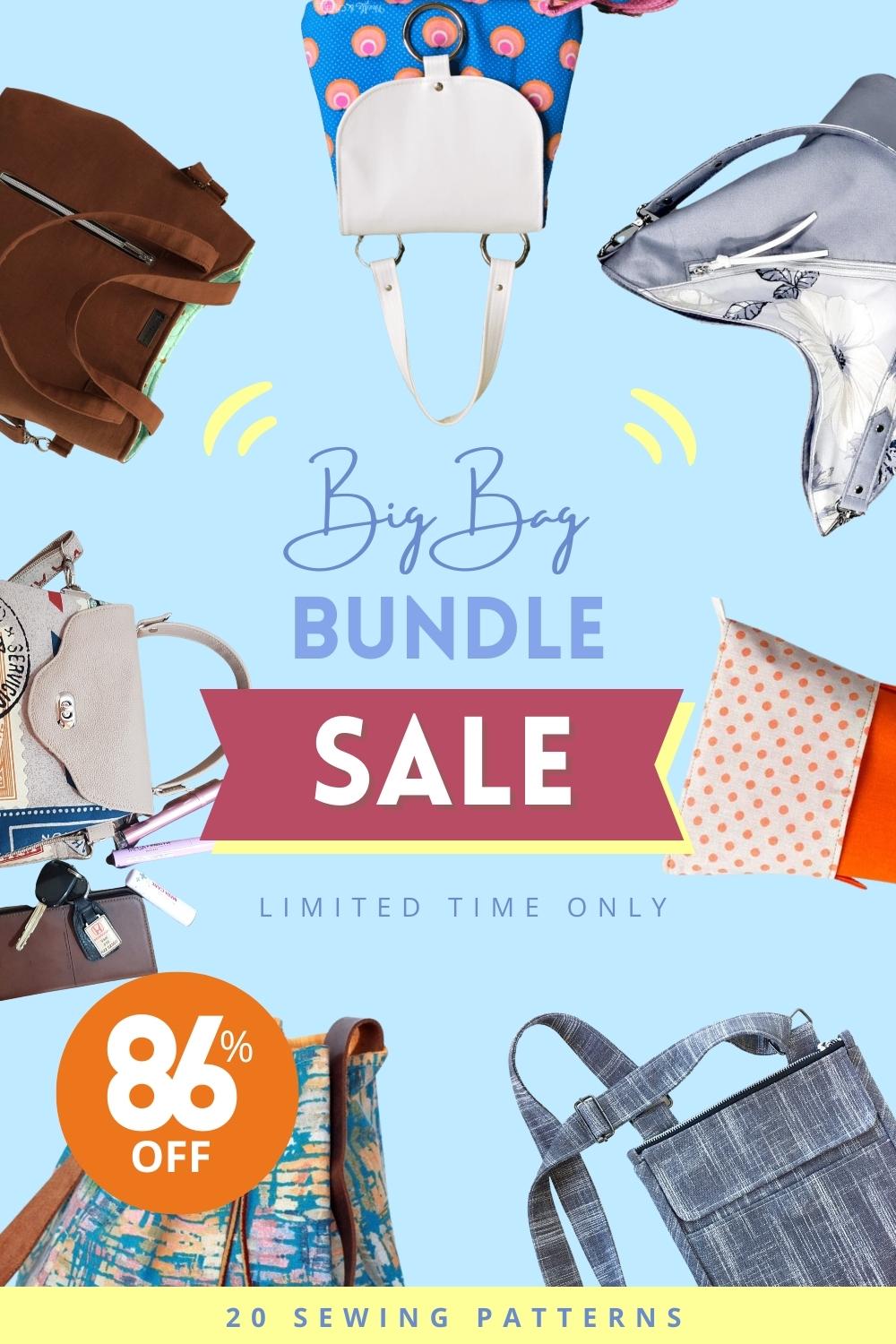 [The bundle sale is now CLOSED. Sorry you missed it. Please sign up to our newsletter so you'll know about future bundle sales and offers.]
Something very special is coming your way – a BIG Bundle of Bag Sewing Patterns at a price that's almost too good to be true… yet it is!
We've heard how much you loved our previous bundle sales, and the opportunity to try a wide range of different patterns from lots of different designers. This time we've expanded on the selection by including an even wider range of patterns, from designers you may not have seen featured on our site before. Each and every one of them offers outstanding patterns that should be in your bag sewing pattern collection.
We truly wanted to blow you away with this bundle deal.
We think we've done it with a 'super-special-once-only-limited-time-almost-unbelievable-offer' that we hope you'll love. If you like to sew bags (and we know you do) then you are going to love this package we put together for you. It's about time that you treated yourself and we're here to make that possible.
It's the BEST EVER sewing pattern deal carefully curated for you by the team at Sew Modern Bags, and incorporating some of your best-loved bag pattern designers. If you love to sew bags, purses, totes, wristlets, zipper bags, backpacks and storage, then THIS bag sewing pattern bundle is perfect for YOU.

WHAT'S THE DEAL WITH THE BIG BAG BUNDLE SALE?
There are 20 complete bag sewing pattern PDF downloads and a bonus of our exclusive Custom Tote Bag Pattern Generator. Incredible value awaits with this Big Bag Bundle. We want to blow you away with a total value of more than $190 available at a one-time only limited-time price of just $23.95 for everything.
Even if you might already own one of two of these excellent patterns, it's still a fabulous deal to get the rest at such a discounted price. And this time we've gone the extra mile to bring you a wider range of patterns from designers we haven't featured before.
Yes, we can't believe it too – grab your bundle now before we change our minds. This sale is limited time only and the last day to buy the bundle is Monday 19th September 2022. After that, it will be gone for good.
LIMITED TIME OFFER – THIS WILL ONLY BE AVAILABLE FOR A SHORT TIME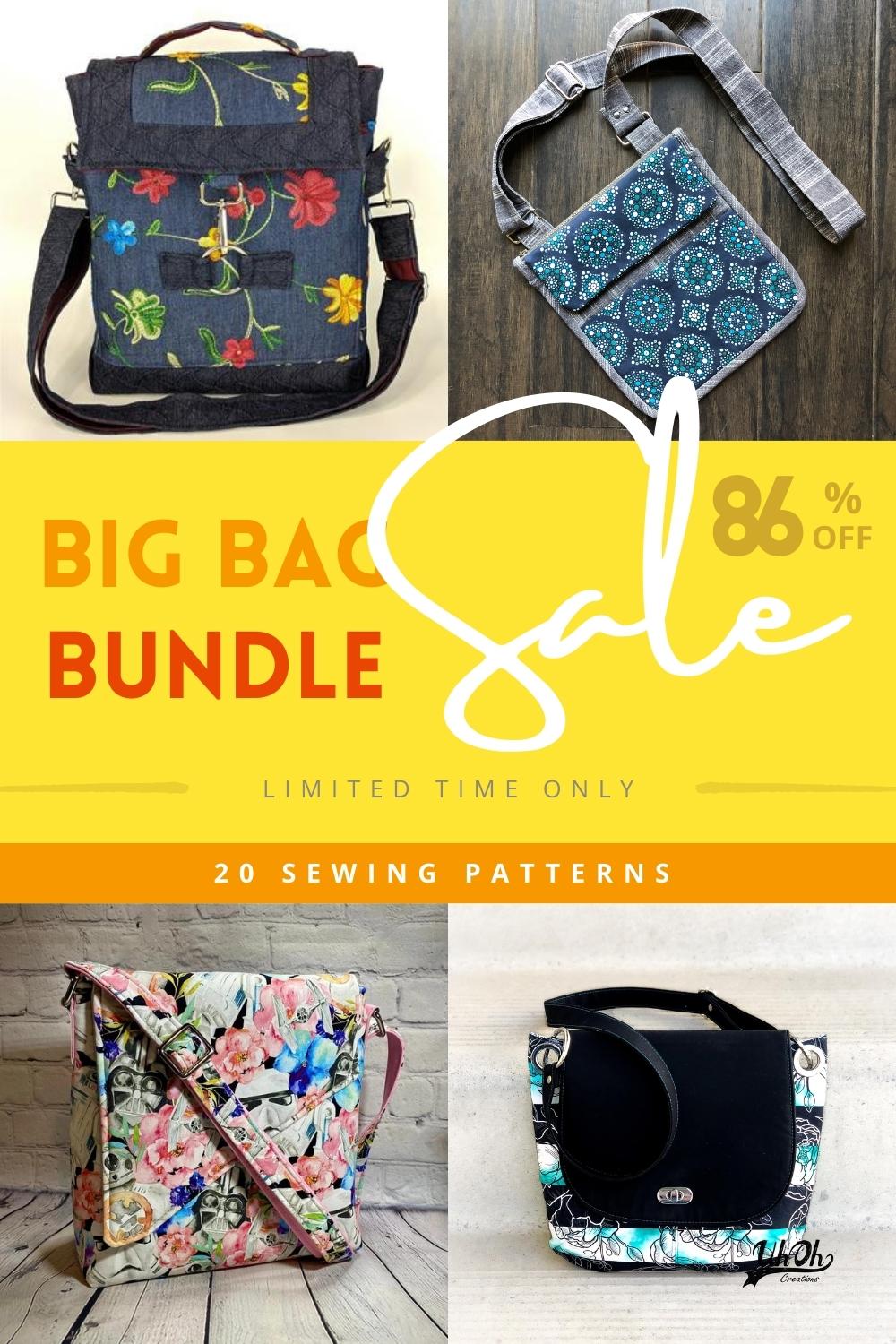 What's included in the Big Bag Bundle Sale?
You'll get 20 full sewing pattern downloads plus our Sew Modern Bags bonus. These are all the full patterns with step-by-step instructions that you would get if you were paying full price. Some also include video lessons too.
1) Bozena Saddle Bag by All Sew Petite (with video)
Carry your belongings in style with this trendy semi-circle crossbody bag! Bozena saddle bag is a perfect companion on a night out or during the day when you only need to carry bare essentials. The pattern offers two different flap options that require either turn lock or press lock closure.
The bag features a handle on the top of the flap and a slip pocket on the back, which is perfect if you want to keep your phone or other items easily accessible on the go. The small but spacious fully lined main compartment can hold a small water bottle, wallet, or phone, with additional slip and zipper pockets so you can keep your belongings organized.
The adjustable shoulder strap allows wearing the bag on the shoulder or across the body.
2) Melisande Slouchy Bag by Deja Designs (with video)
Melisande is a slouchy bag that is available in three sizes. The Large and Medium as shoulder bags with an exterior diagonal zipper pocket, and the small is a crossbody version with no exterior pockets, for a quick sew. There are slip pockets and a zipper pocket inside of each.

The Large is very roomy, can carry a lot of things, great as a diaper bag or even an overnight bag. Or just a regular large slouchy bag. The Small is great if you don't carry a lot of stuff around, and the Medium is everything in between.
The pattern is great for color blocking, mixing of materials, colors, and textures, and offers lots of room for modifications – diagonal in opposite direction, no diagonal pocket or one on either side, shoulder or crossbody.
3) Delmar Wristlet by Hold it Right There Bags (with video)
The Delmar Wristlet carries all your essentials. The top zipper opens to the main compartment. Eight card slots and one slip pocket keep your credit cards, cash, and sundries organized. A front slip pocket secures with a twist lock and is perfect for your phone. The wristlet handle combines two fabrics for a unique look.
BONUS PATTERN INCLUDED: You have the option to sew the Delmar as a belt bag! Bonus instructions are included for Waist Belt Connectors to wear your Delmar around your waist. The Waist Belt Connectors sew up quickly and easily. Choose from either the D-Ring Version or the Eyelet/Grommet Version. Clip the adjustable Waist Belt to the Delmar Waist Belt Connectors, and off you go!
4) Zip-tastic Pouches by Moments by Liz (2 sizes)
Whether you make the ZIP-tastic's to hold your notepads and crayons or you add a strap for an adorable crossbody (an iPhone fits in the front pocket), they will be your new favorite go-to pattern.
These are fast and fun to make!!
Best of all, you don't need any special hardware and they are Fat Quarter friendly!! Time to use them up!!
The pattern includes 2 sizes (small and large). The small will hold an eBook reader or iPad mini. The large will hold an iPad and the cables in the front pocket or an A5 notebook. These are also great for bullet journals, art supplies, make-up, anything you can stuff in them!

5) More-Than-A-Pocket Bag by Mister Domestic
This bag is that bag you grab when you need more than a pocket to carry your stuff but don't want to lug around a full purse. Essentially, it's when you would think to use a fanny pack, but much more stylish. It's a quick easy sew that you'll probably finish in class and I promise once you make one, you'll immediately want to make another one!
6) Ricochet Crossbody Bag by Bags by Bags of Style (with video)
This is a simple but stylish Crossbody Bag with a distinctive asymmetric flap. The bag features an internal slip pocket and a zippered pocket for security.
Ricochet is a blank canvas that looks super classy if left plain but is a wonderful blank canvas for adding your own decoration.
Sizing info:
10½" high by 10″ wide by 4″ deep at the base.
7) Footloose tote by Chris W Designs
The Footloose Tote is A super easy, super quick and super fun sew! It has handle straps and an adjustable strap for different carrying options. The exterior of the tote features a fun vertical zipper pocket. Inside the roomy compartment there is a large zipper pocket and two slip pockets. The base of the bag is quilted and sports metal bag feet.
Finished bag size = Approx. 30cm (12″) X 23cm (9″) X 12.5cm ( 5″)
8) The Bucket Bag by Gingercake Patterns
Creating a new bag doesn't have to be so complicated! Do you want the gorgeous look of a professionally made bag without all the fussy details? This pattern is for YOU! You will love how quickly and simply the pattern comes together and gives you a gorgeous fashionable bag to carry all season long.
The bucket bag pattern uses a 1/2 yard of fabric- preferably canvas or decor weight for the exterior and less than a 1/2 yard for the lining. It features a leather handle strap (optional but worth it!), drawstring through eyelets, and roomy interior pockets. The completed size of the bag is about 11'' x 10" x 8".
9) Take 3 Crossbody Bag by Tobi Stylx
The Take 3 Crossbody is basically 3 pouches connected together in a stylish way to make just one bag. It features 3 zipper pockets, 2 slip pockets, a flap, a short strap/ handle, and an adjustable crossbody strap. You can wear it on casual days out as well as for corporate dress.
This pattern comes together nicely and although it is rated an intermediate pattern, even an adventurous beginner will pull it through easily on a domestic machine if using quilt cotton for the pattern. The bag is so elegant and you will love to own one of them and also have this pattern in your pattern collection.
10) Mercury Messenger Bag by Toriska (2 sizes)
The Mercury Messenger Bag is a trendy and unique take on the traditional messenger bag. It is available in two sizes, the Large size that is perfect for laptops and binders, and the Small size that fits tablets and paperback books.
There are several pockets inside and out, including a zippered interior divider pocket or a padded divider pocket for laptops (fits laptops up to 14"/35.5cm wide). You'll find all sorts of uses for both sizes of the Mercury Messenger Bag. This pattern is for intermediate bag sewers and has a drop-in lining.
11) The Captivating Clutch by Sewing Patterns by Mrs H (2 sizes)
The Captivating Clutch bag can be made in two sizes – the Starlet Clutch and the Leading Lady Oversized Clutch. It's packed with pockets and perfect for playing around with different fabrics and textures. Glitz it up for a glam, elegant evening purse or pair bright solids with funky patterns for an everyday bag.
12) Marmoris Handbag by Needle & Anchor (2 sizes)
This is the Marmoris Handbag. This simple and chic bag comes in two sizes and has magnetic snaps to open the bag up wide to find what you need.
The inside features a zippered pocket and a large divided slip pocket. The bag is generously sized without being too large. It can be made from various fabric mediums such as faux leathers, vinyl, cork fabric or even quilting cotton. This pattern is domestic machine friendly.
This bag has so many options, such as;
• one OR two handle straps plus an optional crossbody strap,
• turn-lock closure or any variety of bag closures,
• three hardware options in the pattern but endless possibilities,
• drop-in lining.
13) Jesse Crossbody Bag by UhOh Creations (with video)
The pattern was designed for quilting cotton and has suggestions for cork or vinyl and can be made on a domestic sewing machine! Don't hesitate to experiment with Harris Tweed, Canvas, or Denim to make this bag your very own!
The bag has a large feature flap that has a pocket underneath it for a cell phone. You will also find an interior zipper pocket, to help keep you organized. The bag is turned at the end through the zipper pocket, so the turning gap is well hidden. The grommets keep the bag from flopping open and provides a stable connector for your crossbody strap.
14) Taisteal Tote Bag by SewGnar (2 sizes with video)
A large tote bag with two size options – tall or wide. Includes rolled handles, exterior slip pocket, and interior sunglasses & zipper pockets. Large enough for a travel or work bag, while classy and sophisticated with a timeless silhouette.
This easy-to-follow PDF pattern walks you through each step, from printing to finishing your piece. Once completed, you will have your very own Taisteal Tote, great for gifting or small business personal selling too. The pattern is written for self healing edge textiles such as vinyl, leather or faux leather, and cork.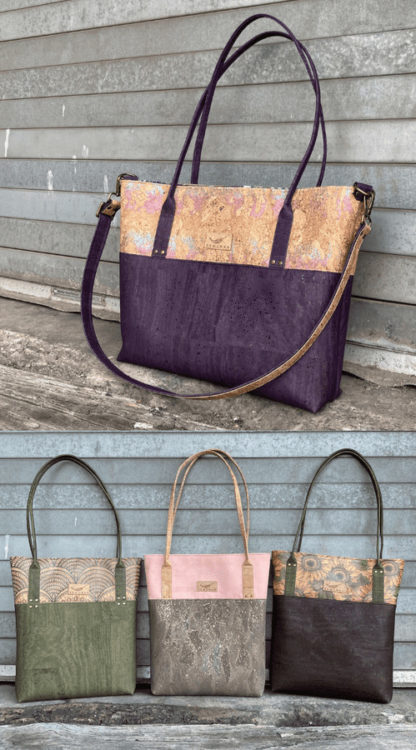 15) Fortuna Backpack by ISY SEW Patterns
FORTUNA BACKPACK is a bag worn on the back with two straps that go over the shoulders. It can be used by anyone regardless of gender and age and features a fully lined interior as well as a main zipper that closes at the top down to the sides. This functional bag possesses several pockets to distribute the weight of items and keep you organized. It comes with adjustable straps and a top carry handle.
With two pockets on the side, FORTUNA is accessible to intermediate-level sewists or any adventurous beginners. It can be finished using either the binding or the birthing method. What are you waiting for? Grab your supplies and let's sew away! Finished size (W x H x D): 12″ x 15″ x 5¼" (30.5cm x 38cm x 13.5cm)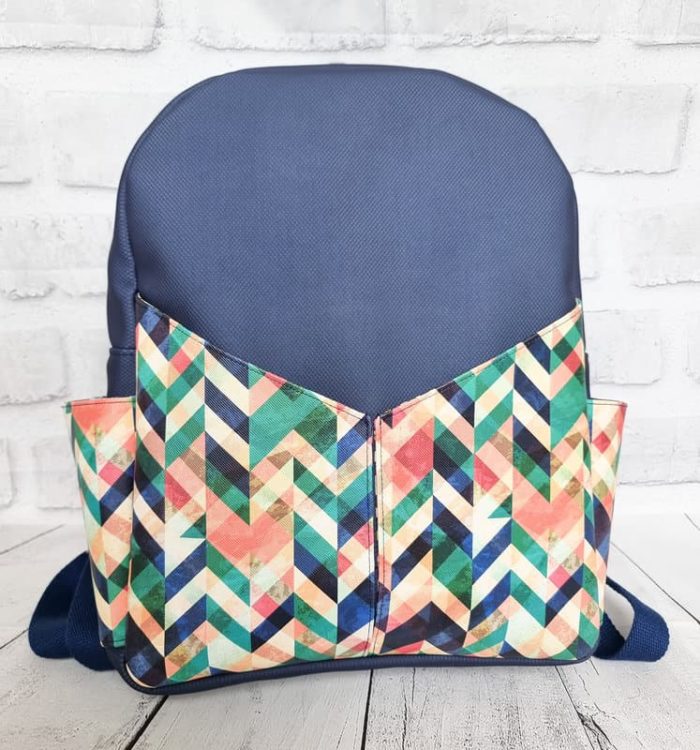 16) The Weavit Tote Bag by Studio 7t7 (with video)
A classic Tote purse with a twist. Or should we say a weave! This fun and casual slouchy tote bag features striking side panels with weaving detail. Use a combo of vinyl and cotton, or all cotton.
This pattern comes with SVG cutting files, a projector file, a cutting chart, printable pattern pieces, and separate files to print for Letter or A4 format paper.
Skill level: confident beginner/intermediate
17) Crossbody Drawstring Project Bag by Michelle Patterns
This bag is a great size for taking a project with you—not too big and not too small. The crossbody strap allows you to knit or crochet while standing and gives you the security and convenience of having the bag held close to your body. Measurements for an alternate shoulder strap are also included in the instructions.
The front pocket is a great place to highlight a favorite fabric or small quilt, paper pieced, or patchwork block. The top closes with a fabric drawstring and soft casing that gives you several additional inches of space at the top of the bag. This drawstring also closes really well! It is pliable and can be cinched up fairly tightly without much effort.
Inside there is a panel pocket all the way around the bag. It's divided into four pocket sections, but you can divided into more or fewer sections, if you'd like. This is a measure and cut pattern.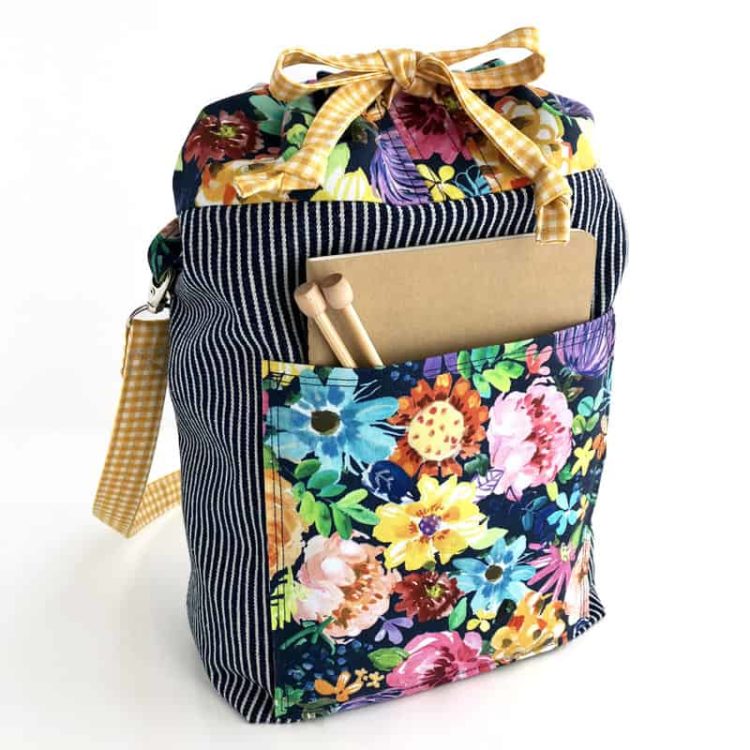 18) Slide Down Pencil Pouch by Swan Family Patterns
Sew up a cute zipper pouch that is long enough to hold pencils, markers, sewing tools, and more! The zipper ensures that your things are kept securely. This slide up and down zipper case is a very CUTE gift for birthdays and holidays for children and even for adults! You can tuck a little surprise inside it.
19) Glam Girl Purse by AppleGreen Cottage
The ideal small clutch or wristlet bag for a night out. The Glam Girl Purse has a smooth curved shape and darts in the bottom to give it enough volume to carry all of your essentials without being bulky.
This Fat Quater Friendly and easy-to-sew clutch bag would be great for girlfriend gifts, make a matching set for bridesmaids, or simply to use to carry and store jewelry or cosmetics. The hidden strap connector nestles on the inside of the bag allowing you to snap on a strap to turn it easily from a clutch to a wristlet bag.
20) Around Town Tote by Cambria Court Designs
Around Town Tote Bag is great for carrying tons of stuff. Take it to the beach, a picnic, farmers market or flea market shopping. Great tote for the person who wants to learn the basic construction of a tote bag. I have two examples that I made. One is the colorful tote on the cover. It is made from outdoor fabric and canvas. The other was made from a home decorator fabric. Both can be washed. I know once you make your own tote your friends and family will be asking for one too.

Bonus) Our exclusive Custom Tote Bag Pattern Generator (2 Styles)
The custom tote bag designer means you never need to buy another tote bag sewing pattern. Want a bag that's tall rather than wide – we got you. Want a really long bag so you can fit a yoga mat in the bottom – we got you. Want a huge beach tote with long handles – we got you. Want to make a tiny festive tote that will exactly fit a little gift box to hang on the tree – we got you on that too.

Whatever size tote bag you want to create, the custom pattern generator will give you a visual template and set of measurements to cut your fabric to exactly the right size. No printing needed.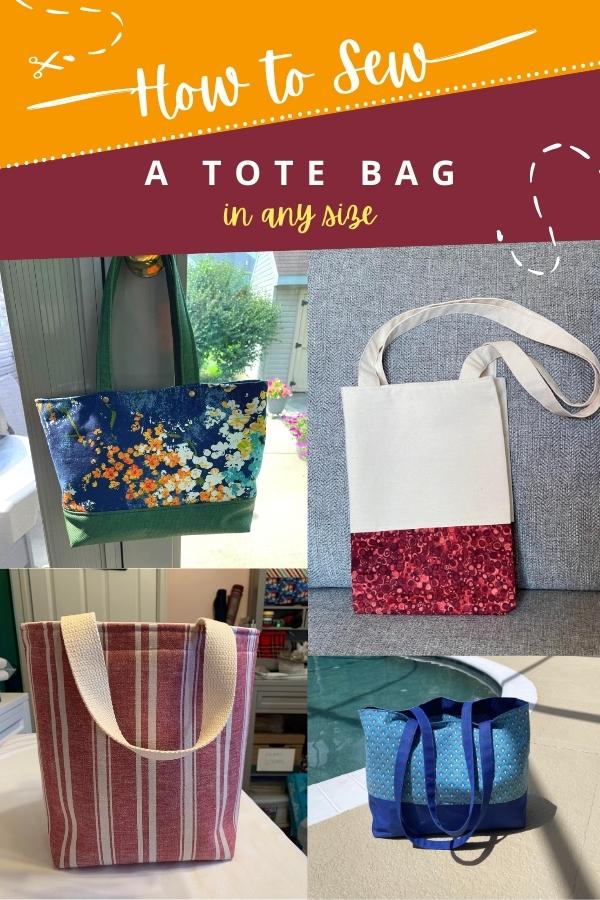 Only available for a limited time
Don't delay, this amazing sewing pattern bundle is only available until Monday 19th September 2022 and then it will be gone for good. You can check out with Paypal or your bank/credit card. And the 19th really is the last day to buy.
THAT'S MORE THAN $190 OF GORGEOUS SEWING PATTERN VALUE FOR JUST $23.95. IT'S A BARGAIN YOU WON'T SEE HERE OR ANYWHERE ELSE AGAIN.
ONLY AVAILABLE FOR A LIMITED TIME
Don't delay, this amazing sewing pattern bundle is only available until Monday 19th September and then it will be gone for good. You can check out with Paypal or your bank/credit card. And the 19th really is the last day to buy.
HOW TO GET YOUR BIG BUNDLE OF BAG SEWING PATTERN
As this is a super-special limited-time offer, it's kept separate from our usual pattern store. We ask that you make your purchase on PayHip and download your patterns from there.
Add your bundle to the cart
Checkout (you'll need to set up an account if you don't already have one with Payhip)
Pay with Paypal or a debit/credit card
Download your pattern files right away
Keep the files safely
Sew a bunch of totally awesome bags
Terms and conditions of the offer:
* The special bundle pricing is only available from 14th to 19th September 2022 (Timezone UTC -5). Sorry, no rainchecks.
* This offer is for digital PDF files only. There are NO paper patterns and nothing will be sent to you in the mail. Your patterns must be downloaded and saved to your device.
* As these are digital items, they cannot be 'returned'. Your purchase is final and no refunds can be given, either in full or in part.
* VAT/taxes may be charged in addition to the purchase price if that is relevant for your country. This is collected by PayHip and sent to the appropriate tax authorities.
* Digital file downloads will only be available for 30 days from the closing of this offer. Please download your files immediately as they cannot be resent to you later.