Adele Baguette Purse sewing pattern
|
All posts may contain affiliate links.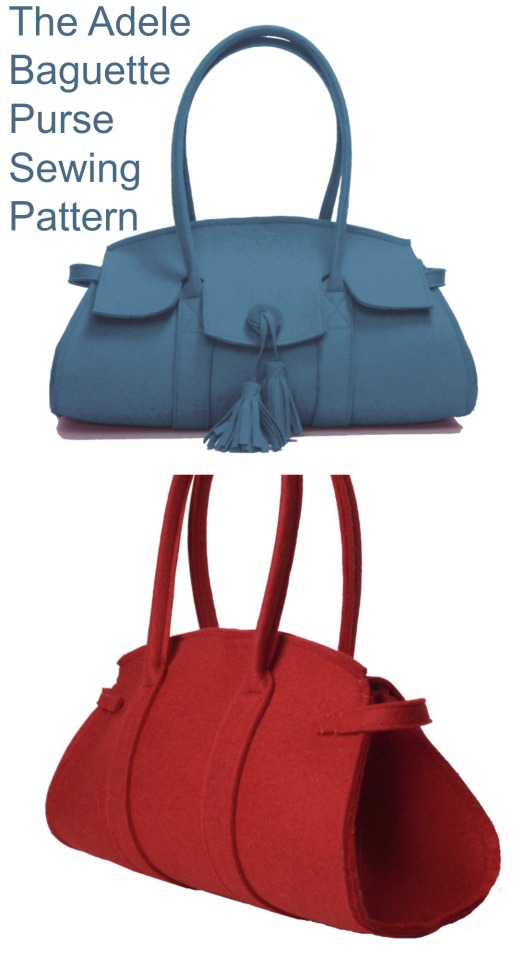 Here is the Adele Baguette Purse which is an easy to make sewing pattern.
The talented designer has made a sassy little high fashion handbag that is right on trend with the 'chicest' of silhouettes. The long and wide curvy baguette lines just shout catwalk couture.
With handles that stand tall, the Adele sits confidently over your arm or can be worn over your shoulder to be sure she will be admired by all. This roomy little bag comes with a hand made polo roll that houses two decorative tassels to the front and an invisible magnetic clasp to secure the front flap. If you prefer an alternative look then the designer has included instructions on how to fit an elegant twist lock clasp instead.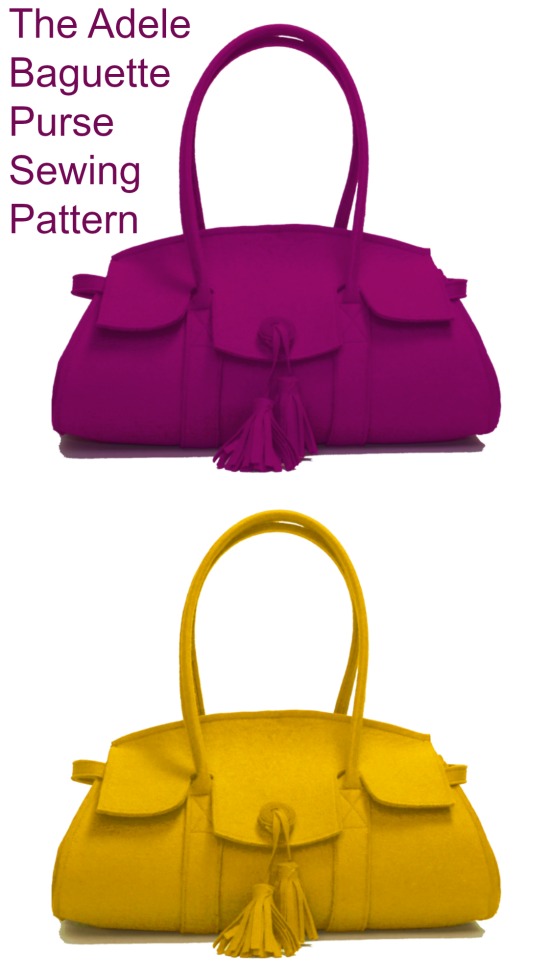 This sewing pattern has been designed for a non-fraying double-faced fabric with good body. Using a quality 100% wool felt will give your bag good posture and a luxurious life long feel and one that will last for many seasons with no fraying or selvedges to worry about also.
Wool felt can easily be sewn on a domestic sewing machine with a walking foot or Teflon coated foot. You will need a piece that is 45cm (18″) wide by 86cm (34″) long. For that extra touch of self-made luxury, the designer recommends using 3mm 100% felted wool or a weighty non-fraying coat fabric with good body.
Fable & Guild advise that everything that you need to make the Adele Baguette Purse can be purchased at your local sewing or quilting shop, however, they have collated a handy list of all their recommended suppliers where you can buy the perfect fabrics for creating these stunning bags.
When finished the Adele Baguette Purse will measure approximately 37cm (14.57") high including the handles or 20cm (7.87") high excluding the handles by 36cm (14.17") wide by 13cm (5.12") deep.
The designer's handbag & purse patterns come with comprehensive easy purse sewing pattern tutorial guidance notes and access to her full-color step by step images and tips that will make this handbag project a simple to sew experience!
See all the patterns from this designer here
These are our most popular purse and handbag sewing patterns
Want even more purses and handbags to sew? Our shop is packed full of hand-picked favorites from talented designers, big and small. Here are a few recent additions you might like. Check them all out in our shop.