Triple Play Handbag sewing pattern
|
All posts may contain affiliate links.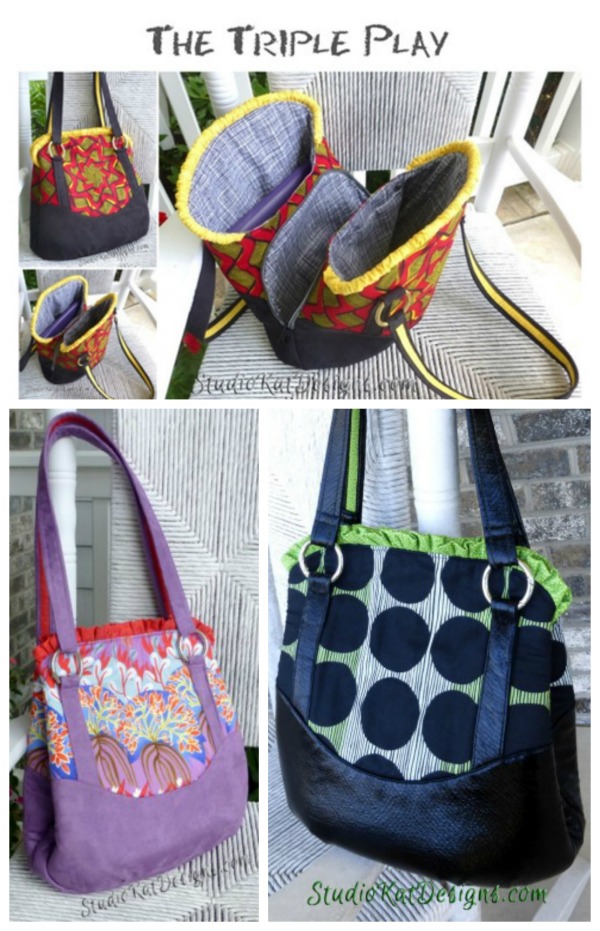 Do you like to carry a bag with an unusual or unique design? Then we think you'll love the Triple Play handbag pattern. It's like a handbag in two halves – and then with another zipper pocket between those creating 3 storage areas to help keep you organised.
Store items safely and securely in this fun and functional handbag. This bag will hold everything you need! It includes 3 large storage areas, 2 pouches and 1 zippered area.
You can create a unique kaleidoscope effect for the front of the bag, or opt for a 1-piece, more subdued front. There are also a lot of options and room to embellish the top of the bag with ruched cording, pleated ruffles and more—or leave it clean and modern.
There's enough room for all your essentials: electronic devices, wallet, keys, makeup, books, craft items and more!
When you have finished making yourself a Triple Play Handbag it will measure approximately 13″ wide by 12″ high by 6″ deep.
This isn't quite what you are looking for? We have links to thousands of bag sewing patterns, tutorials, sewing videos and tips and lots more on our
Pinterest
account. Come and follow us, and save some of your favorites to your own boards for later.
These are our most popular purse and handbag sewing patterns
Want even more purses and handbags to sew? Our shop is packed full of hand-picked favorites from talented designers, big and small. Here are a few recent additions you might like. Check them all out in our shop.