Flaptastic Bag sewing pattern
|
All posts may contain affiliate links.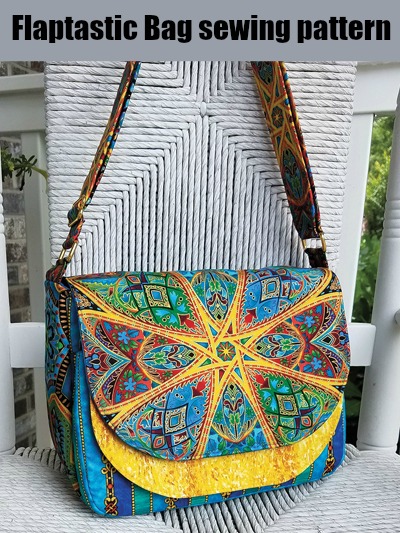 We get a few requests every now and then from sewers who still prefer to buy paper sewing patterns rather than digital, so here's one that's available in paper format and sent to you through the mail. This is the Flaptastic Bag sewing pattern. This purse sewing pattern really goes have it all – and more!
This bag has a full bag width exterior pocket. Secured with its own separate magnet snapped flap, its the perfect place to store your phone or keys for quick access. It also features 12 credit card slots and has a double flap bag front. One flap is to secure the front pocket and the main flap covers the main opening which also has a zippered closure.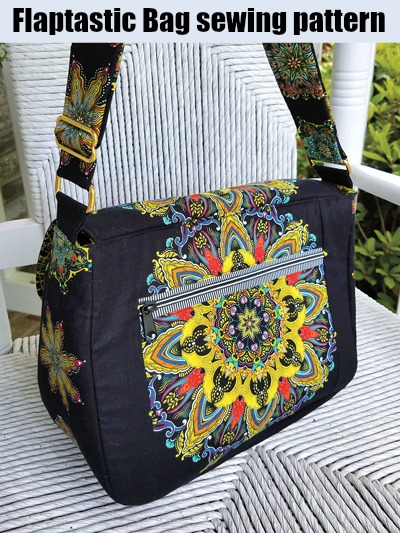 The Flaptastic Bag is great for displaying creativity whether you like piecework, applique, embroidery, fussy-cutting or using coordinating prints!
Sizing info:
When you have finished making your very own Flaptastic Bag it will measure approximately 12″ by 9 1/2″ by 3 1/2″.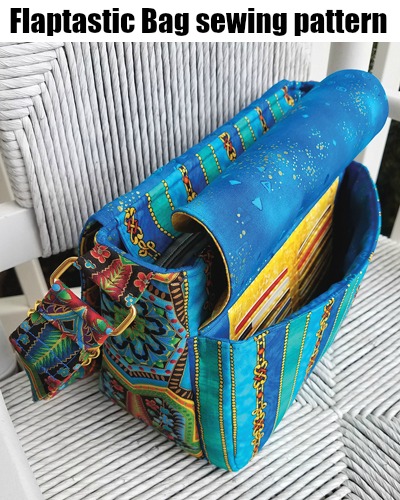 Fabric requirements for the Flaptastic Bag (extra fabric may be needed for directional prints):-
1/2 a yard of exterior fabric,
3/4 of a yard of lining fabric,
1/2 a yard of contrast fabric (for Pocket Flap, Strap Liner & Credit Card Slots). The designer recommends that this fabric be in direct contrast to the main exterior fabric,
1/3 yard of blender fabric (for Front Pocket, Bag Front & Zip Panels). The designer recommends that this fabric be one that blends with the main exterior fabric,
7/8 yard by 20″ wide of fusible interfacing. The designer recommends Fashion Fuse by Bosal,
1/3 yard by 46″ wide of fusible fleece. The designer recommends Thermolam by Pellon,
One 12.5″ by 27.5″ piece of Soft & Stable by Annie.
Click here for the paper sewing pattern
These are our most popular purse and handbag sewing patterns
Want even more purses and handbags to sew? Our shop is packed full of hand-picked favorites from talented designers, big and small. Here are a few recent additions you might like. Check them all out in our shop.