Store and Go Crossbody Bag sewing pattern + video
|
All posts may contain affiliate links.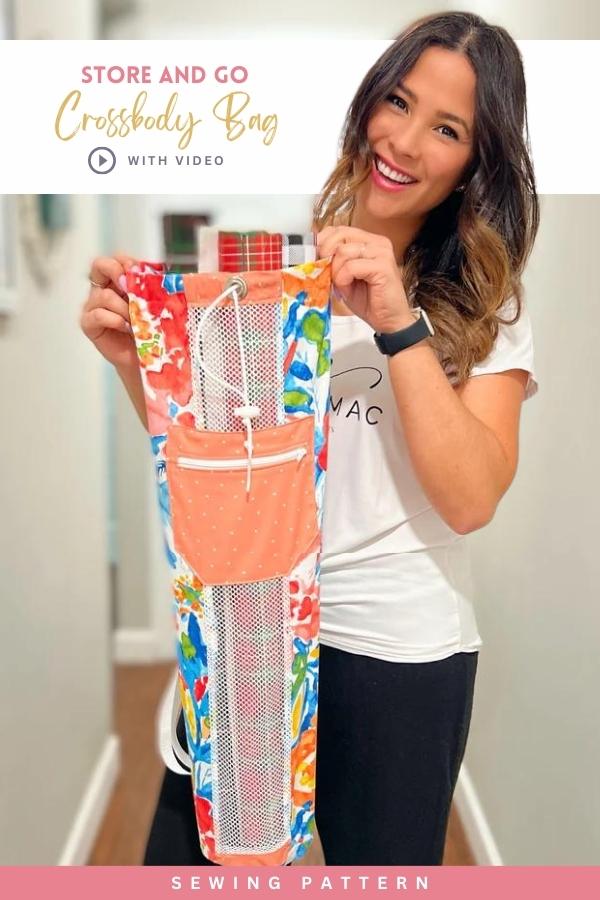 This is the Store & Go Crossbody Bag pdf sewing pattern from the designer Ellie & Mac.
This is the ultimate multi-functional bag pattern that will allow you to conveniently store and carry your yoga mats, gift wrap tubes, sewing patterns, tripods, and more. It is easy to sew, even for beginners, and has so many uses!
The designer has included two bag sizes – Thick and Thin. The sizes are based on the rolled up widths of yoga /exercise mats. The thin one is wide enough to store a thin yoga mat, and the thick one to store a thick exercise mat.
Features:
Two sizes: Thin or Thick.
Adjustable Shoulder Strap Length.
Exterior Zipper Pocket that Fits a Phone.
Drawstring Closure.
Breathable Mesh Side Panel.
No trim pattern pages for quick and easy assembly.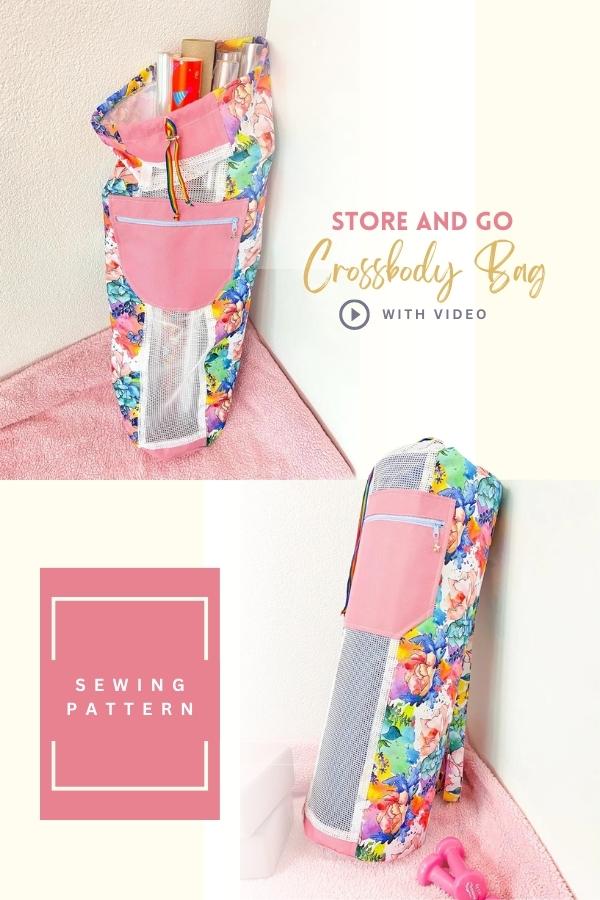 Ideas on uses for this handy crossbody bag:
Yoga Mat Bag.
Gift Wrap Storage Tube Bag.
Camera Tripod Bag.
Fold Up Chair Bag.
Beach Day Towel Bag.
Reusable Grocery Bag storage.
Lego Storage Bag.
The designer says the sky's the limit! What will you use your bag for?
This PDF sewing pattern comes in two sizes (finished height by width by depth):
Thin Bag = 27.5″ by 6.4″ by 6.4″ (70 cm by 16.25 cm by 16.25 cm).
Thick Bag = 27.5″ by 8.5″ by 8.5″ (70 cm by 21.5 cm by 21.5 cm).
Besides having a written tutorial to make this Store and Go Crossbody Bag the designer has also produced a 21-minute YouTube video tutorial that you can watch below.
What's needed to make a Store and Go Crossbody Bag:
Depending on the purpose of the bag, you can use different woven fabric types. Use waterproof nylon/canvas fabric with non-stretch mesh when using the bag to store or carry a yoga/exercise mat. The mesh fabric promotes airflow and decreases drying time of your yoga /exercise mat. For other purposes any mid-to-heavy weight woven fabric can be used. Examples are: Quilting Cotton, Denim, Faux Leather, Canvas, Waterproof Canvas or Nylon, and Outdoor Fabrics.
Synthetic or Cotton Webbing.
One D-ring.
One Slide Adjuster.
Round Cord Elastic or Round Cord.
Cord Lock.
Optional Grommet.
Optional Fusible Interfacing for Grommet Support.
6″ or 7.5" / 15.25 cm or 19cm Zipper for Closure.
Check out our RESOURCES PAGE full of great recommendations and links for fabric stores and suppliers, interfacing and stabilizers, hardware resources, and zippers.
When making this lovely bag you'll learn various sewing techniques. You'll learn how to finish bag seams professionally, how to create a drawstring casing, how to sew strapping, and how to install bag hardware.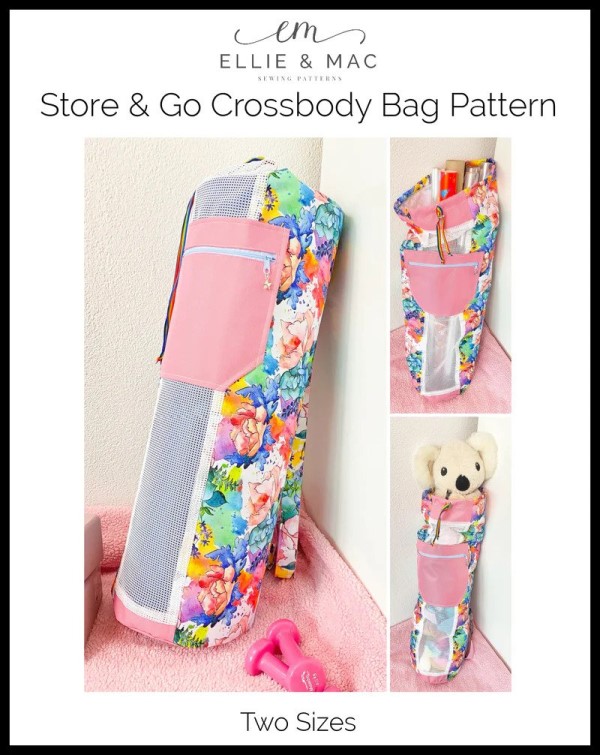 What's included when you purchase the pdf pattern:
Pattern pieces for all parts.
A projector file .
A0 Print Shop Pattern Pieces Option.
Fabric Requirements Chart.
Size Chart.
Tips and Notes.
Glossary.
Table of contents.
Pattern Piece Diagram.
Printing Instructions.
Supply List.
Step-by-step instructions. Each step has a color photo for visual aid.
Pattern features:
Built-in mesh side panel to allow for airflow.
Zippered pocket to store small extras like keys, phone, money, etc.
Adjustable strap for ease of carrying on the shoulder or across the body.
Top drawstring closure.
If you would like to download the pdf pattern you can click on the blue button below.