Audio books to listen to as you sew
|
All posts may contain affiliate links.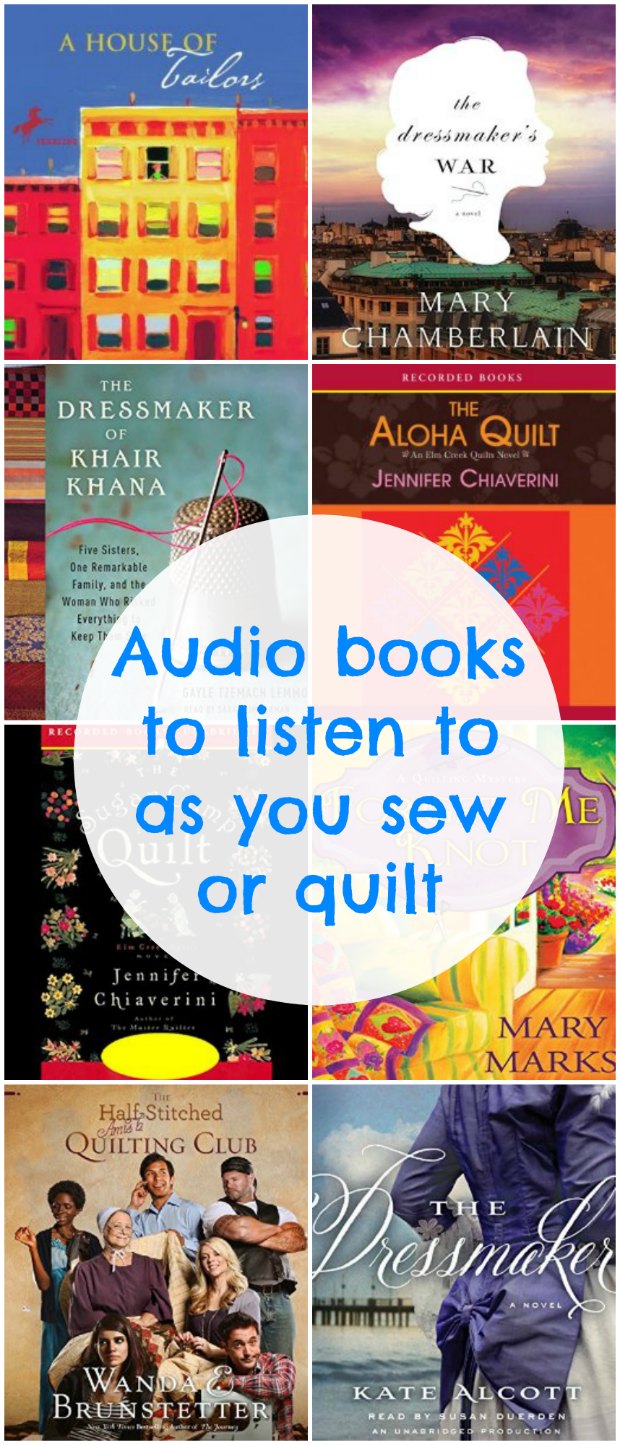 Women are known to be good at multi-tasking and when sewing, I like to listen to audio books. Whether it's one of the classics, a modern romance, a thriller, sci-fi, a biography, or a modern best-seller – I love to listen to them all while passing my time in my happy place – my sewing room.
When you don't have the time to read that great book you've been trying to get to, then multi-task by 'reading' and sewing at the same time. I also love to listen while travelling, sat in a queue somewhere, relaxing on vacation – and in the evening when my hubby is working late and I don't fancy what's on TV. I've got a subscription to Audible via Amazon and add new books every month.
Keep on scrolling down to find some interesting sewing/quilting based novels as well as best-sellers.
How to listen to audio books from Amazon – free 30 day trial for Audible
You can get a 30 day free trial on Amazon to try out the Audible service. Find a book you like, then click under the Audible option to start your free trial.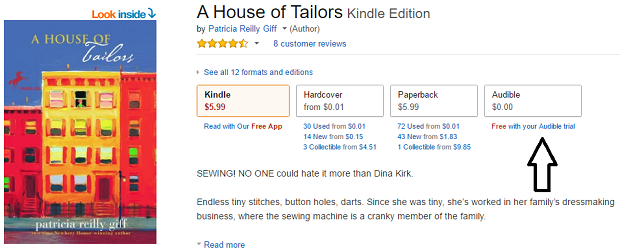 Then look for this box and click to start your 30 days free trial.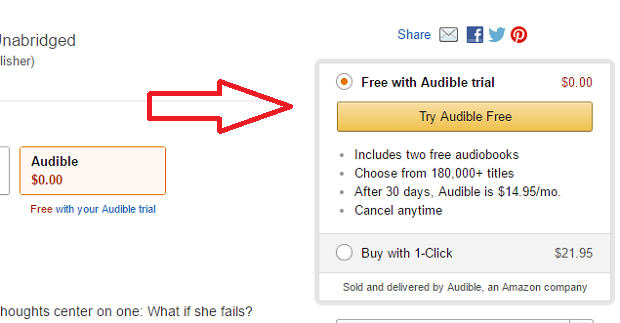 You will need to add your payment details but be assured your card won't be charged unless you decide to go ahead with the monthly offer. You can, of course, cancel at any time, and the books you already have are yours to keep forever. Even the free ones you got during the free trial.
Benefits of the monthly audible subscription
One free audio book of your choice every month, no matter what the full price
30% off any other audio books you want to add
180,000+ titles to choose from so far – new releases, best sellers and more
Exchange any book you don't like for free, no hassles
Listen anywhere, apps available for your phone and tablet
Cancel anytime and keep all the books you already have
With audio books usually being pretty expensive, and more than the print version, if you like the idea of listening to an audio book, give this free trial a go. It's good value.
Sewing and quilting stories
Did you know that there are quite a lot of books you can listen to that are perfect for the sewing room? Written for an audience just like us, here are a few that you might enjoy. You can click on any of these titles to go and find them on Amazon – and either sign up for the Audible Free Trial, or get a Kindle Version or even sign up to Kindle Unlimited and get all these as ebooks for free included in your subscription.
Other recent best-sellers
If you fancy listening to something other than sewing or quilting, then you are simply spoilt for choice. You'll find all the recent releases and best sellers, in fiction and non-fiction to choose from. Here are just a few currently available at the time I wrote this article, but the link at the bottom will send you to the latest page, and remember you can listen to any two of them for free with your free trial. Perfect to take with you on a vacation or while travelling, because there is nothing to carry!
Find all the latest audio book releases and best sellers HERE