World Traveler Bi-Fold Passport Wristlet Wallet Sewing Video
|
All posts may contain affiliate links.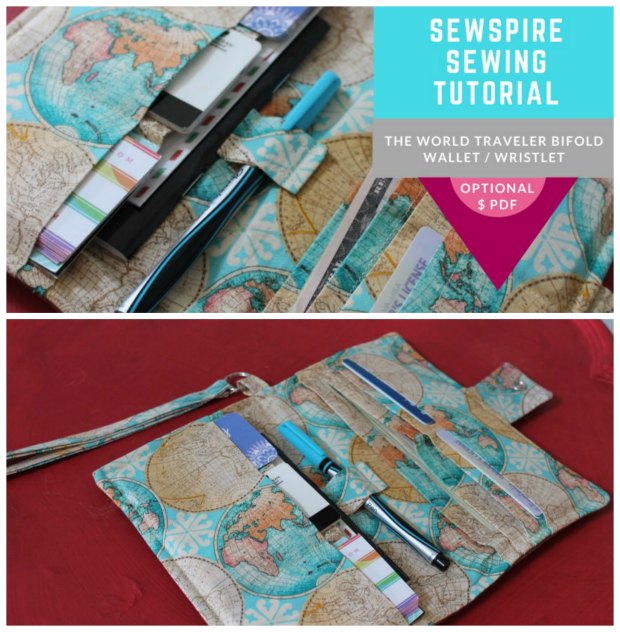 This experienced designer shows you how to make her World Traveler Bi-Fold Passport Wristlet Wallet with a FREE 16 minute YouTube video, which you can watch in full below.
She had been yearning to design a wallet like this for many years and now here it is. So practical for carrying all of your essentials with you, handy in one place when you travel.
This wonderful Wristlet Wallet has the following features:
On the left side, there is a 3 way divided vertical card pocket. There is also a full pocket perfect for a small notebook or passport(s)
On the right side, there are 4 horizontal card pockets, a full pocket perfect for cash and a full pocket perfect for a cheque book or a boarding pass or ticket
A pen loop
A Wristlet strap tucks inside when, not in use.
She has also created a 60 Page PDF Tutorial that accompanies the pattern. It is mainly made up of pictures which is particularly useful to you visual learners, and is used in conjunction with the video. Again you will find the link below.
When finished the wristlet wallet measures 5″ by 8″.
What you will need to make the World Traveler Bi-Fold Passport Wristlet Wallet
3/4 of a yard of fabric
Six strips of Pellon 809 that measure 1″ by 9″
One piece of Pellon Flex Foam that measures 7.75″ by 10″
One small split ring
One Snap
You can watch the full-length video tutorial here:
Click here to get the tutorial
Want more wallet sewing pattern ideas?
If you love sewing wallets but this one isn't quite right for you, then don't worry, we have LOTS more wallet sewing patterns for you to choose from. Check out just a few from our selection here.