Woodstock Bag (with video) sewing pattern
|
All posts may contain affiliate links.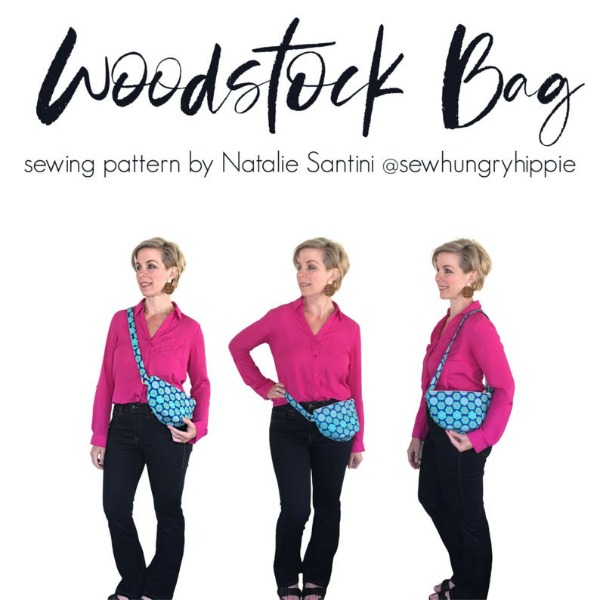 We think this is the perfect vacation bag. It's so versatile! A quick sew, yet it makes a bag that's a fanny pack, shoulder bag, or crossbody. Ideal for sightseeing in the day and taking to the restaurant in the evening too.
This bag is simple in construction and a quick sew. It's perfect for days when you want to sew yourself a new bag but you don't have all day long to do it!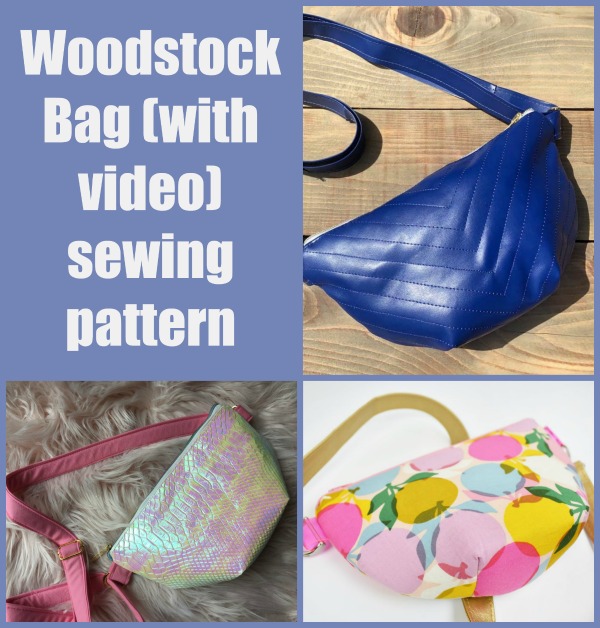 The Woodstock Bag is designed to be worn cross-body, or fanny pack style (bum bag for the UK readers), or over the shoulder. It's small enough to be comfortable in any way carried, yet with darts in the construction, it holds more than meets the eye!
The zipper provides an easy access top to facilitate hands-free ease when shopping. Yes, the Woodstock Bag is large enough to fit a phone or five.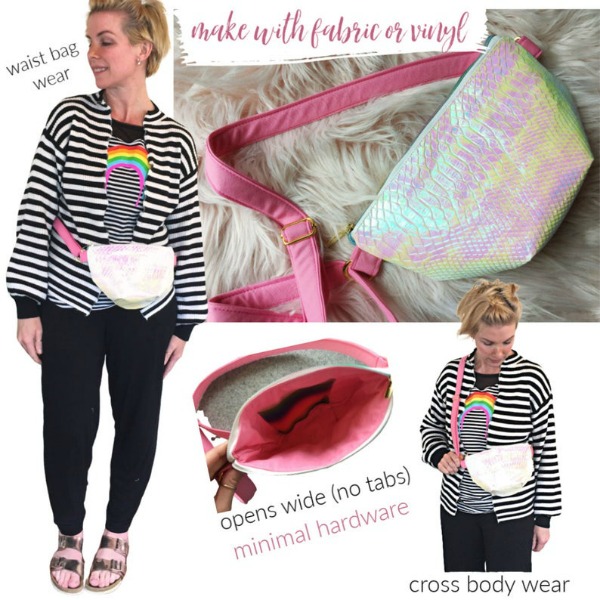 Key features of the Woodstock Bag:–
Adjustable strap – wear it three ways.
Easily sewn from quilting cotton, vinyl, cork, leather, or cut-up jeans! Yes, a fabulous tester did just that.
Takes only a fat quarter for the body! 
Use your choice interfacing – the designer used foam for cotton bags and nothing for vinyl bags. Some Testers used decovil, various Pellons, fusible fleece, and batting.
Easy zipper installation (the designer did NOT use tabs on this bag for a larger opening, but some Testers preferred tabs so they added them, and it worked!)
Add or subtract elements easily to make YOUR perfect bag. Examples are lobster clasps, smaller strap (omit slide), larger pocket, zipper tabs, etc… A pattern is a GUIDE, you do you!
With full video tutorial:
This bag pattern has a FULL video walkthrough available to you, so you get perfect results with this pattern.
And if you would like to sew a see-through vinyl Woodstock bag then the designer has a video for that as well, which you can view below:
This pdf pattern has pattern pieces, there is no measuring other than a small (optional) pocket.
If you like the look of this pattern and would like to add it to your pattern collection, find out more by clicking on the button below.
Sew more crossbody bags and you'll be happier - we promise 😉
For the easiest shopping and days out, you can't beat a crossbody bag for leaving you hands-free. We've got 60+ of our favorite crossbody bag patterns hand-picked for you in the store. Go to the shop page to find them all saved by category.