Wonderfully Waterproof Inside Out Tote Bag free pattern
|
All posts may contain affiliate links.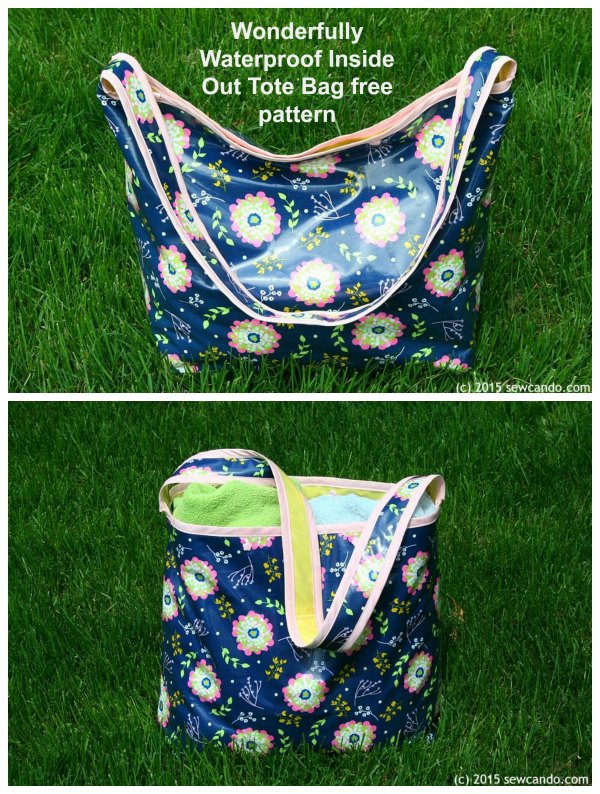 This is a free pattern and tutorial from this excellent sewing pattern designer at Sew Can Do. This bag is perfect for a trip to the beach, an afternoon at the pool, an evening at the gym, or any time you need a bag that's going to stand up to a little rain, damp, splashes or mud.
This is the free pattern for the Wonderfully Waterproof Inside Out Tote Bag. It was made to be used in the summer but really it can be used in any season.
It's been designed so that it can carry loads of stuff, but in addition, when it's not being used it can fold up small. Water, sand and spills, inside and out, are not a problem for this bag with the way the bag has been made and the fabrics used, and yet it still looks stylish.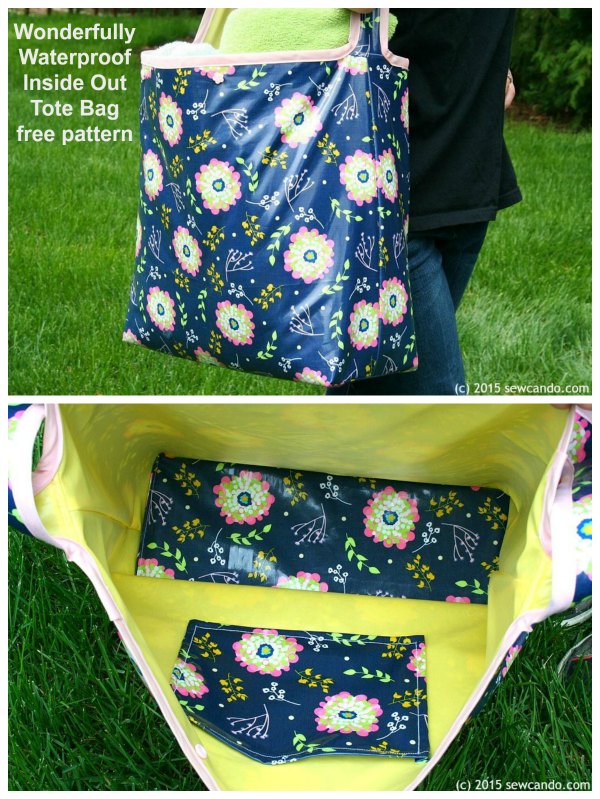 This is an updated design from a bag that the designer originally created years ago. With the combination of bag design and laminated materials, the designer has been using her original bag every week for the last five years, and it is still going strong.
With her new bag, she changed up the dimensions a little for a fresher look. With its generous size, it holds almost anything. When it's finished it measures approximately 14″ wide by 6″ deep by 14″ high. You can fill it up high and yet it can be snapped closed to look smaller when carrying less stuff.
The designer has also added a firm, removable base piece to help the bag retain its shape and give extra support. And just like the bag's interior, the base is totally waterproofed, so you will have no problem using the bag with wet towels & swimsuits in there.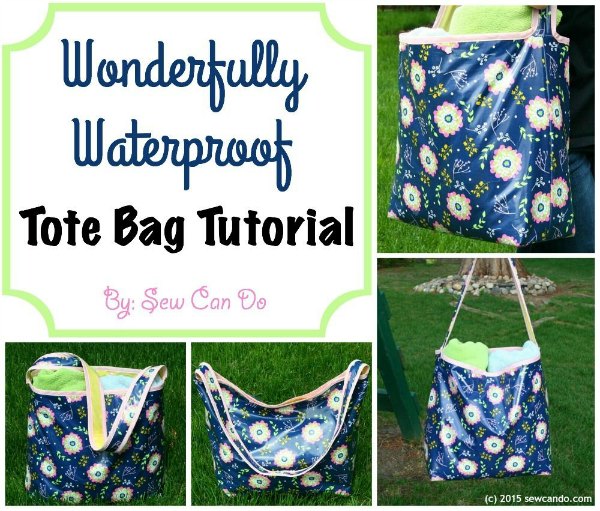 What you will need to make the Wonderfully Waterproof Inside Out Tote Bag
5/8 yard of laminated cotton fabric.
Double fold 1/2 inch wide bias tape.
Two sets of plastic snaps.
Lip balm. This makes the laminate move smoothly under the presser foot so that there is no sticking.
Optional: cardboard & duck tape for the bottom insert.
Find even more Tote Bag Sewing Patterns here
Do you want lots more tote bag sewing pattern ideas? Why not follow the Sew Modern Bags board dedicated to our favorite tote bag sewing patterns here. Pin and save your favorite bag sewing patterns to your own boards for later. Don't forget to pin this article too.
Sew more tote bags and you'll be happier - we promise 😉
When you just need to sew and don't want to get into a really complicated project, you can't beat a classic sewing pattern for a tote bag. We've got 50 of our favorite tote bag patterns hand-picked for you in the store. Go to the shop page to find them all saved by category.