Vespera Tote Bag with removable Pocket Pouch/Wristlet sewing pattern
|
All posts may contain affiliate links.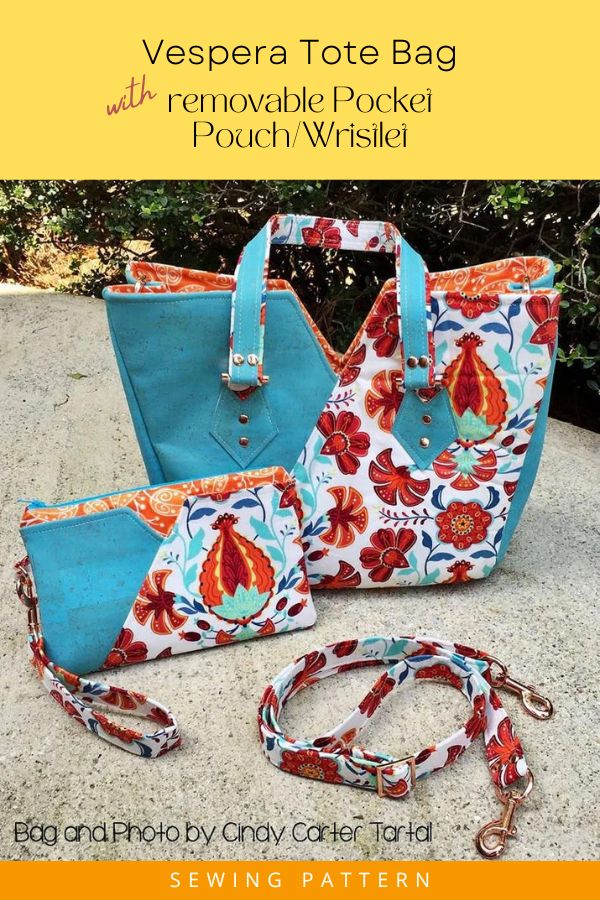 This is the Vespera Tote Bag with removable matching Pocket Pouch/Wristlet pdf sewing pattern from the designer RLR Creations Sewing.
This is a fabulous Tote Bag that allows you to mix and match your favorite print with trendy cork, leather, or vinyl. It has a streamlined exterior slip pocket to keep your phone or other essentials handy. And it has easy carry handles, and a removable long, adjustable shoulder strap.
If you want lots of pockets then the Vespera Tote Bag will more than meet your needs. It has the following pockets:
• Three interior slip pockets,
• One interior zipper pocket,
• One exterior slip pocket,
• Bonus removable pocket pouch that offers even more pockets.
If you are one of those sewers who loves to learn a new skill while working on your latest project then this bag will be perfect for you. The designer will show you new ways to make pockets. She'll show you how to make a streamlined exterior pocket that runs along the diagonal seam to keep it flat against the bag, and you won't even notice it is there. And she'll show you how to have no exposed zipper tape on the interior of your zipper pocket.
You'll be shown a quick and easy way to finish the interior pocket linings on your zipper pocket so you don't have exposed zipper tape on the inside and they are also topstitched down to keep them from getting caught in your zipper.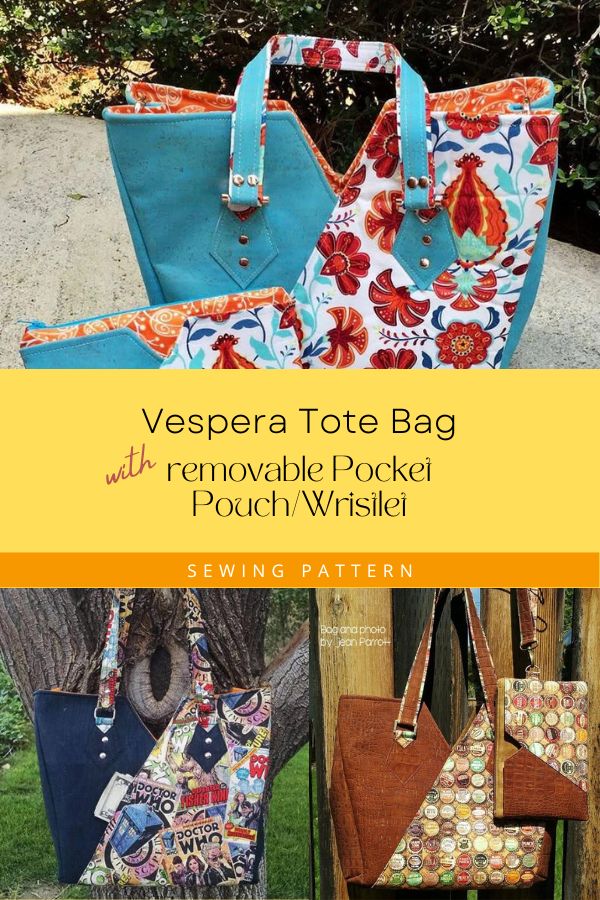 And then you'll come to the BONUS. The designer has included in the pattern a removable Pocket Pouch/Wristlet. The Vespera Pocket Pouch has the following features:
• Eight card slots.
• A divided slip pocket to keep your cards secure.
• Two more additional slip pockets on the interior.
• Back zippered pockets to keep your coins and other small items secure.
• An exterior front slip pocket that matches the exterior of the Vespera Tote.
• A removable wrist strap that doubles as a way to hang your keys inside your tote.
• You'll be able to quickly go from a Tote Bag to a Wristlet by removing the wristlet from the interior and attaching the wrist strap.
Sizing info:
When you have finished making your very own Vespera Tote Bag it will measure approximately 13" wide by 11" tall by 5" deep. You'll end up with an awesome Tote Bag that will have plenty of room for everything!
The Vespera Pocket Pouch it will measure approximately 9" wide by 5½" tall.
It really is a bonus to make the Vespera Pocket Pouch because it fits into the Tote Bag for more pockets or you can take it out of the Tote Bag, attach the wrist strap, and then you'll have a wristlet that is perfect for carrying just the essentials that you'll need.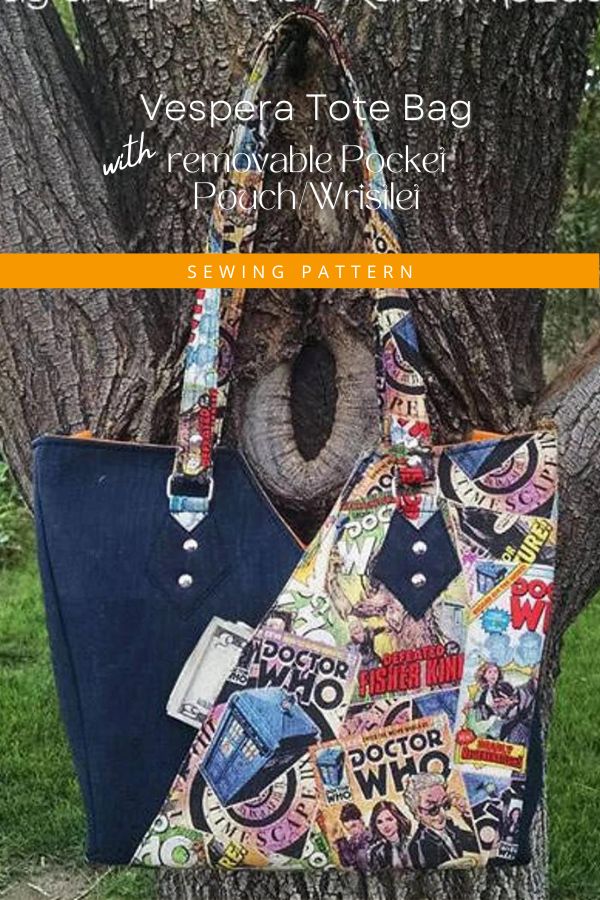 What's needed to make the Vespera Tote Bag and the removable Pocket Pouch/Wristlet :
1 yard of 44" wide quilting weight or décor weight for the main fabric,
1¼ yards of 44" wide quilting weight for the lining fabric,
One piece at least 18" by 32" of contrasting fabric. This can be a coordinate, vinyl, leather, or cork.
1¼ yards of fusible Pellon SF 101 or a woven shaping interfacing – light interfacing.
1½ yards of fusible décor bond – Pellon 809 firm stablizer – heavy interfacing.
¼ yard of fusible fleece – TP971F – Pellon fleece thermolam plus OR ½ yard of 20" Pellon FF 77 fusible flex foam.
One piece of Peltex 72f Ultra Firm 1-sided fusible at least 9¼" by 4".
One 10" or longer interior pocket zipper.
For the optional Pocket Pouch – two 9" or longer zippers.
Four 1" rectangle rings.
Two 1" swivel hooks.
One 1" slider.
Four 1" round grommets.
Two 1" gate rings.
Two large magnetic snaps.
For the optional Pocket Pouch you'll need one ½" D-ring/O-ring, and one 1" swivel hook.
If you would like to download the pattern you can click on the blue button below.
More Tote Bags to sew
Everyone needs (a lot) more than one tote bag. They are a staple pattern in every sewing pattern collection and so versatile and adaptable. Check out a few recent tote bag patterns to sew from our store.