Triple Tone Tote Bag Free Pattern
|
All posts may contain affiliate links.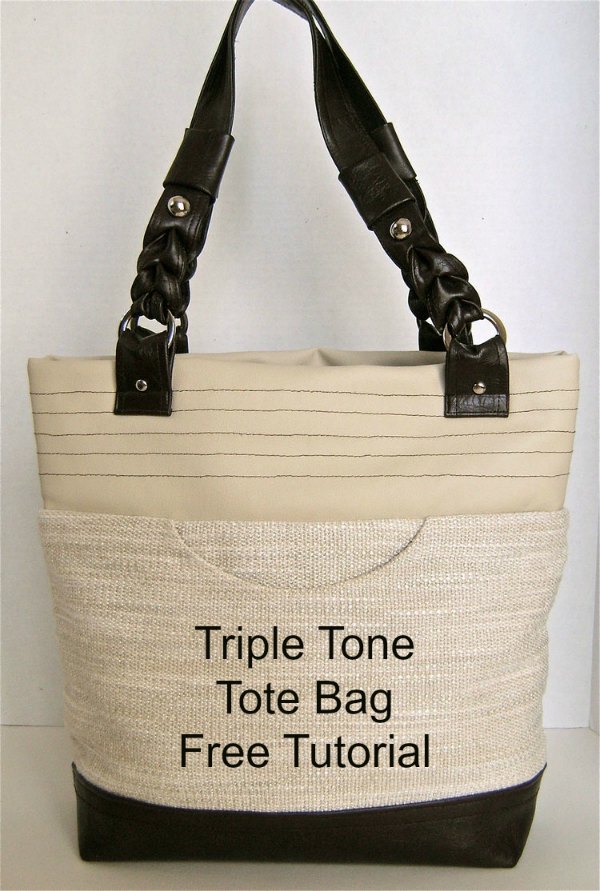 This is the Triple Tone Tote Bag and the very talented designer has produced a free tutorial to help us all make one. You can checkout the step by step photo tutorial if you click on the link below.
The designer made this tote bag after she was inspired by a Ferragamo bag. That bag didn't completely appeal to her but she did like the multi-stitched top band. She used that in her design and then added her own lovely touches.
I'm sure you will agree with us when we say this is one of the most interesting tote bags that we have ever shared with you on Sew Modern Bags, and we have shared a lot, over 125 tote bags so far.
The brown and beige tones of the three fabrics blend really well and the triple braid-look straps really stand out. You'll love learning how to sew these interesting straps. The top and bottom panels are vinyl while the midsection is woven. There are five rows of brown stitching that circle the vinyl top panel. You can of course mix and match your own fabrics and materials to get the design that works for you.
The midsection has one easy access pocket on the front and other pockets on the back. A tan and brown print fabric lining was used a large zipper pocket, as well as some smaller ones, were added inside. The bag is closed with a magnetic clasp that connects the center inside flap.
The designer points out that fusible interfacing was used throughout, and that you must remember to place a protective cloth over the vinyl and iron on the wrong side.
When finished the Triple Tone Tote Bag measures 14.50" by 12.50".
What fabrics you will need to make the Triple Tone Tote Bag
17″ x 24.25" one piece for front and back bag – woven fabric and interfacing
17″ x 9″ Front pocket piece and lining – woven fabric, cotton lining and interfacing
17″ x 6.5" back pocket and lining – woven fabric, cotton lining and interfacing
17″ x 9.75″ brown vinyl bag bottom
4" x 4" clasp flap – vinyl – plus interfacing
17″x 9″ top vinyl band – two pieces plus interfacing
33″ x 3.50″ fleece band
3″ x 4.50″ strap tabs – cut four brown vinyl
3.25″ x 16" – straps brown vinyl – cut four
16.50″ x 12.50″ fleece lining – cut two