Tote Bag with lining and tablet pocket FREE sewing pattern (with video)
|
All posts may contain affiliate links.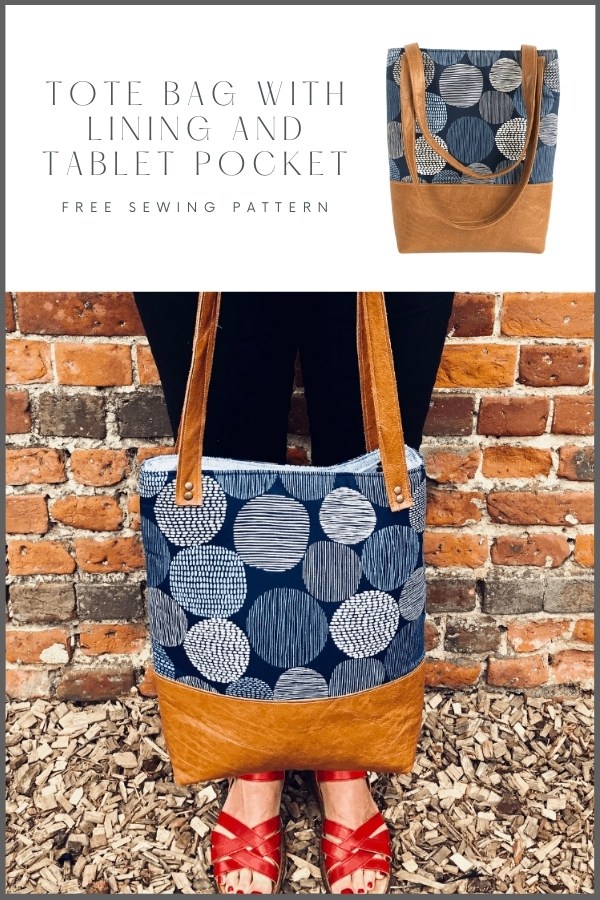 This sewing pattern for a classy Tote Bag with lining and tablet pocket is FREE and there's a FREE YouTube video to watch as well. We love to track down and bring you the best free sewing patterns we can find every week.
This tote bag pattern is fully lined and features two slip pockets plus a padded pocket designed for a tablet. The tablet can be up to 10″ by 7″ (25.5 by 18cm) in size.
The designer, Vicky Myers Creations, says to make your DIY tote bag with lining and contrast bottom panel, you are going to need two contrasting fabrics or leather. You could upcycle an old leather jacket, or you could use jeans for the bottom section of the bag. Something hardwearing is a good idea there. When selecting your fabric choices do think about the weights of fabric, a home decor fabric is going to be much stronger than quilting cotton.
And Vicky reminds us all that if you choose to work with leather or vinyl please do not be intimidated. She will show you how to sew leather on your domestic sewing machine.
If you would like to watch Vicky make one of these Tote Bags with lining and tablet pocket you can click on play below and watch her 32-minute YouTube video.
Sizing info:
When you have finished making your very own Tote Bag with lining and tablet pocket it will measure approximately 15″ high by 10.5″ wide by 4″ deep (38cm by 27 cm by 10cm).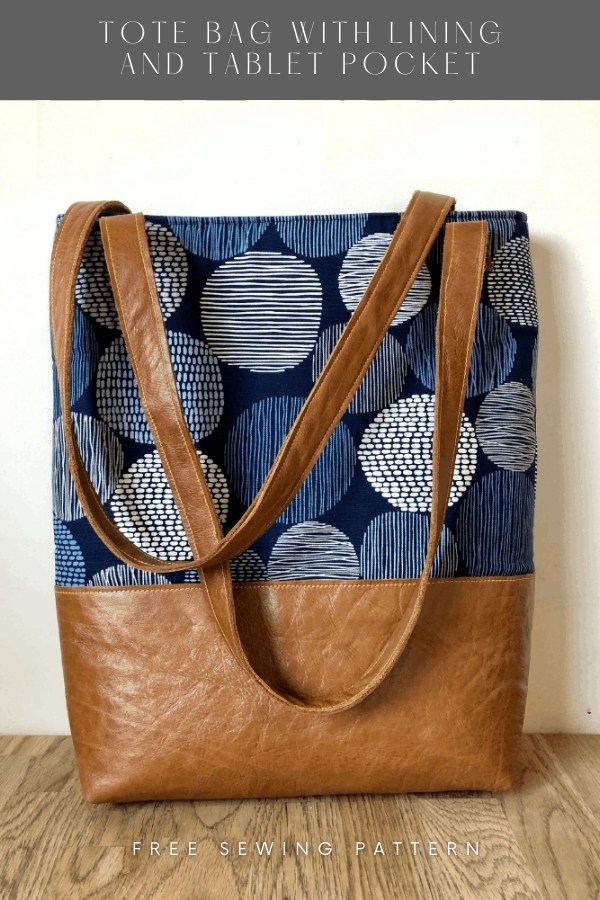 What you will need to make a Tote Bag with lining and tablet pocket:-
One leather piece 16″ by 14 1/2″ (or contrasting fabric) (40.5 by 37cm),
Outer bag fabric, two pieces 16″ by 12 1/4″ (40.5 by 31cm),
Two fabric pieces 13″ by 12″ for slip pockets (33 by 30.5cm),
One piece of fabric 24″ by 12″ for zip pocket (66 by 30.5cm),
Fusible fleece for zip pocket 24″ by 12″ (66 by 30.5cm),
One 8″ Zip (20cm),
Two pieces of Lining Fabric 16″ by 19 1/2″ (40.5 by 49.5 cm),
Internal slip pockets cut out 13″ by 6 1/2″ per pocket (33 by 16.5cm),
Annies Soft and Stable 16″ by 38″ (40.5 by 96.5cm),
Heavyweight iron-on interfacing 16″ by 19 1/2″ (40.5 by 49.5),
Two leather bag handles 1″ by 32″ (2.5 by 81cm),
Four 8mm double cap rivet,
Leather hole punch,
Rivet tool,
A leather sewing machine needle,
A sewing machine.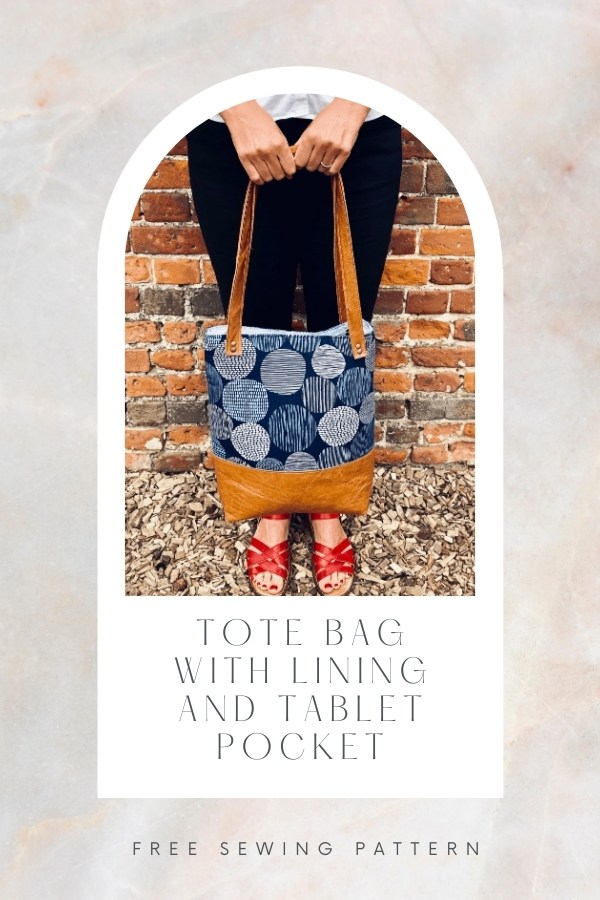 There is no sewing pattern to download for this bag. You simply cut your fabric pieces according to the directions and sizes given above and then sew them from the instructions given in the video.
You can find written instructions if you prefer those instead of a video at Vicky's site.
Click here for the written tutorial
Liking this free pattern? Great! You would make our day if you 'bought us a coffee' to help with the site running costs. Thank you.

Want MORE Free sewing patterns?
Want to find more
FREE sewing patterns
for bags and more? Why not follow the Sew Modern Bags board dedicated to our favorite FREE sewing patterns here. Pin and save your favorite bag sewing patterns to your own boards for later. Don't forget to pin this article too.
Even more tote bag sewing patterns you won't be able to resist
Want even more tote bag sewing patterns? These are the top best selling tote bag patterns in our store. Take a look at the tote bag category on our shop page for even more!