The Ruckus convertible bag sewing pattern
|
All posts may contain affiliate links.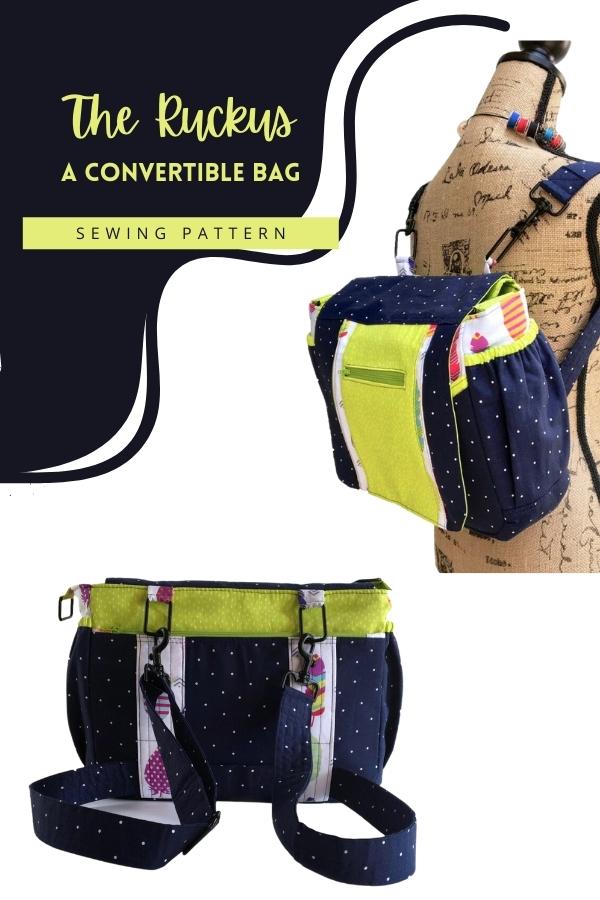 The Ruckus Bag pattern is a downloadable printable PDF pattern for a convertible bag to fit almost all of your carrying needs.
This bag adjusts for just about any carry style. Convert from a purse carry to a messenger style or even a backpack, with one adjustable strap!
The one adjustable strap is long enough to accommodate all three carry styles so you don't have those extra straps to keep up with!
There's an optional top zipper closure and magnetic flap closure, so you can make sure everything stays in place. Everything and the kitchen sink!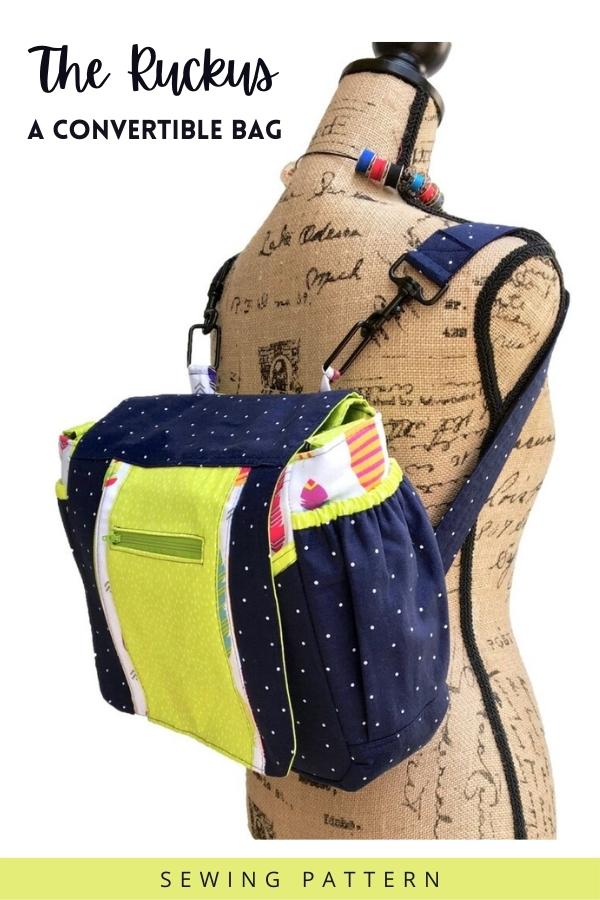 This bag is LOADED with pockets:
– The front flap has 2 zip pockets perfect for those items you need quick access to like your keys, phone, or wallet. Store them right up front so you don't have to rummage to the bottom of your bag in search of them.
– Elastic side pockets on the outer are perfect for hands-free drink carry. This thing can fit up to a QUART SIZE JAR in each side pocket but is snug enough to keep bottles in place too!
– A large zipper pocket on the outer back and several slip pockets on the front too.
– This bag doesn't stop there. There are 5 more pockets on the interior so you have room to carry whatever you dare. (*Disclaimer- Do NOT carry children in this bag…. just saying).
Sizing info:
When you have finished making your own Ruckus Bag it will measure approximately 13″ long by 4.5″ wide by 10″ high with an adjustable strap of 35 – 62″ (from clasp end to clasp end).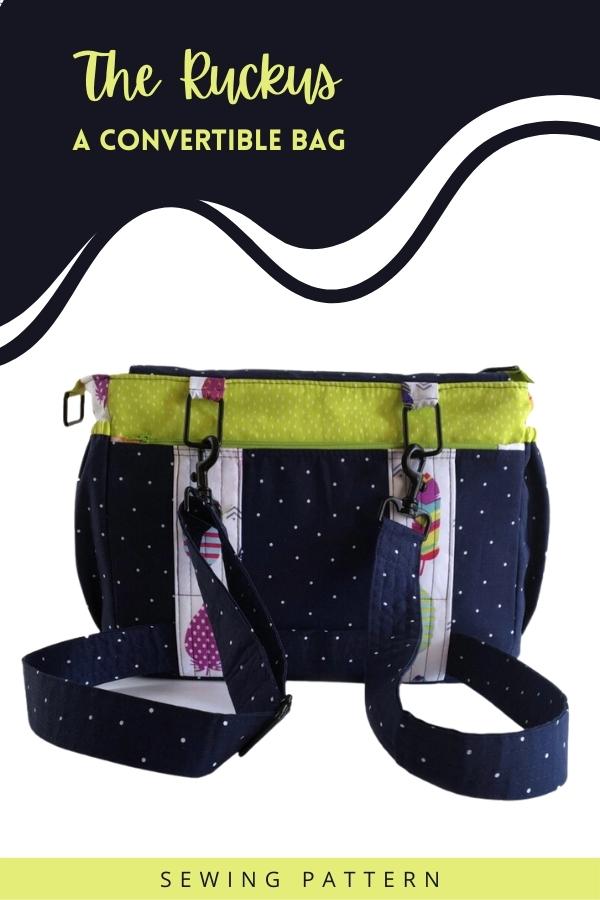 What's needed to make a Ruckus Bag:
1.5 yards of fabric ONE, plus 2 yards of fabric TWO, plus 1.25 yards of fabric THREE,
1.75 yards of woven interfacing (sF101 or similar),
1 yard of fusible fleece,
2 yards of craft fuse or stiff interfacing,
Two 1″ by 1″ pieces of stabilizer,
Two 1.5″ swivel clasps,
Two 1.5″ rings and two 1″ D or O rings,
One 1.5″ slide,
**Optional** One 0.5″ magnetic snap for the flap closure,
11″ of 1/2″ wide elastic,
Zippers (measurements are cut lengths):
**Optional** Top – 16″,
Horizontal – 6″,
Vertical – 8.5″,
Inside zip – 9″,
Back Zip – 11.25″,
If you would like to download the pattern you can click on the blue button below.
This one wasn't quite right for you? What about these instead?
Want even more purses and handbags to sew? Our shop is packed full of hand-picked favorites from talented designers, big and small. Here are a sample selection you might like. Check them all out in our shop.