The Mayfield Backpack sewing pattern
|
All posts may contain affiliate links.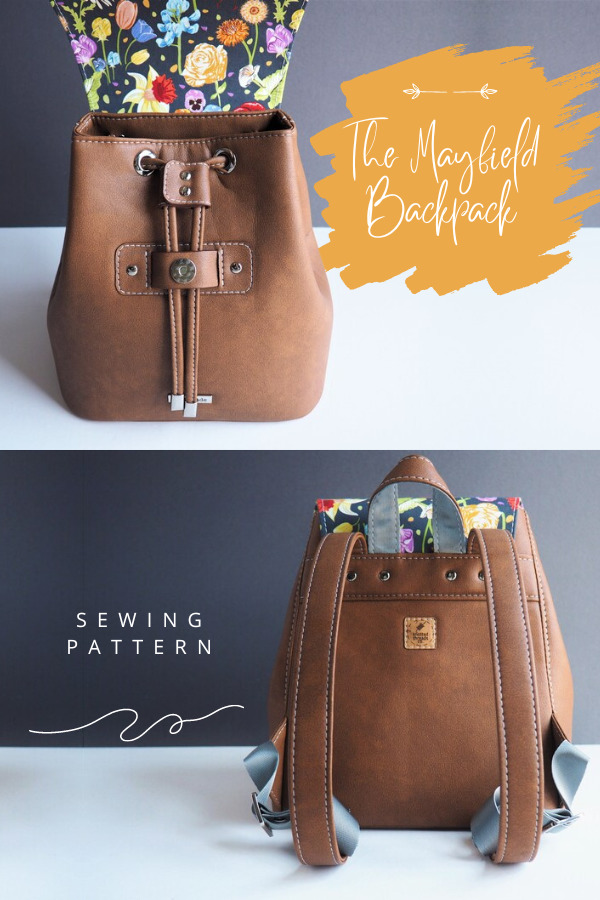 This is the Mayfield Backpack pdf sewing pattern from the designer Knotted Threads Co.
This is a classic bucket backpack. Mayfield has some excellent features like a drawstring closure with flap, adjustable straps, multiple interior pockets, and various fancy accents throughout! This bag is designed so that the main body of the bag on the exterior is made from vinyl, leather or cork – so this bag is best suited to sewers who have experience of sewing those types of materials and have a machine that can sew thicker layers.
But you will be rewarded with a very professional looking end result, and a bag you will be very proud to wear. We suggest looking through the video tutorial below to see if the sewing for this project is within your skill level and experience. Not for complete beginners, but if you are feeling adventurous, give it a try and increase your sewing skills with the step by step sewalong video to follow.
Skill level:
The designer rates her project as suitable for Intermediate – Advanced sewers and says that this bag is best made with a semi-industrial or industrial sewing machine.
Sizing info:
When you have finished making your very own Mayfield Backpack it will measure approximately 10″ wide by 10″ high by 6.5″ deep.
Video tutorials:
Here's a video tutorial (2-hours 14-minutes) from the designer showing you how to make the Mayfield Backpack:
And here's another YouTube video (1-hour 1-minute) this time from Minni Loopy Love showing you how to make the Mayfield Backpack:
What's needed to make the Mayfield Backpack:
18" by ~53" Cork/Vinyl/Faux Leather for the exterior fabric,
Optional: ¼ yard of Cotton/Canvas/Woven fabric for the exterior fabric,
¼ yard of Waterproof Canvas for the lining fabric,
¼ yard of Cotton/Canvas/Woven fabric for the lining fabric,
½ yard of One-Sided Fusible Foam (20" width Pellon Flex Foam FF78F1),
½ yard of Decovil Light (17" width Pellon 525),
¼ yard of Decovil Heavy (17" width Pellon 526),
¼ yard of Woven Interfacing (Pellon SF101 or equivalent),
Fusible Fleece Scrap (can substitute for Decovil Light),
Six 3/8" (10mm) Grommets – Traditional, Screw-In, or Force Fit will do,
One Magnetic Snap,
Two Drawstring/Cord/Zipper Ends (10mm),
Two 1" Rectangle Rings,
Two 1" Triglides (Strap Adjusters),
6.75" #5 Zipper Tape,
One #5 Zipper Pull,
Five Purse Feet,
Twenty Double Cap Rivets – 8mm Cap width, minimum 8mm post length – up to 10-12mm,
Optional: Brand label, woven label, & handmade label,
Check out our RESOURCES PAGE full of great recommendations and links for fabric stores and suppliers, interfacing and stabilizers, hardware resources, and zippers.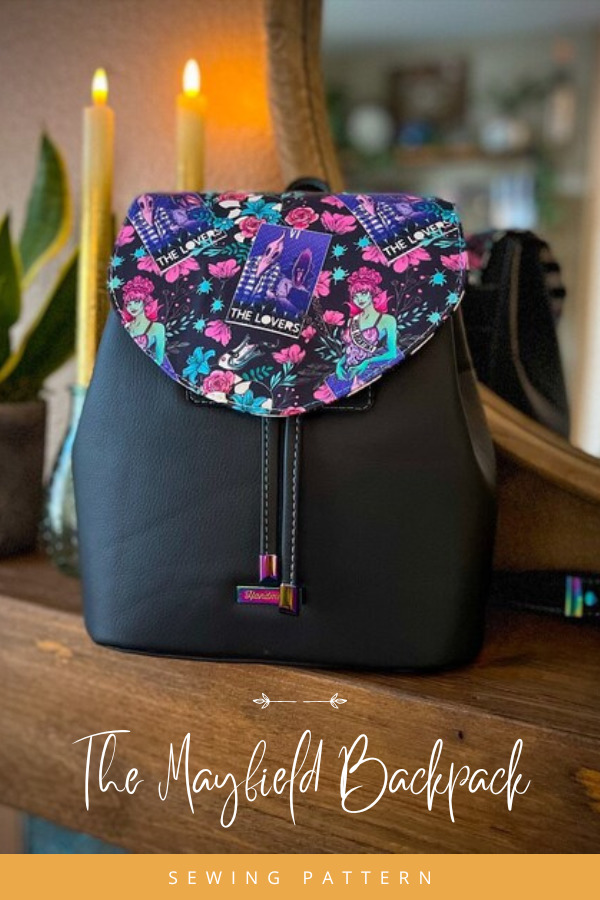 This pdf pattern includes four files (Instructions, US Letter pieces, A4 pieces, Projector pieces) and one zipped file (Cutting files for intricate pieces only for various cutting machines). The pattern instructions are written in English using Imperial measurements in a US Letter Format.
If you would like to download the pattern you can click on the blue button below.