The Hailey Bag FREE sewing tutorial
|
All posts may contain affiliate links.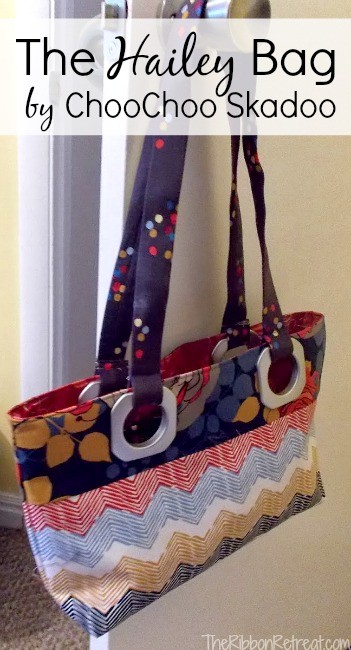 This is the Hailey Bag FREE sewing tutorial from the designer ChooChoo Skadoo Quilts and shared on the Ribbon Retreat blog.
The designer describes her sewing project as a a fun, fast and simple bag to make. And then you will have a great bag that can be used for anything – a diaper bag, church bag or a purse!
You gotta love the big grommets that add such a cute flair! This is a great, functional everyday bag that's cute and trendy too.
What's needed to make a Hailey Bag:-
Fabric for the main bag – ½ yard for the outside lower band, ¼ yard for the outside upper band, ½ yard for the lining/inside of the bag, ¼ yard for the pockets and strap,
½ yard of heavy duty interfacing,
1½ yards of cording for the straps,
Four grommets (four sets),
All seams are ¼″ unless otherwise stated.