The Gaia Crossbody sewing pattern (with videos)
|
All posts may contain affiliate links.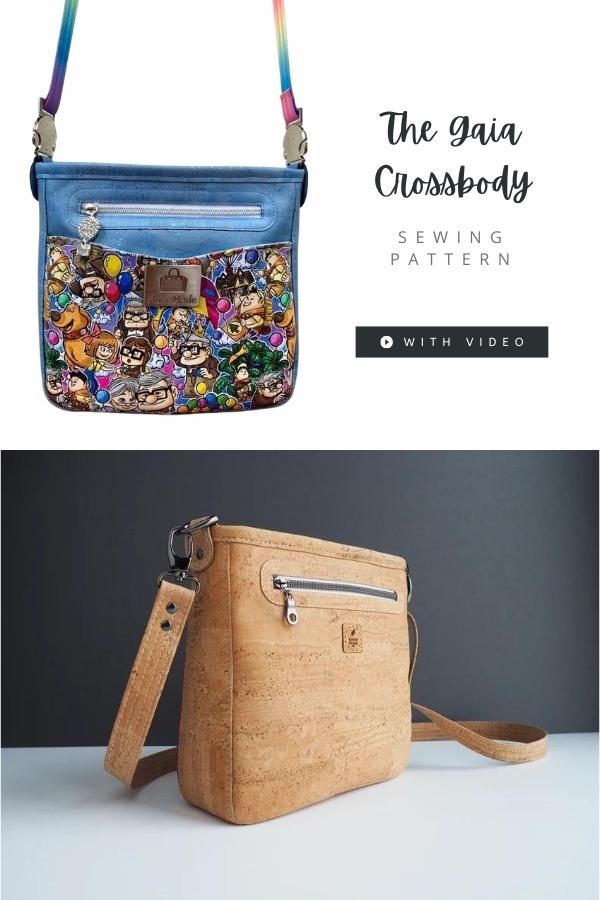 This is the Gaia Crossbody Bag pdf sewing pattern from the designer Knotted Threads.
The Gaia Crossbody is a Crossbody Bag that is mid-sized and is designed to be used every day! Ideal for taking to work, out shopping with the girls, or for a casual date night. It's perfect for sewing with a multitude of different fabrics and materials, from quilting cotton, home decor fabrics, vinyl and faux leather, or cork.
This Crossbody Bag has a lot of pockets. It has a front slip pocket that can be single or divided, a front zippered pocket, a back zippered pocket, a zippered enclosure, and dual interior slip pockets. We love it when we have a pocket for everything and don't have to rummage around for all the loose things in the bottom of the bag.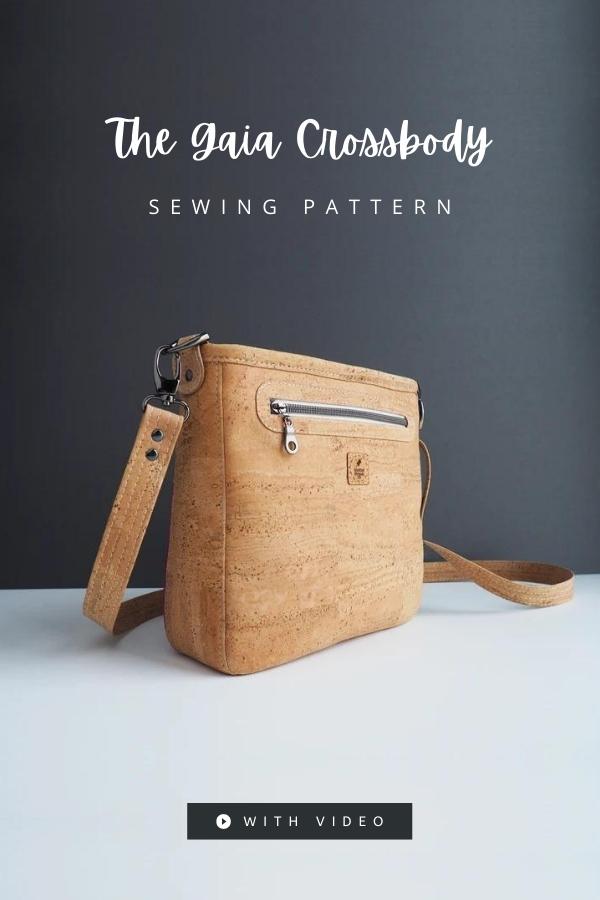 It's a great-sized bag that is very functional and can be carried hands-free as a crossbody bag or shoulder bag with an adjustable strap.
Skill level:
The designer rates her project as suitable for intermediate sewists.
Sizing info:
When you have finished making your own Gaia Crossbody Bag it measures approximately 10″ wide by 9″ high by 3″ deep.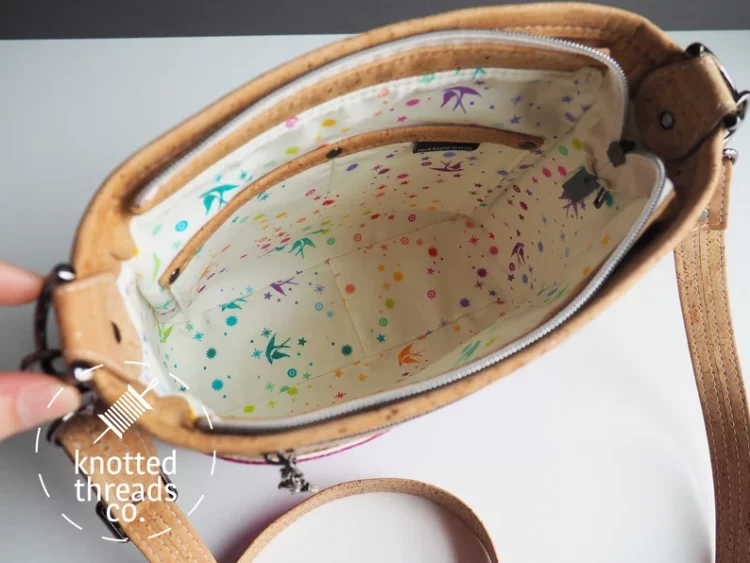 Videos tutorials:
There are plenty of choices here as there are three YouTube videos that you can watch below showing you how to make the Gaia Crossbody Bag. These videos are so comprehensive that we suggest pulling up a comfy chair, making yourself a big cup of coffee and just sit and absorb all of the excellent sewing tips and tutorials from these videos, even if you never sew this bag!
The first one is from the designer Knotted Threads and is 1 hour and 40-minutes long.
The second one is from Mini Loopy Love and is 2 hours and 23-minutes long.
The third one is from My Creative Room and is made up of 5 separate videos totaling 3 hours and 30-minutes long.
What's needed to make a Gaia Crossbody:-
18" by 53" of Cork/Vinyl/Faux Leather exterior fabric,
¼ yard of woven fabric for the front pocket,
¾ yard of woven lining fabric (based on 42" WoF),
½ yard of fusible fleece (Pellon 971F),
¾ yard of woven interfacing (SF101 or equivalent at 44″ wide),
Decovil Light scraps (Pellon 525),
Two 1" swivel clasps,
Two 1" D-Ring,
One 1" Triglide,
One zipper end,
#5 nylon zipper tape (27" – combined),
Three #5 nylon zipper pulls,
Ten 8mm double capped rivets (your post length should be at least 8-9mm),
One magnetic snap if making a front pocket with that option,
50" to 60" 1" webbing (optional),
Check out our RESOURCES PAGE full of great recommendations and links for fabric stores and suppliers, interfacing and stabilizers, hardware resources, and zippers.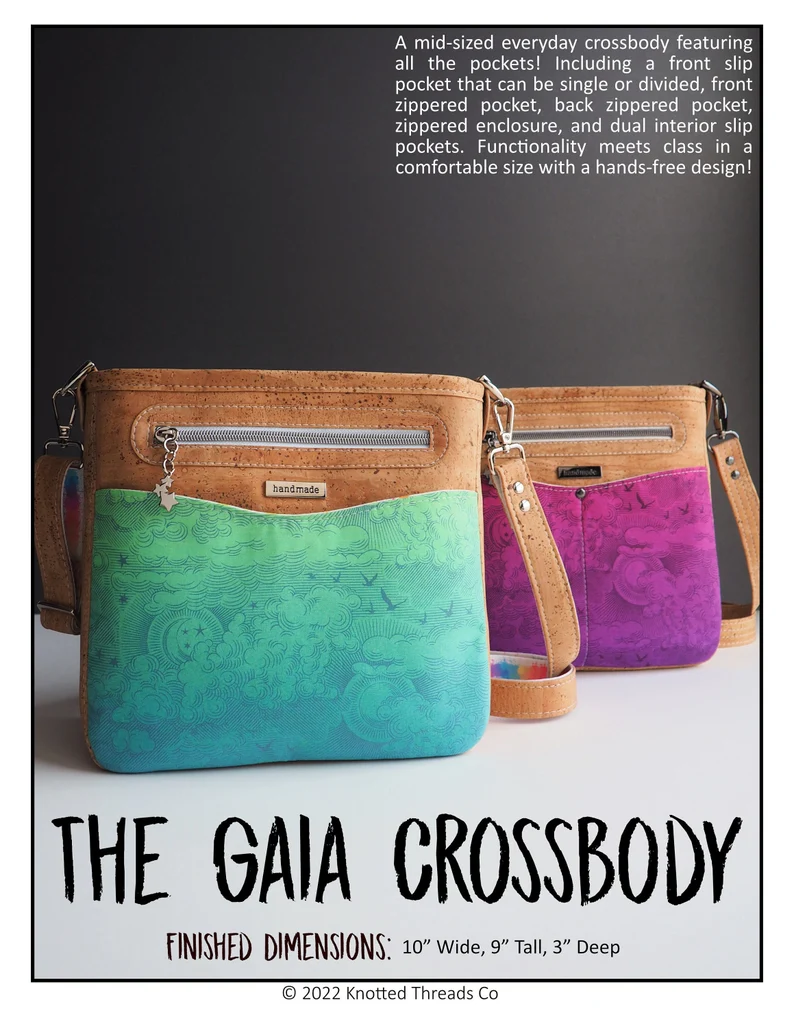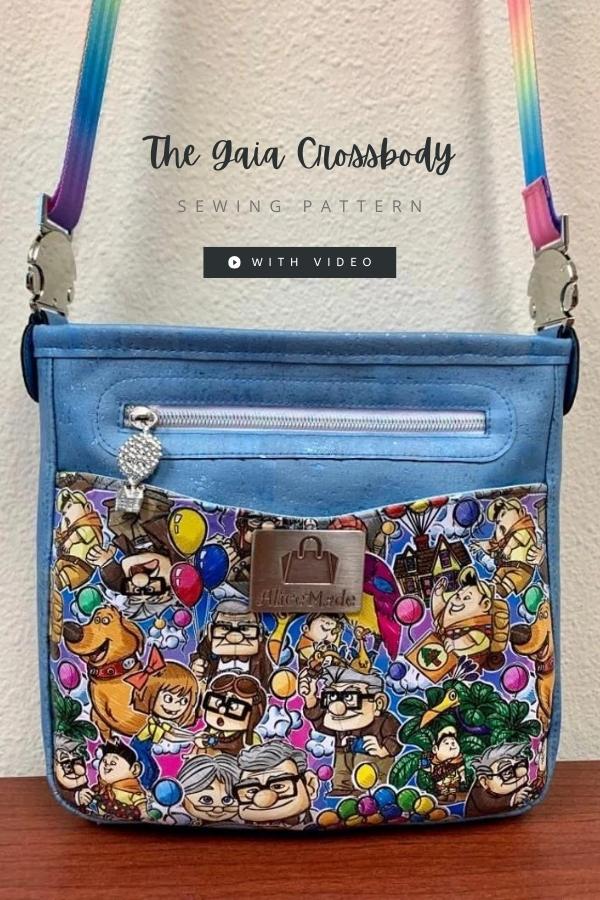 The download is made up of four pdf files (Instructions, US Letter format pieces, A4 format pieces, Projector pieces). There's also one zipped file (Cutting files for intricate pieces for various cutting machines).
The pattern is written in English using Imperial measurements in a US Letter Format. An A4 format was added later for the pieces only.
If you would like to download the pattern you can click on the blue button below.
Sew more crossbody bags and you'll be happier - we promise 😉
For the easiest shopping and days out, you can't beat a crossbody bag for leaving you hands-free. We've got 60+ of our favorite crossbody bag patterns hand-picked for you in the store. Go to the shop page to find them all saved by category.