The Duplicity Handbag sewing pattern (with videos)
|
All posts may contain affiliate links.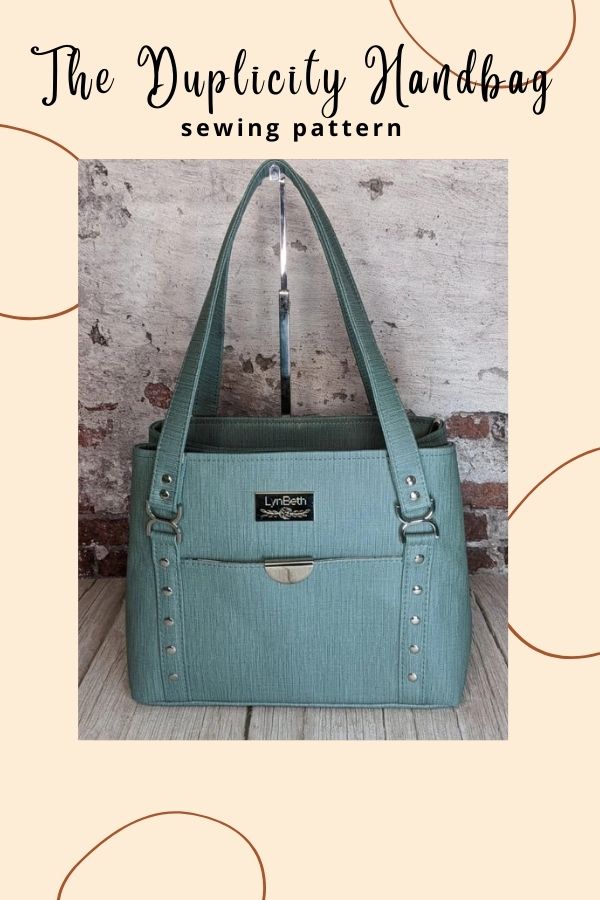 The Duplicity Handbag has two separate zipper compartments in the same purse so it's like two bags in one! You'll be able to store and organize everything in this compact design. You also have the option to make this into a crossbody bag too! Check out the quick intro video below to see everything this bag pattern has to offer.
YouTube video introducing the Duplicity Handbag:
To start this handbag has a front and back exterior slip pocket. Each lining compartment can accompany its own slip pocket on one side and a zipper pocket on the opposite for a total of four more pockets! Don't need so many pockets? Then only make one slip and one zipper pocket for the lining.
You can make your Duplicity in all quilting cotton or with a combination of quilting cotton, vinyl, leather, canvas, denim, home décor, etc. The types of fabrics used will depend on what your sewing machine can handle and your skill level.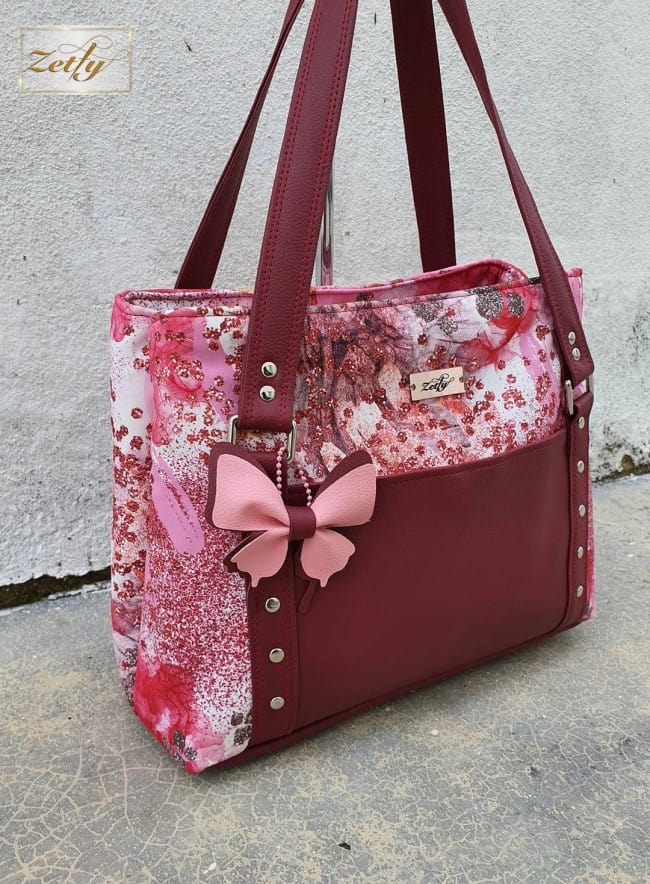 Duplicity features:
Front and back slip pockets.
Two lining slip pockets and two zippered pockets.
Option to make as a crossbody bag.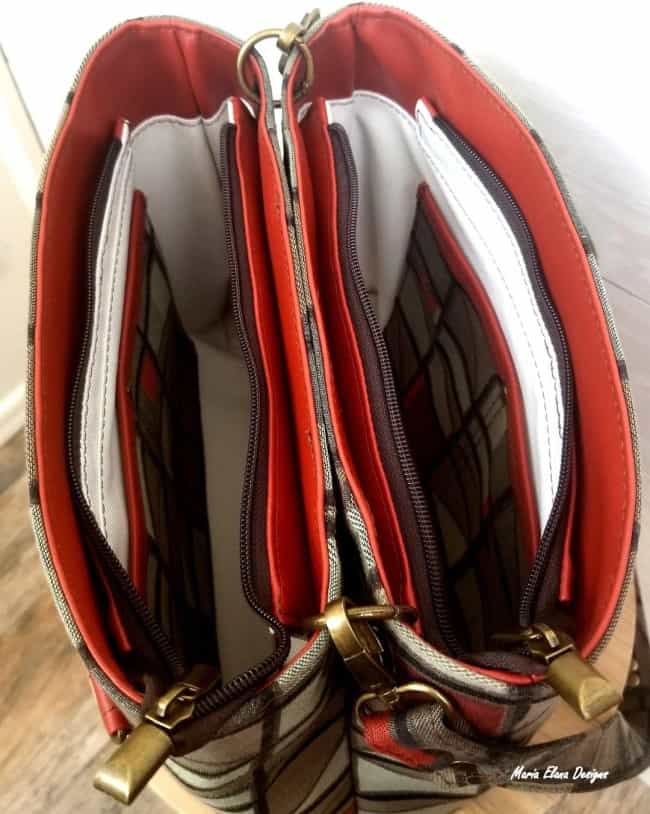 Skill level:
Intermediate.
Sizing info:
9″ (23 cm) high by 12″ (30 cm) wide by 4.25″ (11 cm) deep.
Two sewing video tutorials are available below showing you how to sew the Duplicity Handbag:
(1) The first one is from the designer Sew Yours:
(2) And the second one is from Brandy Jackson of Beans Bags and Handicrafts Co:
Materials needed to make the Duplicity Handbag:
1 yard (100 cm) approximately of exterior fabric,
1 yard (100 cm) approximately of lining fabric,
1 yard (100 cm) approximately of lightweight woven fusible interfacing like Pellon SF101 Shape-Flex or Sew Fuse (Woven interfacing is not required when using vinyl/cork/waterproof canvas),
1/4 yard (23 cm) approximately of stabilizer Decovil Light or two layers of Sew Fuse Plus,
14″ (36 cm) by 5″ (13 cm) firm stabilizer (Decovil Heavy 526 or Peltex 71f). Fusible Foam is not recommended for this bag,
Two 12″ (30 cm) cuts of #5 zipper tape for zipper panels,
Two 9″ (23 cm) cuts of #5 or #3 zipper tape for zipper lining zipper pockets (only one needed if you are choosing to do one zipper pocket),
Four #5 or #3 zipper pulls (or three if only doing one zipper pocket),
Two magnetic snaps (can substitute one snap for a turn-lock/half-moon magnetic snap),
Four strap connectors – rectangle rings, O-rings, Figure 8 strap connectors,
Eight+ rivets (or Chicago screws). 6-7 mm for thinner fabrics or 8-9 mm for thicker fabrics,
Four 1″ (2.5 cm) Strap Ends (optional),
Two Zipper Ends (optional),
Five Purse Feet (optional),
If you are making your Duplicity into a Crossbody Bag then you will also need:
Four 1/2″ Grommets,
Two 28 mm Gate Rings,
Two Swivel Snap Hooks,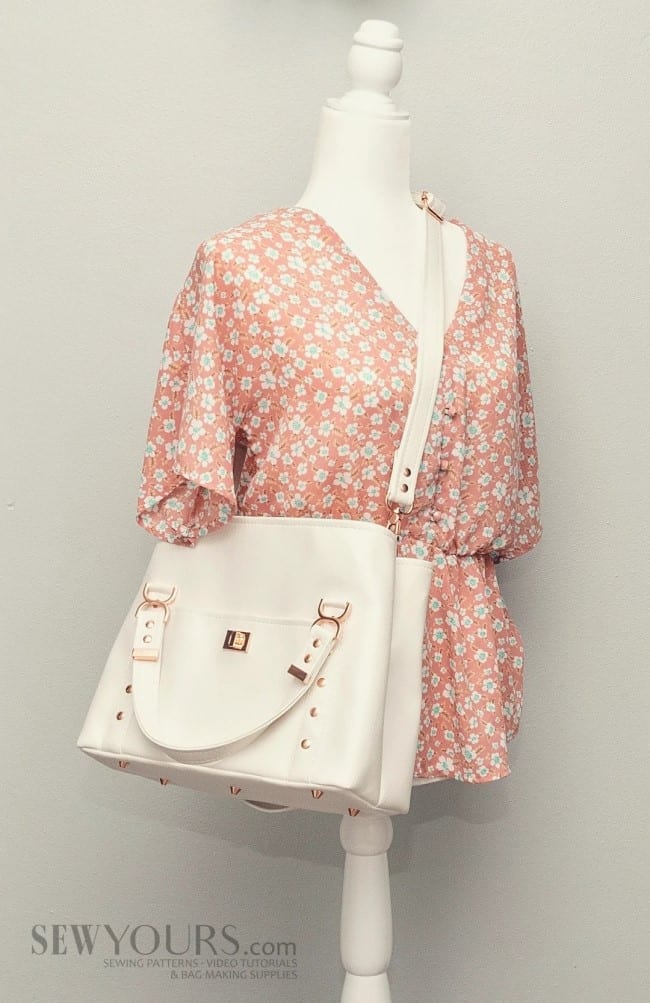 The sewing pattern includes:
Step-by-step written instructions with photographs.
Two video sewing tutorials via YouTube Channel (links above).
If you would like to download the pattern you can click on the blue button below.
And if you would like to see other bag sewing patterns from this designer then you can click on the red button below.
More ideas for purses and handbags to sew
Want even more purses and handbags to sew? Our shop is packed full of hand-picked favorites from talented designers, big and small. Here are a few recent additions you might like. Check them all out in our shop.