The Crafted Crossbody Bag FREE sewing pattern
|
All posts may contain affiliate links.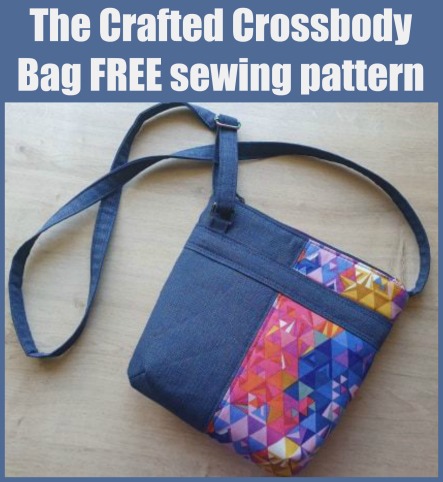 Here's a great FREE sewing pattern for the Crafted Crossbody Bag with three different versions, so you can really be as creative as you like. It's the perfect bag for turning that box of scraps and forgotten fat quarters into something beautiful and useable.
You can use a single piece of fabric for the outer, or color block it or mix and match with a different fabric on each half with a seam down the middle, or really go to town with your scraps and create a patchwork quilted version with all the patterns you love.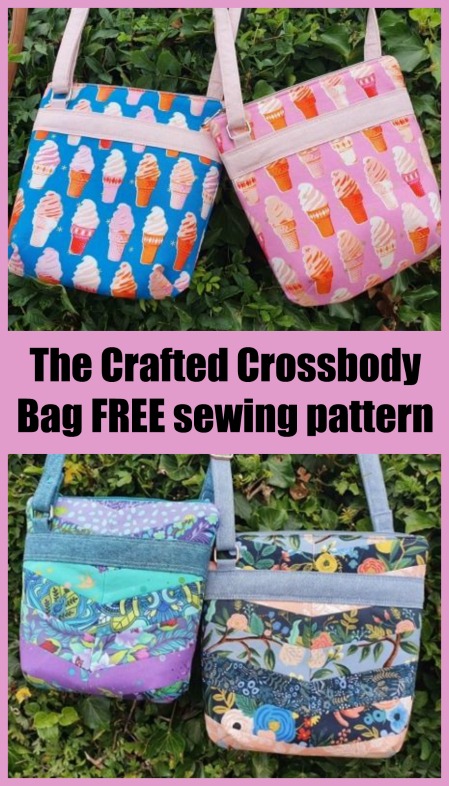 The bag uses minimal hardware, has a top zipper closure and an inside zipper pocket, plus an adjustable strap, and darts for shape and volume.
Sizing info:
When you have made one of your own Crafted Crossbody Bags it will measure approximately 8½" (21.5 cm) by 9″ (23 cm).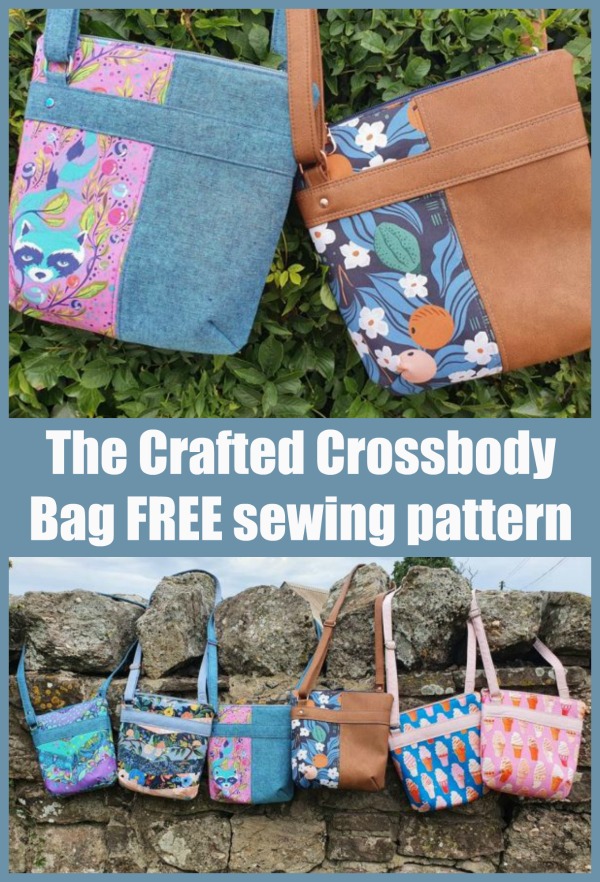 What you will need to make a Crafted Crossbody Bag:-
Outer fabric = Version 1 – 36 strips of scrap fabric measuring 2″ (5.1 cm) by 8½" (22 cm). Version 2 & 3 – one fat quarter for each version,
Lining fabric = one fat quarter,
Accent fabric = 8″ (20 cm),
Interfacing = 1 ½ yards (1.5 m),
Fusible fleece = 20″ (50 cm) by 10″ (25 cm) such as H640 or alternative high loft fusible fleece,
Two ¾" (2 cm) rectangular rings,
One ¾" (2 cm) strap slider,
Zipper closure = 8½" (21.5 cm) N05 zipper or zipper tape.
Inside zipper pocket = 7″ (18 cm) No3 zipper, 9″ (23 cm) if using zipper tape,
Optional = Rivets and setting tool,
With the pattern, you should print it at 100% or actual size. You should tape the pattern pieces together matching the lettered boxes but not overlapping.
You can get the pattern by clicking on the purple button below.
Crafted By Leanne is so generous for offering this free pattern for you to sew. Don't forget that all of these freebies are offered as a "try me" in the hope that you will like their patterns and go on to try a paid one. Crafted By Leanne always offers beautiful bags to sew. You can find a selection of them below.
These are our most popular purse and handbag sewing patterns
Want even more purses and handbags to sew? Our shop is packed full of hand-picked favorites from talented designers, big and small. Here are a few recent additions you might like. Check them all out in our shop.