The amazing Flower Stitch Foot
|
All posts may contain affiliate links.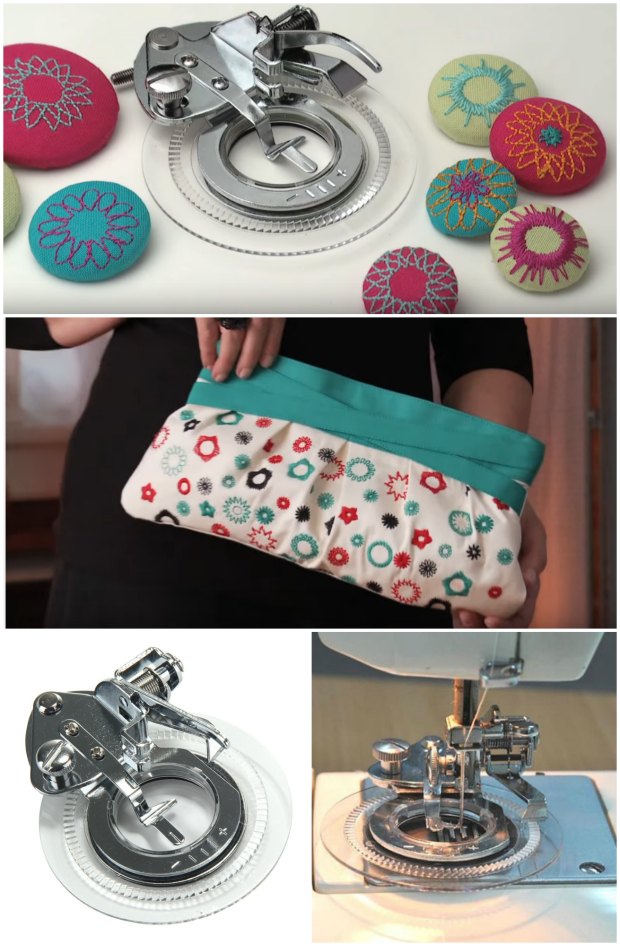 Do you perhaps wish you had a simple embroidery machine but the budget doesn't stretch that far? Then we may have the answer for you with this amazing sewing foot that works on ALL low shank machines, even the older models and doesn't require any special stitches.
If your machine does a zig-zag stitch them you can create beautiful flower and circular designs with this sewing attachment known as the flower foot, or the flower stitch foot. Simply add the foot, remember to drop the feed dogs and let the foot do the work. Use your zig zag or any of the common utility stitches like the tricot stitch or the blind hem stitch and you'll be amazed how by varying the size and the length of the stitch, you can create the most beautiful embroidery. You can even use a double needle threaded with different colors.
Elegant for a custom designed purse or equally delightful as a floral embroidery on a little girls dress. Grab yourself this foot and some gorgeous embroidery threads and go to town! We think you'll be glad you did. Check out the video to see how it works. (Oh and by the way, did we say at the time of writing, this amazing foot costs less than $5!)
Our Tip – if your machine has a very wide stitch width possible, just run through the stitch with the handwheel first to make sure the needle won't hit the presser foot.
Reviewers comment – "This is the handiest most fun sewing gdget I've had in many years. It will work on a plain zigzag machine, but this thing really shines on a machine with multiple stitch designs. Some stitches don't look well when stitched in such a small circle, but others looked fantastic. I had a lot of fun trying out different stitches, and varying the width or length of those stitches as well. It fits and works on all my low shank machines, from my expensive 2005 Viking to my 1960's basic kenmore zigzag."