Spectrum Tote Bag sewing pattern
|
All posts may contain affiliate links.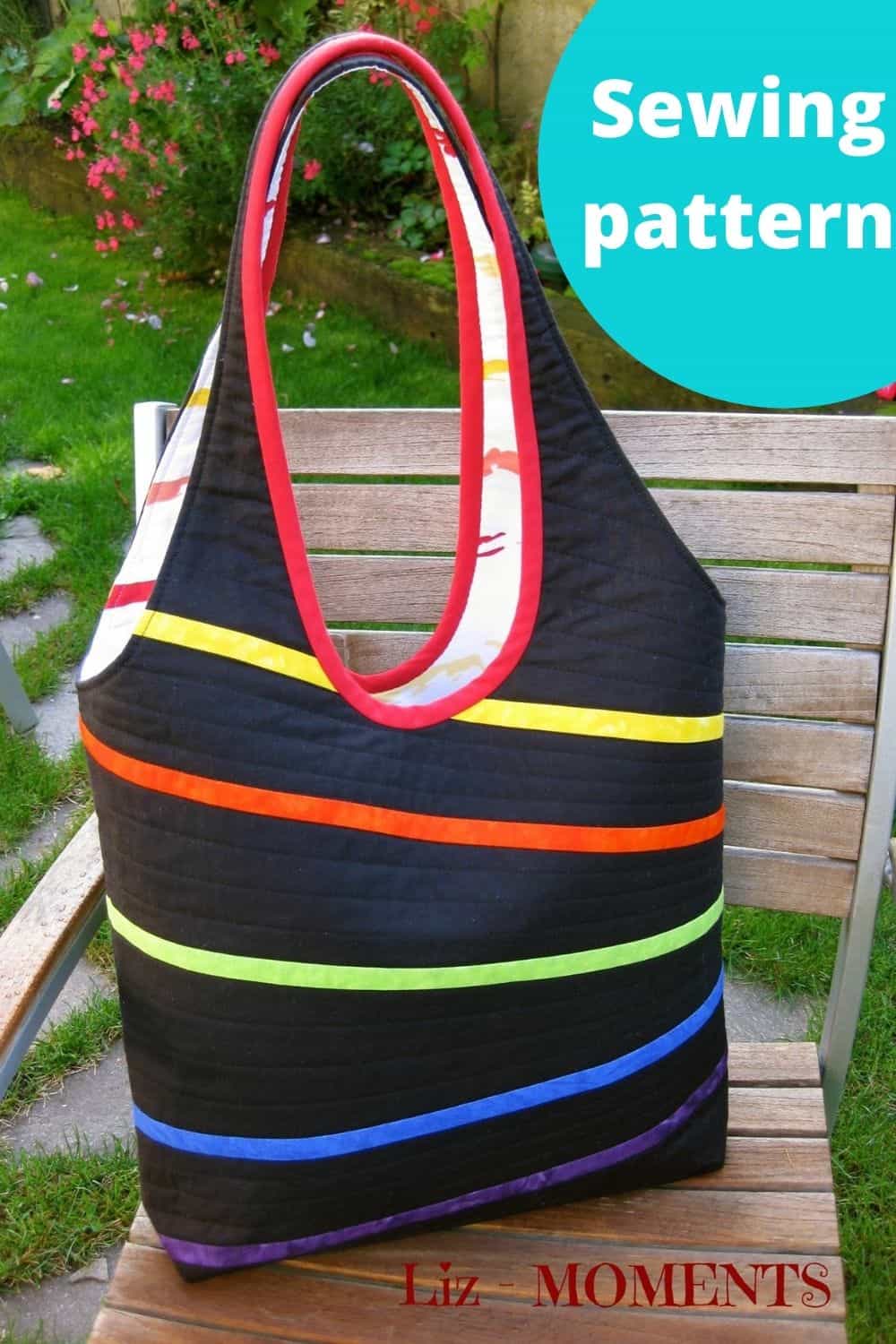 The Spectrum Tote sewing pattern offers a roomy, stylish, and fun-to-sew bag that is perfect for shopping, books, or just for every day!
The pieced exterior lends itself to a huge variety of looks and is equally lovely quilted or not!
Inside you'll find a magnetic snap, a zippered pocket, and two rounded slip pockets.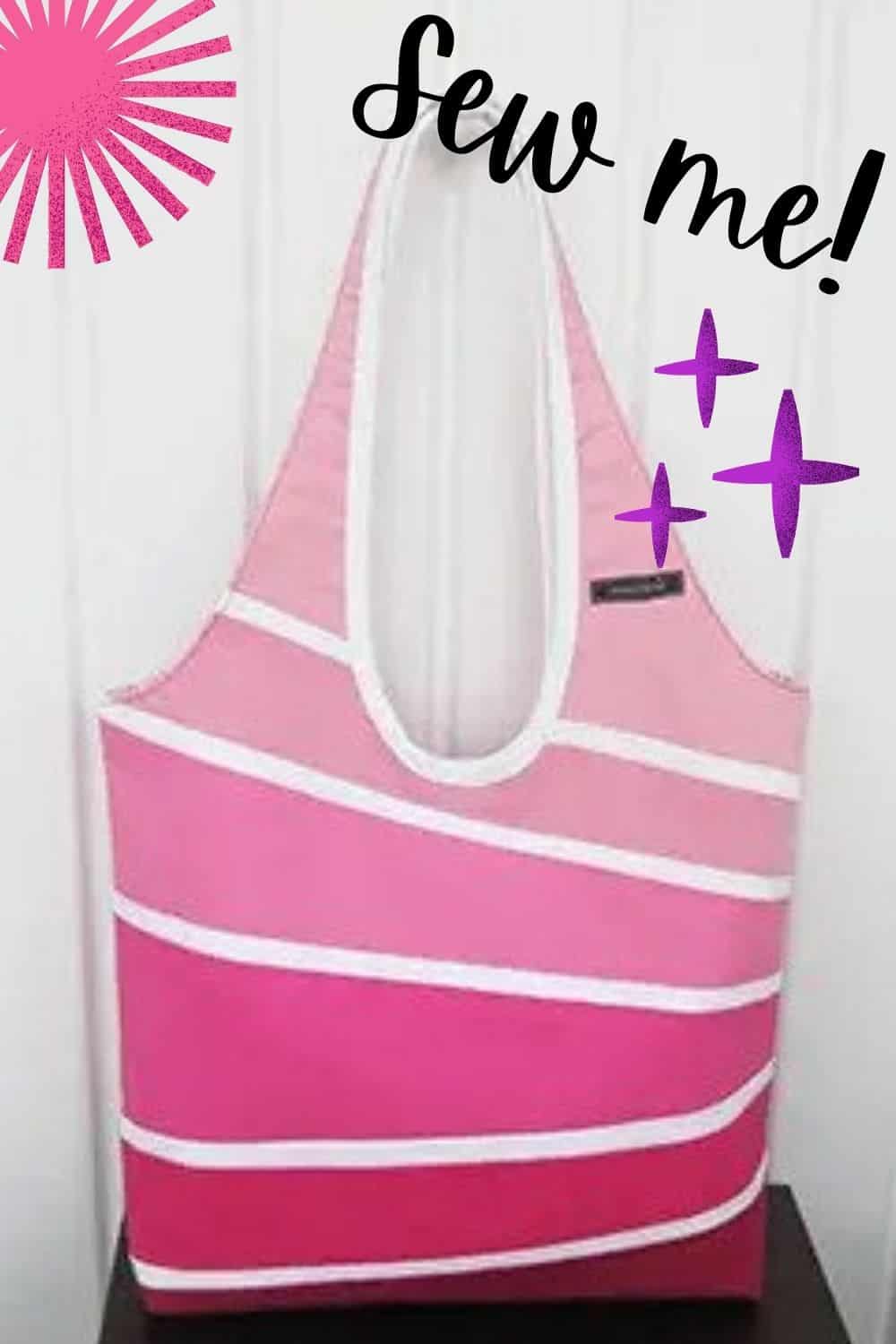 When you have finished making your very own Spectrum Tote Bag it will measure approximately 18″ (46 cm) wide by 15″ (38 cm) high (26″ / 66 cm with handles) by 4″ (10 cm) deep.
For the exterior fabrics, the designer recommends you use quilting cotton or light-weight home decor.
What is needed to make a Spectrum Tote Bag:
Five – ¼ yard (23 cm) cuts – 44″ (112 cm) wide or five fat quarters – for five bottom pieces of the exterior,
½ yard (46 cm) – 44″ (112 cm) wide OR two fat quarters – for the exterior handles,
¾ yard (69 cm) – 44″ (112 cm) wide- for contrast strips of fabric on the exterior and binding for the handle opening,
1 yard (91 cm) – 44″ (112 cm) wide of lining fabric,
11″ (28 cm) by 19″ (48 cm) remnant or one fat quarter for the pocket fabric,
* 4½ yards (4.11 m) – 20″ (51 cm) wide of one-sided fusible medium-weight interfacing – for stabilizing exterior quilt – weight cotton. Suggested Interfacing: Shape Flex (SF101) from Pellon,
* 1 yard (91 cm) – 44″(112 cm) minimum width of medium-weight canvas – for interlining. Suggested Canvas: Drill canvas (found in the utility fabric section of Joann),
One – 14″ (36 cm) by 4″ (10 cm) piece of ultra-firm stabilizer or plastic canvas (optional): – to stiffen the bottom of the bag. Suggested Stabilizer: Peltex (#70 or 71F) by Pellon (a double layer may also be used),
*If you plan to quilt this bag, you only need 2 yards of the medium-weight interfacing. You will also need two 20″ (51 cm) by 32″ (81 cm) pieces of fleece, batting, or Soft and Stable from by Annie's. If you use the Soft and Stable, also forgo the medium-weight canvas interlining,
One 9″ (23 cm) Zipper,
One magnetic snap,
18″ of 1/4″ fusible web tape,
Heavy-weight needle,
Temporary marking pen,
Walking foot (if quilting the bag- optional),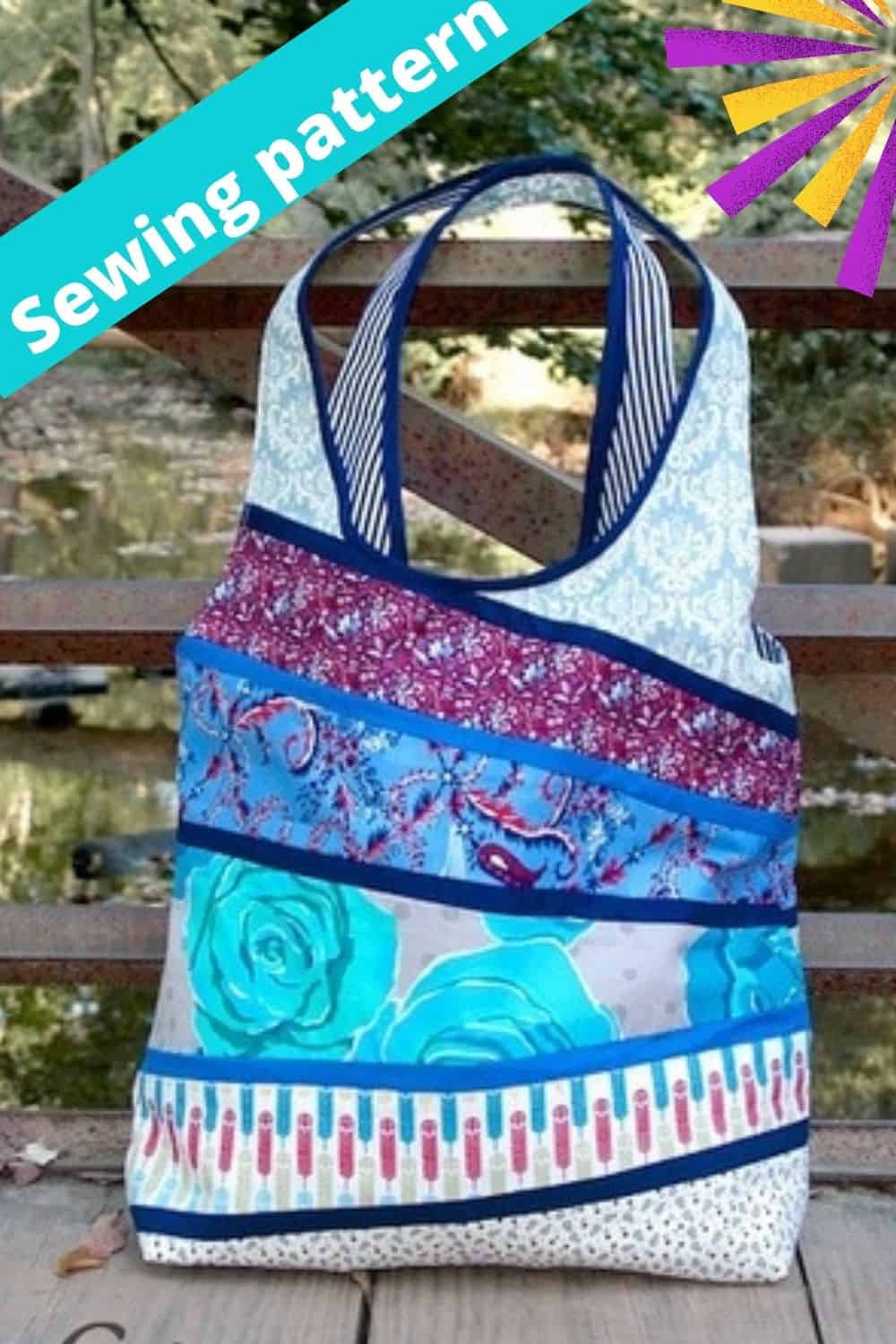 The sewing pattern comes with clear, detailed illustrations and thirty-three pages of instructions, pattern sheets, and cutting labels. Also included are links to online tutorials and even a bonus project.
If you would like to download the pattern you can click on the blue button below.
And if you would like to see other bag sewing patterns from this designer then you can click on the red button below.
See all the patterns from this designer here
More Tote Bags to sew
Everyone needs (a lot) more than one tote bag. They are a staple pattern in every sewing pattern collection and so versatile and adaptable. Check out a few recent tote bag patterns to sew from our store.